Written by admin on July 11, 2012 – 7:41 pm -
Tweet
The Rolling Stones have released a group photograph to mark the 50th anniversary of their first gig, which took place at London's Marquee Club.
The photo was taken at the site of the Marquee Club, which is now a bank, and features the band's current line-up of Mick Jagger, Keith Richards, Ronnie Wood and Charlie Watts. It was taken by world famous portrait and fashion photographer, Rankin.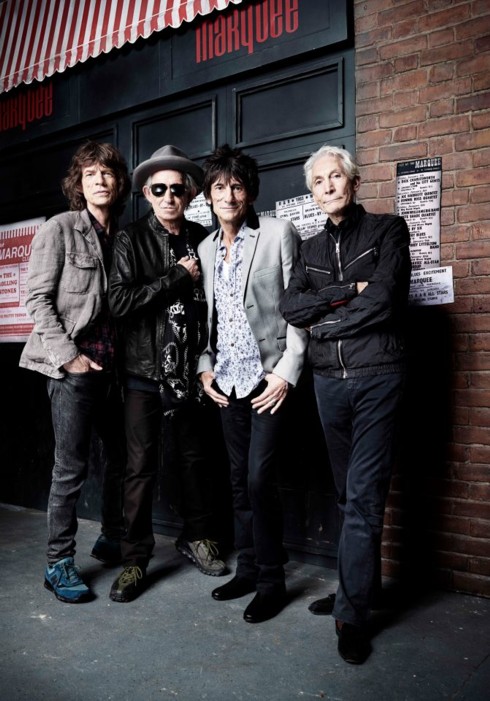 The Marquee Club gig on July 12, 1962 came about because cover was needed at the club for Alexis Korner's band, who had to do a live BBC broadcast that night.
Keith Richards remembered the gig in his 2010 autobiography "Life":
"The core Stones, Mick, Brian and I, played our set list: "Dust My Broom," "Baby What's Wrong?" "Doing the Crawdaddy," "Confessin' the Blues," "Got My Mojo Working." You're sitting with some guys, and you're playing and you go, "Ooh, yeah!" That feeling is worth more than anything. There's a certain moment when you realise that you've actually just left the planet for a bit and that nobody can touch you."
The Rolling Stones line-up that night was:
Mick Jagger (vocals)
Brian Jones (guitar)
Keith Richards (guitar)
Ian Stewart (piano)
Dick Taylor (bass)
Mick Avory (drums).
Tony Chapman is sometimes credited as the drummer for that debut gig, but Richards says that it was Avory. The band's permanent drummer, Charlie Watts, joined six months later.
The Rolling Stones will continue their 50th anniversary celebrations tomorrow with a photographic exhibit at Somerset House in London.

These photographs have been published in a book titled "The Rolling Stones: 50," which delves into the archives of the UK's Daily Mirror newspaper to explore the band's 50-year history. The images, many of which are previously unpublished, have been selected by members of the band, who also provide the accompanying text. "The Rolling Stones: 50" was published last week in the UK and will be out in October in North America.
Title

The Rolling Stones: 50 (Book)

Buy Now
Buy Now
Buy Now
Tags:
Charlie Watts
,
Keith Richards
,
Marquee Club
,
mick jagger
,
Rolling Stones: 50
,
Ronnie Wood
,
The Rolling Stones
Posted in
Books
,
British Invasion
,
New releases
|
Tweet
No Comments »
Leave a Comment