ClassicPopIcons.com
brings you news, reviews and features on the all time greats of popular music.

Written by admin on May 20, 2013 – 8:39 pm -
Ray Manzarek, keyboardist with The Doors, has died aged 74 following a battle with cancer. Manzarek passed away at a clinic in Rosenheim, Germany, surrounded by his wife and brothers.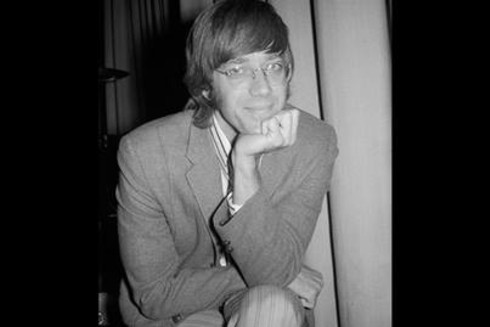 Doors guitarist Robby Krieger said in a statement:
"I was deeply saddened to hear about the passing of my friend and bandmate Ray Manzarek today. I'm just glad to have been able to have played Doors songs with him for the last decade. Ray was a huge part of my life and I will always miss him."
Doors drummer, John Densmore, has also paid tribute to his friend:
"There was no keyboard player on the planet more appropriate to support Jim Morrison's words. Ray, I felt totally in sync with you musically. It was like we were of one mind, holding down the foundation for Robby and Jim to float on top of. I will miss my musical brother."
Manzarek met Jim Morrison in 1965 at Venice Beach, Los Angeles, and formed the band shortly after, along with Krieger and Densmore. Their breakthrough hit, "Light My Fire," featured one of Manzarek's most notable musical contributions to the band and one of the most memorable instrumental breaks of the decade. The song was originally recorded as a 7-minute album track, largely because of Manzarek's extended break, which took inspiration from John Coltrane's "My Favorite Things."
The Doors – "Light My Fire" (album version)
After The Doors broke up in 1973, Manzarek played with a number of groups, including Nite City in the late 1970s and Manzarek-Krieger from 2001 to his death. There were also collaborations with artists such as Iggy Pop and Echo and the Bunnymen, and a number of solo albums, beginning with "The Golden Scarab" in 1973. His final album was "Translucent Blues" in 2011, with Roy Rogers.
Manzarek is survived by his wife, Dorothy, two brothers, a son, daughter-in-law and three grandchildren.
Related item:
Song of the Week #64 – "Light My Fire"
Tags:
Light My Fire
,
Ray Manzarek
,
Ray Manzarek death
,
Ray Manzarek obituary
,
The Doors
Posted in
American Rock
,
Obituaries
|
No Comments »

Written by admin on May 20, 2013 – 9:53 am -
A guitar played by both John Lennon and George Harrison has exceeded expectations by selling for $408,000 (£269,000). The sale was held by Julien's Auctions at the Hard Rock Café in New York's Times Square.
The 1966 guitar was a custom prototype built by Mike Bennett, with electronics by Dick Denney of Vox guitars.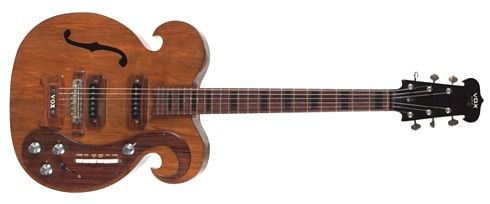 George Harrison played the guitar while practising "I am the Walrus" during The Magical Mystery Tour and Lennon played it while recording a video session for "Hello, Goodbye," but it did not make the final cut.
The guitar was given by John Lennon to "Magic Alex" Mardas in 1967.
Other Beatles items up for auction were a first and a second state "Butcher" album, and signed copies of the "Please Please Me" album and Lennon's "In His Own Write".
Elvis Presley was also well represented in the sale, with highlights including a floor-length cape created by Bill Belew for Elvis' "Aloha from Hawaii" televised concert, a Hammond organ which was housed in his Graceland bedroom, a Hagstrom guitar from his Bel Air home, trousers worn by the star in the movie "Jailhouse Rock," and a pair of Florsheim shoes worn on stage in the 1950s.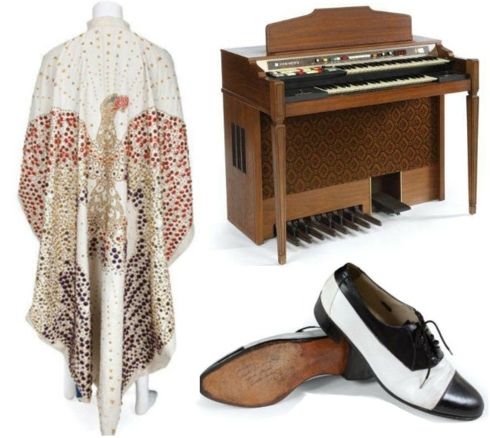 Tags:
Beatles Vox guitar
,
Elvis Presley
,
Elvis Presley aloha from hawaii cape
,
Julien's music icons auction
,
The Beatles
Posted in
Auctions
,
Elvis
,
The Beatles
|
No Comments »

Written by admin on May 17, 2013 – 11:59 am -
Listeners of BBC Radio 2 have voted Bucks Fizz's "Making Your Mind Up" as their all-time favourite UK Eurovision song. Listeners voted from the full list of UK entries spanning 57 years.
Bucks Fizz won the contest in 1981 and subsequently topped the charts with the winning song. They would follow this up with a number of other big hits, including "The Land of Make Believe," "My Camera Never Lies" and "If You Can't Stand the Heat".
The 20 most popular UK Eurovision songs were:
Bucks Fizz – Making Your Mind Up (1981)
Sandie Shaw – Puppet On A String (1967)
Katrina and the Waves – Love Shine A Light (1997)
Gina G – Ooh Aah… Just A Little Bit (1996)
Brotherhood of Man – Save Your Kisses for Me (1976)
Michael Ball – One Step Out of Time (1992)
The New Seekers – Beg, Steal Or Borrow (1972)
Cliff Richard – Congratulations (1968)
Scooch – Flying The Flag (For You) (2007)
Blue – I Can (2011)
Bardo – One Step Further (1982)
Lulu – Boom Bang-A-Bang (1969)
The Allisons – Are You Sure? (1961)
Jade Ewen – It's My Time (2009)
he Shadows – Let Me Be The One (1975)
Sonia – Better The Devil You Know (1993)
Daz Sampson – Teenage Life (2006)
Mary Hopkin – Knock, Knock Who's There? (1970)
Imaani – Where Are You? (1998)
Engelbert Humperdinck – Love Will Set You Free (2012).
This year's contest takes place on Saturday in Malmo, Sweden. The UK is represented by Welsh rock and pop legend Bonnie Tyler, who will sing "Believe in Me" from her latest album "Rocks and Honey".
"Believe in Me" – Bonnie Tyler
"Rocks and Honey" is available now:
Title

Rocks and Honey

Buy Now
Buy Now
Buy Now
Buy Now
Buy Now
Tags:
Bonnie Tyler
,
Bonnie Tyler Believe In Me
,
Bonnie Tyler Eurovision Song Contest
,
Bonnie Tyler Rocks and Honey
,
Bucks Fizz
,
Bucks Fizz Making Your Mind Up
,
Eurovision Song Contest
Posted in
General
|
No Comments »

Written by admin on May 17, 2013 – 10:20 am -
John Fogerty has teamed up with an all-star cast on his forthcoming album "Wrote a Song For Everyone," including Foo Fighters, Kid Rock, Miranda Lambert, Bob Seger, Brad Paisley, Keith Urban, and more.
Tags:
Alan Jackson
,
Allen Toussaint
,
Bob Seger
,
Brad Paisley
,
Creedence Clearwater Revival
,
Foo Fighters
,
Jennifer Hudson
,
John Fogerty
,
John Fogerty Wrote a Song For Everyone
,
Keith Urban
,
Kid Rock
,
Miranda Lambert
,
My Morning Jacket
,
Tom Morello
,
Wrote a Song for Everyone
Posted in
American Rock
,
New releases
|
No Comments »