ClassicPopIcons.com
brings you news, reviews and features on the all time greats of popular music.

Written by admin on December 7, 2013 – 7:43 pm -
Nominations for the 56th Annual Grammy Awards were announced on Friday night on a CBS television special that aired live from the Nokia Theatre in Los Angeles. Jay Z tops the nominations with nine; Kendrick Lamar, Macklemore & Ryan Lewis, Justin Timberlake, and Pharrell Williams each have seven; and Drake and mastering engineer Bob Ludwig are up for five.
Neil Portnow, President/CEO of The Recording Academy, says:
"This year's nominations reflect the talented community of music makers who represent some of the highest levels of excellence and artistry of the year in their respective fields. Once again, The Academy's awards process and its voting membership have produced an impressive list of nominations across various genres promising music fans a spectacular show filled with stellar performances and unique 'GRAMMY Moments.' We are off to a great start and look forward to GRAMMY Sunday as Music's Biggest Night takes the stage."
Summary of nominations for veteran acts
Led Zepellin is nominated in the Best Rock Album category for "Celebration", as are David Bowie for "The Next Day", Black Sabbath for "13″, and Neil Young With Crazy Horse for "Psychedelic Pill". Zepellin and Bowie will also face off in the Best Rock Performance category for "Kashmir (Live)" and "The Stars (Are Out Tonight)", respectively.
Best Rock Song nominees include The Rolling Stones for "Doom And Gloom", Black Sabbath for "God Is Dead?", and Dave Grohl, Paul McCartney, Krist Novoselic & Pat Smear for "Cut Me Some Slack". Black Sabbath are also nominated in the Best Metal Performance category for "God Is Dead", as are veteran rockers Anthrax for "T.N.T.".
Emmylou Harris & Rodney Crowell's "Old Yellow Moon" is nominated in the
Best Americana Album category. There are also nominations for Mavis Staples' "One True Vine", Allen Toussaint's "Songbook", Buddy Miller And Jim Lauderdale's "Buddy And Jim", and Steve Martin and Edie Brickell's "Love Has Come For You".
Toussaint is also up for Best American Roots Song for his "Shrimp Po-Boy, Dressed", as are Martin and Brickell for "Love Has Come For You", and Steve Earle for "Invisible".
Guy Clark's "My Favorite Picture Of You" is among the nominees for Best Folk Album.
The late Ravi Shankar's "The Living Room Sessions Part 2″ is up for Best World Music Album, as are the Gipsy Kings' "Savor Flamenco", Femi Kuti's "No Place For My Dream", and Ladysmith Black Mambazo's "Live: Singing For Peace Around The World".
The Best Traditional Pop Vocal Album category includes nominations for Tony Bennett's "Viva Duets", Gloria Estefan's "The Standards", and Dionne Warwick's "Now".
Kenny Rogers and Dolly Parton's performance of "You Can't Make Old Friends" is nominated in the Best Country Duo/Group Performance category.
Brian Eno's "Lux" is up for Best New Age Album.
Nominees in the Best Boxed Or Special Limited Edition Package category include The Rolling Stones' "The Brussels Affair", and Paul McCartney & Wings' "Wings Over America (Deluxe Edition)".
Bill Withers' "The Complete Sussex And Columbia Albums" and The Rolling Stones' "Charlie Is My Darling – Ireland 1965″ are both nominated for Best Historical Album.
Paul McCartney's "Live Kisses" film is among the nominees for Best Music Film. "Live Kisses" is also nominated in the Best Surround Sound Album category.
The 'Big Four' categories
No veteran acts made the cut in the biggest categories. The nominees for Record of the Year, Album of the Year, Song of the Year, and Best New Artist are:
Record Of The Year
"Get Lucky" — Daft Punk & Pharrell Williams
"Radioactive" – Imagine Dragons
"Royals" — Lords
"Locked Out Of Heaven" — Bruno Mars
"Blurred Lines" – Robin Thicke Featuring T.I. & Pharrell.
Album Of The Year
The Blessed Unrest — Sara Bareilles
Random Access Memories — Daft Punk
Good Kid, M.A.A.D City — Kendrick Lamar
The Heist — Macklemore & Ryan Lewis
Red — Taylor Swift.
Song Of The Year
"Just Give Me A Reason" — Jeff Bhasker, Pink & Nate Ruess, songwriters (Pink Featuring Nate Ruess)
"Locked Out Of Heaven" — Philip Lawrence, Ari Levine & Bruno Mars, songwriters (Bruno Mars)
"Roar" — Lukasz Gottwald, Max Martin, Bonnie McKee, Katy Perry & Henry Walter, songwriters (Katy Perry)
"Royals" — Joel Little & Ella Yelich O'Connor, songwriters (Lorde)
"Same Love" — Ben Haggerty, Mary Lambert & Ryan Lewis, songwriters (Macklemore & Ryan Lewis Featuring Mary Lambert).
Best New Artist
James Blake
Kendrick Lamar
Macklemore & Ryan Lewis
Kacey Musgraves
Ed Sheeran.
A complete list of nominees in the 82 categories is available at Grammy.com
The 56th Grammy Awards airs live from L.A.'s Staples Center on Sunday, January 26, 2014 at 8 pm on CBS.
Tags:
56th Annual Grammy Awards
,
Grammy nominations
,
Grammys
Posted in
Awards
|
No Comments »

Written by admin on December 5, 2013 – 10:30 pm -
Nelson Mandela sadly died today in Johannesburg aged 95. Many stars of the music world have paid tribute to the former South African President, including the following:
Mandela was one of the great leaders and teachers of the twentieth century. He conceived a model for mortal enemies to overcome their hatred and find a way through compassion to rebuild a nation based on truth, justice and the power of forgiveness. His passing should reignite a worldwide effort for peace – Paul Simon

To so many of our generation, Nelson Mandela was both an extraordinary and inspirational human being. I am confident that nothing, including the sad news of his passing, will change that. It was an honour for us to have met him in 1990 during the final stages of a worldwide campaign that called out for an end to apartheid. His reputation may have been larger than life, but he seemingly remained humble throughout – Jim Kerr of Simple Minds

Nelson Mandela's long walk has ended, but his path remains to light our way. Rest in peace – Carole King

R.I.P. Nelson… You were a One of a kind… My thoughts & Prayers are with his Family & Friends Today… x – Julian Lennon

Nelson Mandela you made your people proud!! We'll always love you for it! – Rihanna

Rest in peace to one of our lifetimes greatest heroes! xo – Darlene Love

Incredibly sad Day. Today we lost the incredible Nelson Mandela. What a man what a life. Let us never forget what he did – Ronan Keating

The world has lost someone truly inspiring. Rest in peace Nelson Mandela – Enrique Iglesias

Nelson Mandela. What a difference one person can make. #RestEternally – LL Cool J

Nelson Mandela has passed but his legacy of freedom will live in our hearts and minds forever – Tony Bennett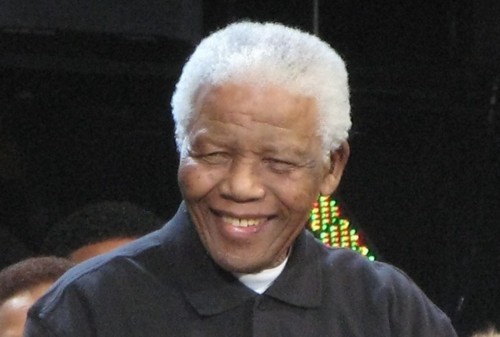 Many musicians paid musical tributes to Nelson Mandela song both during his incarceration and after he was released in 1990. Among these were "Free Nelson Mandela" by the Special A.K.A. (1984), "Bring Him Back Home" by Hugh Masekela (1987), "Mandela" by Carlos Santana (1988), "Mandela Day" by Simple Minds (1988), "Freedom Now" by Tracy Chapman (1989), and most recently "Ordinary Love" by U2 (2013).
The Simple Minds track was written to coincide with the Nelson Mandela 70th Birthday concert which saw many of the music world's biggest acts perform in tribute to Mandela and in support of efforts to get him released from prison.
"Mandela Day" – Simple Minds

South African President Jacob Zuma made the announcement of Mandela's death live on television, stating:
"This is the moment of our deepest sorrow. Our nation has lost his greatest son. Yet what made Nelson Mandela great was precisely what made him human – we saw in him what we seek in ourselves and in him we saw so much of ourselves.

We will always love you Madiba. May your soul rest in peace. God bless Africa."
Tags:
Nelson Mandela
,
Nelson Mandela death
Posted in
General
|
No Comments »

Written by admin on December 5, 2013 – 9:16 pm -
The Rolling Stones have announced the tour dates for their forthcoming 14 ON FIRE Asia Pacific tour.

After a one-off show in Abu Dhabi on February 21, 2014, the band will head out on the road to play three shows in Tokyo and one show in Macau, before heading to Australia and New Zealand.
The following shows are confirmed:
21 February – Abu Dhabi, du Arena (Yas Island)
26 February – Tokyo, Tokyo Dome
4 March – Tokyo, Tokyo Dome
6 March – Tokyo, Tokyo Dome
9 March – Macau, CotaiArena
19 March – Perth, Perth Arena
22 March – Adelaide, Adelaide Oval
25 March – Sydney, Allphones Arena
28 March – Melbourne, Rod Laver Arena
30 March – Macedon, Hanging Rock
2 April – Brisbane, Entertainment Centre
5 April – Auckland, Mt Smart Stadium.
A further two Asian tour dates will be announced shortly.
Tags:
14 ON FIRE tour
,
The Rolling Stones
,
The Rolling Stones 14 ON FIRE tour
Posted in
Gigs
|
No Comments »

Written by admin on December 4, 2013 – 1:59 pm -
The Recording Academy® has announced the newest additions to its Grammy Hall Of Fame, including classic recordings by Sam Cooke, George Harrison, Neil Young, James Brown, The Rolling Stones, Dolly Parton, and Creedence Clearwater Revival.
Neil Portnow, President/CEO of The Recording Academy, says:
"Spanning the 1930s to the 1980s, this year's Grammy Hall Of Fame entries represent a diverse collection of influential and historically significant recordings. Memorable and inspiring, these recordings are proudly added to our growing catalog — knowing that they have become a part of our musical, social, and cultural history."
The 27 additions to the Grammy Hall of Fame include albums and individual songs. Here's the complete list:
"After the Gold Rush" (1970), Neil Young, Album
"All Things Must Pass" (1970), George Harrison, Album
"The Chicago Transit Authority", Chicago (1969), Album
"Cosmo's Factory" (1970), Creedence Clearwater Revival, Album
"Doc Watson" (1964), Doc Watson, Album
"Fortunate Son" (1969), Creedence Clearwater Revival (John Fogerty), Single
"George (On My Mind)" (1930), Hoagy Carmichael And His Orchestra (Hoagy Carmichael, Stuart Gorrell), Single
"Get Up (I Feel Like Being a) Sex Machine" (1970), James Brown (James Brown), Single
"Honky Tonk Women" (1969), The Rolling Stones, (Mick Jagger, Keith Richards), Single
"Jolene" (1973), Dolly Parton, (Dolly Parton), Single
"The Joshua Tree" (1987), U2, Album
"Kristofferson" (1970), Kris Kristofferson, Album
"Low Rider" (1975), War (Allen, Brown, Dickerson, Goldstein, Jordan, Miller, Oskar & Scott), Single
"Mary Poppins – Original Cast Soundtrack" (1964), Julie Andrews, Dick Van Dyke & Various Artists, Album
"Nobody Knows the Trouble I've Seen" (1938), Louis Armstrong And The All Stars (Spiritual Arranged by Henry "Harry" Thacker Burleigh), Single
"Raindrops Keep Fallin' On My Head" (1969), B.J. Thomas (Burt Bacharach, Hal David), Single
"Rapper's Delight" (1979), Sugarhill Gang (Bernard Edwards, Nile Rogers), Single
"Relaxin' With the Miles Davis Quintet" (1958), Miles Davis, Album
"The Revolution Will Not Be Televised" (1970), Gil Scott-Heron (Gil Scott-Heron), Single
"Strange Things Happening Every Day" (1945), Sister Rosetta Tharpe (Rosetta Tharpe), Single
"Sweet Home Chicago" (1937), Robert Johnson (Robert Johnson), Single
"3 O'Clock Blues" (1952), B.B. King (Lowell Fulson, B.B. King), Single
"Under The Boardwalk" (1964), The Drifters (Artie Resnick, Kenny Young), Single
"Walk This Way" (1986), Run-D.M.C. (Joe Perry, Steven Tyler), Single
"Wonderfull World" (1960), Sam Cooke (Sam Cook, Herb Albert & Lou Adler)
"Woodstock – Music From the Original Soundtrack and More" (1970), Various Artists, Album
"Yardbird Suite" (1946), Charlie Parker Septet (Charlie Parker), Single.
The 56th Annual Grammy Awards® will be broadcast live on January 26, 2014, at 8 p.m. ET/PT on the CBS Television Network.
Tags:
BJ Thomas
,
Creedence Clearwater Revival
,
Doc Watson
,
Dolly Parton
,
George Harrison
,
Grammy Hall of Fame
,
Kris Kristofferson
,
Neil Young
,
Sam Cooke
,
The Rolling Stones
,
U2
Posted in
Awards
|
No Comments »

Written by admin on December 3, 2013 – 8:01 am -

George Smith reviews the first of Mark Lewisohn's three-volume biography of The Beatles. "The Beatles: All These Years Volume 1: Tune In" covers the period up to 31 December, 1962.

"Every year seemed like five years," said Paul McCartney looking back at the pre-1963 period of The Beatles. And so it is that Mark Lewisohn has done an exemplary job of recreating that feeling within his new Beatles biography, the first of a (surely definitive) three-part set. The hefty volume (946 pages) explores the many factors that went to make up the quartet in their Fab Four-mative years. So rich is the narrative that one is often astounded to find when finishing a lengthy chapter that it focused, for example, on a brief three-week period.
If detail is what you crave then look no further because this is the tome for which you've been waiting. If you're searching for a brief history of the most influential group in pop history you'd best look elsewhere. This is the beginning of the most comprehensive and thorough Beatles biography yet published. Not to put too fine a point on it: it's big.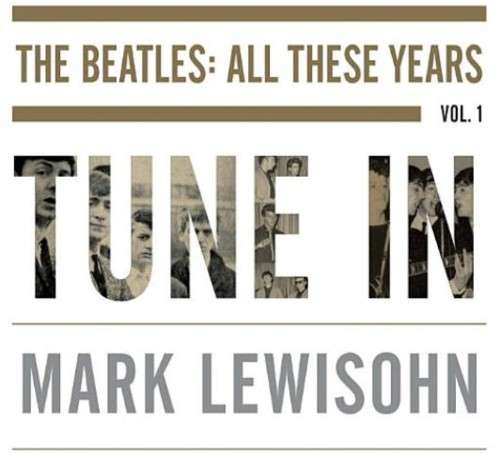 The book jacket describes the author as "the acknowledged world authority on the Beatles" and Lewisohn himself expresses the Dylanesque thought in his introduction that, as no one else was going to write the Beatles book he wanted to read, he'd better compose the thing himself.
From the first page, Lewisohn lays his cards on the table: the Beatles were brilliant, and Lennon and McCartney were particularly brilliant, and this book intends to show you just how brilliant they were (and why). It's a fairly open and refreshing approach but one not without potential pitfalls. Yet the author's enthusiasm for the subject matter is hugely infectious. Why is this? Simply because Lewisohn rarely allows his exhaustive research to intrude on the most important part of the book: telling the story.
He adopts a not-over-academic and non-stuffy approach to his writing, often dropping in humorous asides (John's home is referred to as "Mendips, Tennessee"), which echoes the Beatles' own talent for puncturing overinflated situations and reputations. And for those who are paying careful attention, in true Beatles style, the book is littered with intentional "clues" and nudges in the form of lyrical references, both to the Beatles and also to their heroes: Epstein, the would-be promoter, confesses he's "never engaged in this kind of thing before"; Ringo received a "medicinal compound"; one character sought "a new place to dwell"; John and Paul boarded a bus, "made their way upstairs and had a smoke". It adds to the fun and is a crafty way of drawing in the long-term fan.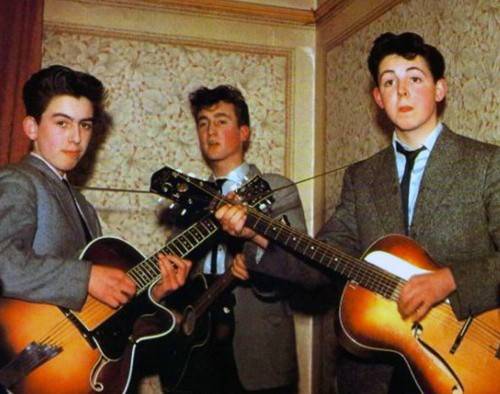 Having read dozens of Beatles books over the years, I'd more or less given up leafing through pages and pages of the same old tales, retold from a slightly different perspective. Even the Anthology volume seemed stale (I was unable to finish the book, truth be told). But this work (and one feels it was more pleasure than work) is immensely readable from beginning to end. It has revived this old fan's flame and interest in the group's story.
Early footage of The Beatles in concert
Lewisohn insists that the work is not authorised but one cannot imagine the surviving Beatles being anything but delighted with the finished manuscript. This is not to say that he has spared feelings or blushes. The four individuals are painted pretty much as they've always been, for better or worse: John was the charismatic leader with a cruel wit; Paul the ever-smiling Mr PR, always with an eye on his own place in the pecking order, pushing forward, desperate to make the group succeed; George was shy and private but more than capable of fighting his corner in any situation; Ringo was the loveable runt who came into the Beatles as the outsider, keenly aware of his vulnerability, often blundering around while he attempted to establish himself.
There are moments that don't always ring true, though. So keenly does Lewisohn toe the party line with regard to Pete Best's deficiencies that one almost feels embarrassed for the drummer: it seems that everyone in Liverpool knew he was a second-rate musician and the author takes every opportunity to reinforce this. Similarly, Lewisohn's occasional (non-sensationalised) outings of the gay cast members seem repetitive. Is their sexuality always important to the story? Perhaps this will become clearer in subsequent volumes, particularly bearing in mind the illegal UK status of homosexuality during the sixties. On the subject of the books to follow, the author also lays several non-too subtle hints as to what is still to occur: for example, he mentions that a meeting took place opposite the Royal Courts of Justice, a building in which "the most complex business disputes were decided", this last phrase is seemingly writ large and in red crayon.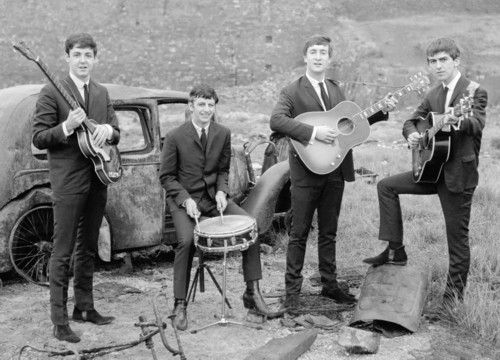 There are no literal and earth-shattering revelations in the book but known and new moments are analysed and uncovered properly and one can plainly see that history is not always as tidy as myth. So many times the early group would take one step forward and two steps back. This doesn't always make for good legend but Lewisohn never shies away from the facts, no matter how inconvenient they may be. Even readers who feel that they've surely heard every story and been down every possible avenue will be surprised as new interviewees bring forth fresh insight and offer clearer perspective to almost all of the tales.
I offer no spoilers in this review: let the readers read and discover for themselves. I say simply that it is a wonderfully readable book, and one which captures the spirit of the times as effectively as did Guralnick's "Last Train To Memphis", when unravelling the story of the Beatles' greatest hero.
Both books remind us that great rock 'n' roll music comes almost exclusively from the young: we hear not just the sound of youth but the sound of how it feels to be young. The Beatles would quickly grow cleverer, richer and more famous but the music they made before 1963 was perhaps their most exciting. Lewisohn is to be congratulated: he has made their story enjoyable and joyous once again. He has reminded us that the Beatles were firstly great friends and secondly great believers in the Gospel of rock 'n' roll.
Amen.
George Smith

Mark Lewisohn promoted his book via an hour-long "Talks At Google" session earlier this month.
"The Beatles: All These Years Volume 1: Tune In" is available now in the standard edition and an extended special edition. The hardcover version of the special edition is not available in North America at present, but can be obtained in two parts on Kindle.
Title

The Beatles: All These Years Volume 1: Tune In (Hardcover)

Buy Now
Buy Now
Buy Now

The Beatles: All These Years Volume 1: Tune In (Kindle)

Buy Now
Buy Now
Buy Now

The Beatles: All These Years Volume 1: Tune In – Special Extended Edition (Hardcover)

N/A
N/A
Buy Now

The Beatles: All These Years Volume 1: Tune In – Special Extended Edition (Part 1) (Kindle)

Buy Now
Buy Now
Buy Now

The Beatles: All These Years Volume 1: Tune In – Special Extended Edition (Part 2) (Kindle)

Buy Now
Buy Now
Buy Now
Tags:
Beatles biography
,
Mark Lewisohn
,
Mark Lewisohn Beatles biography
,
The Beatles: All These Years Volume 1: Tune In
Posted in
Books
,
The Beatles
|
No Comments »