ClassicPopIcons.com
brings you news, reviews and features on the all time greats of popular music.

Written by admin on September 28, 2014 – 4:01 pm -
There have been hundreds of books written about Elvis Presley since his untimely death in 1977, but not nearly enough have placed a strong focus on his music. Long-time Elvis fan, Shane Brown, seeks to rectify that with his enjoyable new book "Elvis Presley – A Listener's Guide".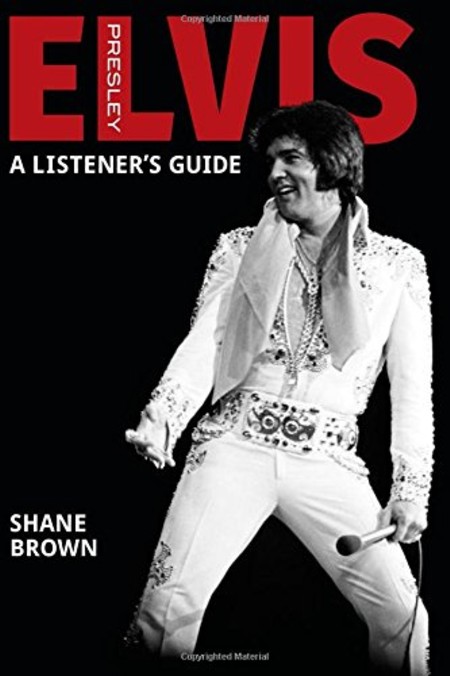 The author's objective is to present a "one-stop listener's guide to the music of Elvis Presley for new and hardcore fans alike". Brown takes a sensible chronological approach to his task, discussing each recording session in order, as well as a selection of the most interesting television performances, live concerts and informal recordings. In "re-evaluating" Elvis' recorded output, Brown strives to avoid the rock-centric genre bias that he feels sometimes gets in the way of fair discussion of much of Elvis' work, and instead considers each song on its individual merits. His hope is that this will "open up a new discussion on Elvis's musical legacy in which the traditional views can be challenged".
The idea of re-evaluating Elvis' musical output is not a set-up for giving a pass to some of Elvis' weaker recordings. Brown's understanding and appreciation of Elvis' work is evident throughout, but don't expect any sugar-coating of the flimsiest material or performances. As a fan of Elvis' best work, Brown's contempt for some of the weaker musical offerings is very evident. He might even surprise you with his lack of enthusiasm for a performance that you hold dear.
For the 1950s chapters, Brown is generally in agreement with the conventional wisdom about the quality of Elvis' performances and the importance of these recordings. He perhaps understates Elvis' prowess as a ballad singer, but leaves the reader in no doubt that Elvis was an inspirational artist in this period, albeit susceptible to the occasional misstep. One man's meat is another man's poison, so readers will inevitably find themselves supporting some of Brown's commentary and disagreeing strongly with other views, eg. I was surprised to see Elvis' lively and enthusiastic work on "One Sided Love Affair" described as "annoying".
Like many Elvis fans, Brown is clearly bemused by some of Elvis' career choices, particularly regarding some of the songs that Elvis agreed to record. The weaker output, much of which was recorded for the 1960s movie soundtracks, is generally dismissed as unworthy, but Brown also mounts a defence of sorts on occasion. In the case of the "Frankie and Johnny" soundtrack, Brown does not try to elevate the songs to something that they are not, but he does note that the material was suited to the period depicted in the movie and that it is generally well performed and fun. In short, Elvis did OK with distinctly average material, which was not really good enough for an artist of his stature.
Brown is also supportive of the much better "GI Blues" soundtrack and of the movie itself, which he regards as "the nearest Elvis got to making a classic Hollywood musical". We get a mini review of each movie, alongside the music, which is appropriate given that the soundtracks form an important part of the movies. This also helps to put the song choices in their correct context, ie as bizarre as it is to think that Elvis agreed to record the likes of "Dominic," it would have been utterly unthinkable for him to have done so for a non-soundtrack session.
The best of Elvis' non-soundtrack recordings in the 1960s included some of his very finest work, including the superb "Elvis is Back" (1960) and "From Elvis in Memphis" (1969) albums, classic singles such as "It's Now or Never," "Are You Lonesome Tonight?" and "Suspicious Minds," and of course the material recorded for his 1968 television special. Brown rightly heaps praise on the well-known classic material, as well as less high-profile offerings such as the "How Great Thou Art" album and material from the pre-comeback non-soundtrack sessions in 1967. He is less complimentary about some of the early 1960s non-soundtrack material as, though generally beautifully sung and often pleasant, the step-down from the heights of the first post-army sessions is evident. From the reviewer's perspective, there were too many examples of Elvis being too good for the material.
Elvis' personal problems in the 1970s are well documented, so it is no surprise that he wasn't always at his best on stage or in the studio. Overall, Brown provides a fair assessment of Elvis' musical output in his final years, which ranged from the sublime to the highly unfortunate. He's also rightly critical of how the RCA release policy and Elvis' own lack of assertiveness led to some regrettable decisions regarding how some of the material was presented, eg the "Burning Love and Hits From the Movies" album.
Brown's objective to re-evaluate Elvis' career without genre bias is welcome and at times refreshing, but ultimately the familiar broad assumptions about Elvis' career do tend to hold true, ie Elvis was a very consistent and dynamic artist in the 1950s; he bookended the 1960s with brilliance, but recorded a lot of poor material in between; and he produced some strong material in his final decade, but was sometimes hampered by ill health and other personal/professional issues. Brown highlights gems and unfortunate missteps from all stages of Elvis' career, but the generally accepted conclusions about the trajectory of his career remain largely unchallenged because the bad and good choices are often quite obvious. Furthermore, while Elvis was proficient in singing many genres and fans have a huge number of superb recordings to enjoy, his 1950s rock 'n' roll recordings are rightly regarded as his most important contribution to popular music because it was those recordings that had the most cultural and musical significance. Brown just reminds the reader that there is a lot more to Elvis than the '50s rocker, and that's a good thing because Elvis was never a one trick pony.
Many fans will have read Robert Matthew Walker's "Elvis Presley – A Study in Music," which was first published in 1979, and might wonder whether they really need another chronological overview of Elvis' songs. The simple answer is no, probably not, but very few books are essential. What you gain from reading "Elvis Presley: A Listener's Guide" is determined in large part by what knowledge you begin with. If you are a casual Elvis fan who is looking to delve further into the Elvis catalogue, the book provides a solid overview of the material that you should seek out and also that which isn't so desirable. If you are a diehard fan, you won't learn as much, but you should enjoy reading what is a well-informed opinion on Elvis' recordings and you might find yourself revisiting certain songs that you rarely listen to. Fans will also appreciate the numerous interesting references to early music and film reviews that litter Brown's text and elevate it beyond a simple compilation of his own thoughts on Elvis.
"Elvis Presley: A Listener's Guide" is recommended.
Rating: 4/5

Tags:
Elvis Presley
,
Elvis Presley: A Listener's Guide
,
Elvis Presley: A Listener's Guide review
Posted in
Books
,
Elvis
|
No Comments »

Written by admin on September 26, 2014 – 11:56 pm -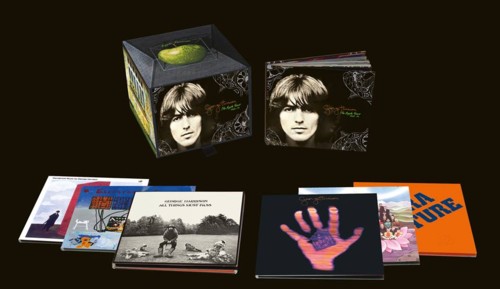 The "George Harrison – The Apple Years 1968-75″ eight-disc box set is out now. The set features Harrison's first six solo albums, remastered from the original analogue masters by Dhani Harrison (George's son) and Paul Hicks. There is also a DVD featuring over 40 minutes of video material, including a new Apple Years feature.
The albums are also available separately on CD and download. Kevin Howlett has provided newly written album notes for all titles except "All Things Must Pass" and "Living In The Material World".
"George Harrison – The Apple Years" – Promo
Talk show host Conan O'Brien celebrated the release of the box set with a week-long musical tribute to Harrison. The tribute kicked off on Monday with Beck's performance of "Wah-Wah" from Harrison's 1970 album "All Things Must Pass".
"Wah-Wah" – Beck
The tribute continued on Tuesday with Paul Simon's performance of the Harrison-penned Beatles classic "Here Comes the Sun".
"Here Comes The Sun" – Paul Simon
Wednesday night saw Harrison's son, Dhani, perform "Let It Down" from "All Things Must Pass".
"Let It Down" – Dhani Harrison & Friends
Conan's George Harrison Week concluded on Thursday night with Norah Jones' performance of "Behind That Locked Door," also from "All Things Must Pass".
"Behind That Locked Door" – Norah Jones
Norah Jones is one of many artists who will appear at "George Fest: An Evening To Celebrate The Music Of George Harrison" on Sunday night (28 September) in Los Angeles.
The "George Harrison – The Apple Years 1968-75″ and individual titles can be ordered via the links below.
Tags:
George Harrison box set
,
George Harrison Conan
,
George Harrison remastered albums
,
George Harrison The Apple Years 1968-75
,
George Harrison Week
Posted in
New releases
|
No Comments »

Written by admin on September 25, 2014 – 7:36 pm -
A guitar that Buddy Holly played during his UK tour in 1958 has made a return to the Bradford Odeon (formerly Gaumont), before being taken to the Buddy Holly Center in Buddy's hometown of Lubbock, Texas.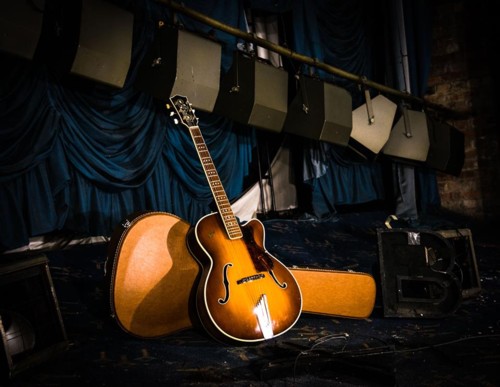 Photo credit: Buddy Holly official Facebook page
The Hofner President guitar was used by Buddy mainly on the tour bus for rehearsing and songwriting, and was given to the tour's compere, a young Dec O'Connor, at the end of the tour. Des sold the guitar to the Buddy Holly Educational Foundation (BHEF) in 2010.
Buddy Holly and the Crickets (Joe B. Mauldin on bass and Jerry Allison on drums) played two shows at the Bradford Gaumont on March 9th, 1958. Also on the bill were Ronnie Keene and his Orchestra, the Tanner Sisters, Garry Miller and Des O'Connor. The show was a hit with the young rock 'n' roll fans, but met with less enthusiasm by Peter Holdsworth of the Telegraph & Argus, who complained:
Unless they had previously read the lyrics or heard them sung by an articulate vocalist, I would have defied anyone in the audience to tell me what 70 per cent of the words were which issued from the lips of this foot-stamping, knee-falling musician. Where on earth is show business heading?
I don't think Mr Holdsworth really understood the new music. Heaven knows what he would have made of Jerry Lee Lewis if Jerry's planned June 1958 gig at the venue hadn't been cancelled.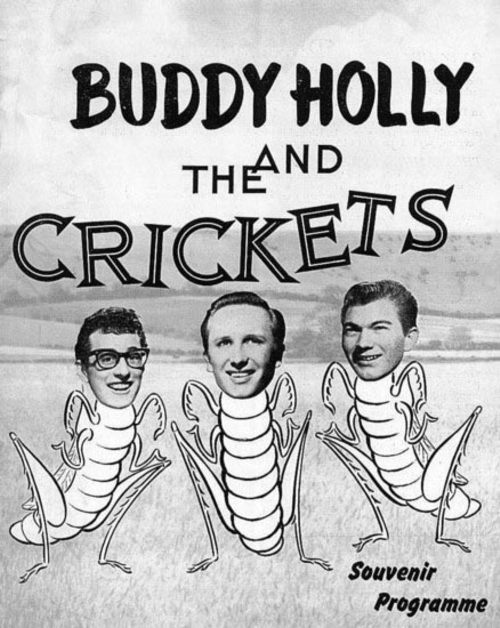 Souvenir programme for the Bradford show
Among the other stars who played the Bradford Gaumont over the years were Eddie Cochran, Gene Vincent, Cliff Richard, Tom Jones, The Beatles and The Rolling Stones.
Tags:
Bradford Gaumont
,
Buddy Holly
,
Buddy Holly Bradford Gaumont
,
Buddy Holly guitar
,
Buddy Holly UK tour
Posted in
Rock 'n' roll
|
No Comments »

Written by admin on September 23, 2014 – 2:19 pm -

Test how much you know about the Classic Motown period with our fun quiz. There are 15 questions, each with four possible answers. You can challenge your friends by sharing via the social media buttons above.
Tags:
Classic Motown
,
Motown
,
Motown quiz
,
Motown trivia
Posted in
Motown
,
Quiz
|
No Comments »

Written by admin on September 19, 2014 – 1:33 pm -
Yusuf (Cat Stevens) will perform his first US shows in over 35 years in December, following a number of European dates. The singer will perform classic hits and songs from his forthcoming rhythm and blues album "Tell 'Em I'm Gone".
The US leg of "The Peace Train … Late Again" tour begins on December 1 at Massey Hall in Toronto and concludes on December 14 at Nokia Theatre LA LIVE in Los Angeles, CA.
Tags:
Cat Stevens
,
Cat Stevens new album
,
Cat Stevens Tell Em I'm Gone
,
Cat Stevens tour
,
Tell Em I'm Gone
,
The Peace Train Late Again tour
,
Yusuf
,
Yusuf new album
,
Yusuf Tell Em I'm Gone
,
Yusuf tour
Posted in
Blues
,
Gigs
,
New releases
|
No Comments »