Posts Tagged 'Bob Dylan'


Written by admin on March 12, 2013 – 7:52 pm -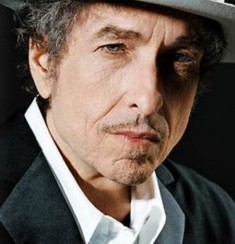 Bob Dylan has become the first rock musician to be voted into the American Academy of Arts and Letters, which recognises excellence in music, literature and visual art.
Dylan will be inducted as an honorary member as the Academy were unable to decide whether he belonged for his words or his music.
The Academy's executive director, Virginia Dajani, told the Associated Press:
"The board of directors considered the diversity of his work and acknowledged his iconic place in the American culture. Bob Dylan is a multi-talented artist whose work so thoroughly crosses several disciplines that it defies categorization."
The induction ceremony will take place in May, with Pulitzer Prize-winning author Michael Chabon delivering the keynote speech. Dylan has accepted the honour but it is not clear whether or not he will attend.
Tags:
American Academy of Arts and Letters
,
Bob Dylan
,
Bob Dylan voted into American Academy of Arts and Letters
Posted in
Awards
|
No Comments »


Written by admin on August 27, 2012 – 9:11 pm -
C

olumbia Records has announced an international line-up of events that will enable Bob Dylan fans to preview his new album "Tempest" before its official release date of September 11.

Today saw the album's opening track, "Duquesne Whistle," receive its world premiere on NPR Online.
The video for "Duquesne Whistle" debuts at 9 a.m. GMT (4 a.m. EDT) on August 29 on The Guardian website. The video was directed by Nash Edgerton, who previously directed the video for "Beyond Here Lies Nothing" from Dylan's "Together Through Life" album.
Two days later, on August 31, the website listentobobdylan.com will feature a map of locations in the U.S. and nine other countries (Australia, Belgium, Brazil, Canada, France, Germany, Netherlands, Sweden and the United Kingdom) where selected songs from "Tempest" will be streamed to mobile devices. The tracks will be randomly streamed when users are within the Tempest-tagged geographic areas, utilising the free web-based Sound Graffiti app.
Special Bob Dylan Tempest stores will open for a seven-day period in New York, Los Angeles and London on September 10, giving fans the chance to buy the album one day ahead of its official release date. The stores will also feature other Bob Dylan releases and exclusive merchandising. The Bob Dylan Tempest stores will be located at:
819 Washington Street, New York, NY 10014
7763 Melrose Avenue, Los Angeles, CA 90046
47 Beak Street, London, W1F 9SE.
The CD and vinyl editions of "Tempest" are available for pre-order now from:
Title

Bob Dylan – Tempest (CD)

Buy Now
Buy Now
Buy Now
Buy Now

Bob Dylan – Tempest (CD/LP)

Buy Now
Buy Now
Buy Now
Buy Now
Tags:
Bob Dylan
,
Bob Dylan new album
,
Bob Dylan Tempest
Posted in
Folk
,
New releases
|
No Comments »