Written by admin on September 24, 2012 – 10:39 pm -
Tweet
C

reedence Clearwater Revival's "Bad Moon Rising" is Song of the Week on Classic Pop Icons.

"Bad Moon Rising" was released on single in April 1969, backed with the equally brilliant "Lodi". Both tracks also featured on the album "Green River," released four months later.
Creedence Clearwater Revival had already been playing together for almost a decade when they hit big in 1968, albeit with various names and not at first with Tom Fogerty in the line-up. After several name changes, including the Blue Velvets and the Golliwogs, they settled on Creedence Clearwater Revival and began to take America by storm with their infectious roots rock sound in 1968. By the time that "Bad Moon Rising" was released in April 1969, things had really begun to move for the band, with the single "Proud Mary" reaching number two on the Billboard Hot 100 the previous month. "Bad Moon Rising" would prove that "Proud Mary" was no fluke.
John Fogerty commented on how he came up with the idea for the song during an interview with Rolling Stone's Michael Goldberg (Rolling Stone/February 4, 1993):
"I got the imagery from an old movie called The Devil and Daniel Webster. Basically, Daniel Webster makes a deal with Mr. Scratch, the devil. It was supposed to be apocryphal. At one point in the movie, there was a huge hurricane. Everybody's crops and houses are destroyed. Boom. Right next door is the guy's field who made the deal with the devil, and his corn is still straight up, six feet. That image was in my mind. I went, "Holy mackerel!"
"My song wasn't about Mr. Scratch, and it wasn't about the deal. It was about the apocalypse that was going to be visited upon us. It wasn't until the band was learning the song that I realized the dichotomy. Here you got this song with all these hurricanes and blowing and raging ruin and all that, but it's [snaps fingers] "I see a bad moon rising." It's a happy-sounding tune, right? It didn't bother me at the time."
That "happy sounding tune" was reaching back to the early days of rock 'n' roll, with a particular nod to the rockabilly pioneers of Sun Records, including Elvis and Carl Perkins. If someone told you that "Bad Moon Rising" was recorded in Memphis, you'd believe it. The basic approach, free of gimmicks or unnecessary experimentation, is what gives the song a timeless, fresh sound. It's a good thing that Fogerty wasn't too mindful of a possible mood conflict with the lyrics.
A contemporary review of the song by Rolling Stone's Bruce Miroff (Rolling Stone/October 18, 1969) summed up the sense of forboding in Fogerty's lyrics as "paranoia, 1969 style" and noted that the song "accurately measures the distance we've travelled since the Sunset Strip riots of [Stephen Stills'] 'For What It's Worth.'" A lot had indeed happened since those 1966 Sunset Strip Riots, including three more years of young men dying in Vietnam, ongoing civil rights tensions, and the appalling assassinations of both Martin Luther King Jr and Robert F Kennedy. Looking at the world from that perspective, it's no wonder that Fogerty was predicting "trouble on the way".
"Bad Moon Rising" – Creedence Clearwater Revival
Authorship
The words and music for "Bad Moon Rising" were written by John Fogerty.
Recording date/location
"Bad Moon Rising" was recorded in March 1969 at Wally Heider's Studio, San Francisco, California.
Musicians
The following musicians appeared on "Bad Moon Rising":
John Fogerty – lead guitar, lead vocals
Tom Fogerty – rhythm guitar
Stu Cook – bass guitar
Doug Clifford – drums.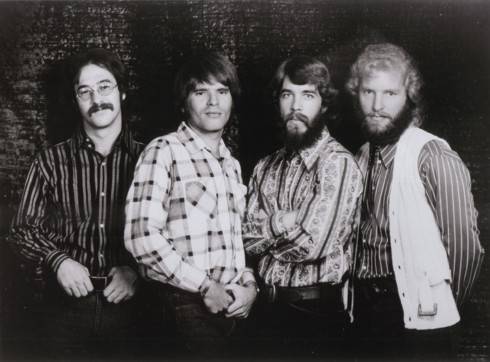 Stu Cook, John Fogerty, Doug Clifford, Tom Fogerty
Chart performance
Creedence Clearwater Revival were at their commercial peak in 1969, achieving three Top Ten albums and four Top Ten singles. "Bad Moon Rising" peaked at number two on the Billboard Hot 100 on June 22, 1969.

This was the only Creedence Clearwater Revival song to top the UK singles chart.
Other notable recordings
"Bad Moon Rising" – Jerry Lee Lewis
"Bad Moon Rising" was included on Jerry Lee Lewis' best-selling 1973 album "The Session" on which Jerry Lee was backed by a great band, including Albert Lee, Rory Gallagher, Peter Frampton, Alvin Lee and Chas Hodges. It's a strong recording that takes the song in a country direction, in keeping with Jerry Lee's career direction at the time. There's some effective harmony vocals, a nicely crafted guitar lead and some excellent flourishes on piano from the Killer.
There's no version of that recording on YouTube, but a similar approach was taken (with less expressive piano) when Jerry Lee recorded a duet with John Fogerty for the 2010 album "Mean Old Man".
"Bad Moon Rising" – The Reels
The Reels' 1986 cover of "Bad Moon Rising" is notable for taking an entirely different approach to the song than the original. The song is slowed down, with a chorus of voices backed by various synthesised elements. It doesn't quite come off, but it does have a vaguely hypnotic quality and gets credit for originality.

There will be a new Song of the Week on October 1.
Creedence Clearwater Revival's "Bad Moon Rising" is available on "Green River" and a number of compilations, including "Creedence Clearwater Revival – The Singles Collection".
Tags:
Bad Moon Rising
,
Creedence Clearwater Revival
,
Green River
,
jerry lee lewis
,
John Fogerty
Posted in
American Rock
,
Song of the Week
|
Tweet
No Comments »
Leave a Comment