Written by admin on April 30, 2012 – 10:59 pm -
Tweet
M

ary Wells' signature hit "My Guy" is Song of the Week on Classic Pop Icons.

"My Guy" was released on single in March, 1964 backed with "Oh Little Boy (Look What You've Done to Me)". Shortly afterwards it appeared on the album "Mary Wells Sings My Guy".
Although it would become Wells' biggest single, "My Guy" was originally written by Smokey Robinson as filler material for a proposed album of unreleased material. Free from the pressure of coming up with a hit single, Robinson inadvertently wrote one of the label's biggest sellers.
The song has a sweet appeal, entirely free from cynicism. There is no statement beyond a declaration of loyalty to the boyfriend – "Nothing you could say / Can tear me away from my guy". The lyrics are simple and even a little adolescent, but that's what Robinson was intending. We are supposed to be drawn into the young woman's sense of romantic joy. There are moments where you wonder how a line got beyond Smokey's first draft though, notably "When it comes to being happy, we are".
"My Guy" begins with one of the most memorable of all Motown intros, which borrows from Hugo Winterhalter's 1956 recording of "Canadian Sunset". It then proceeds with an appealing arrangement, full of inspired musical contributions from the Funk Brothers house band. The sense of the song being a shared celebration of the singer's romantic success is achieved with the well-judged backing vocals and hand claps of The Andantes. On top of all this is Mary Wells impeccable vocal, which culminates in the sultry outro where she repeatedly assures us that "There's not a man today who could take me away from my guy".
Mary Wells string of hits, culminating in "My Guy," brought her to the attention of The Beatles who invited her to tour the UK with them in October 1964. This made Wells the first Motown star to perform in the UK. The group referred to her as their favourite American singer.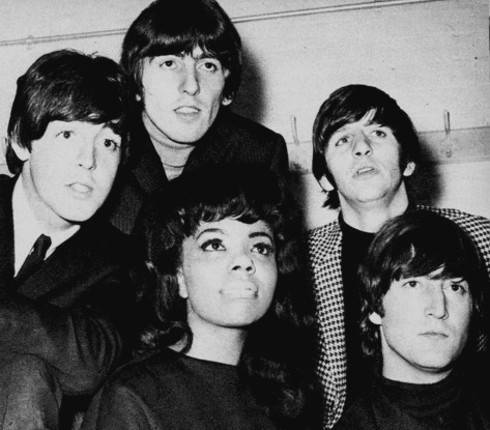 The success of "My Guy" should have led to many more hits for Wells, but this increased commercial power soon led to her relationship with Motown collapsing. Wells' husband, Herman Griffin, encouraged her to sue Motown to overturn the recording contract she had signed at seventeen. Although she successfully sued the company, her decision to then sign for 20th Century Fox proved to be a poor choice. Without the artistic back-up from Smokey Robinson and the fine musicianship of the Motown house band, her records failed to make any great impact on the charts.
Mary Wells – "My Guy"
"My Guy" was inducted into the Grammy Hall of Fame in 1999.
Authorship
"My Guy" was written by Smokey Robinson, who had already penned a string of hit singles for Wells, including "(The One Who Really Loves You," "You Beat Me To The Punch," and "Two Lovers".
Recording date/location
"My Guy" was recorded in early 1964 at Hitsville U.S.A. (Studio A), 2648 West Grand Boulevard, Detroit, Michigan.
Musicians
Mary Wells was backed by the legendary Funk Brothers Motown house band on "My Guy," comprising:
Mary Wells – lead vocals
Johnny Griffith – piano
Earl Van Dyke – organ
Eddie Willis – guitar
Robert White – guitar
James Jamerson – bass
Benny Benjamin – drums
Dave Hamilton – vibes
Herbert Williams – trumpet
Russ Conway – trumpet
Paul Riser – trombone
George Bohannon – trombone.
Backing vocalists, The Andantes, were Jackie Hicks, Marlene Barrow, and Louvain Demps.
Chart performance
"My Guy" reached number one on the Billboard Hot 100.

The song peaked at number five on the UK singles chart, making it the first Motown track to reach the UK Top Twenty.
Covers
Sister Sledge – "My Guy"
Sister Sledge hit number 23 on the Billboard Hot 100 with their cover of "My Guy" in 1982. The material is well suited to them and they turn in a typically fun performance, without really coming close to eclipsing the original.
Aretha Franklin – "My Guy"
Aretha's cover appeared on her 1964 album "Runnin' Out Of Fools" (the YouTube video below is wrongly dated 1966). The key elements of the original are retained, with Aretha putting her own stamp on the phrasing. It's a good album track, but far from the heights that she would later achieve with her classic Atlantic material.

There will be a new Song of the Week on May 7.
Mary Wells' "My Guy" is available on numerous compilations, including "Mary Wells – The Definitive Collection," which was released in 2008 as part of Motown's 50th Anniversary celebrations.
Title

Mary Wells – The Definitive Collection (2 CDs)

Buy Now
Buy Now
Buy Now
Buy Now
Tags:
aretha franklin
,
Mary Wells
,
Mary Wells My Guy
,
Motown
,
My Guy
,
Sister Sledge
,
smokey robinson
,
the Beatles and Mary Wells
Posted in
Motown
,
Song of the Week
|
Tweet
No Comments »
Leave a Comment