Written by admin on November 26, 2014 – 9:38 am -
Tweet
Paul Simon's musical guest spot at the Michael J Fox Foundation's annual gala on Saturday night included a duet with Fox on "Me and Julio Down by the Schoolyard". The Beastie Boys contributor Mix Master Mike also performed.
Paul Simon also performed "The Sounds of Silence, "The Boxer" and "Late in the Evening," before closing with the crowd pleasing "You Can Call Me Al".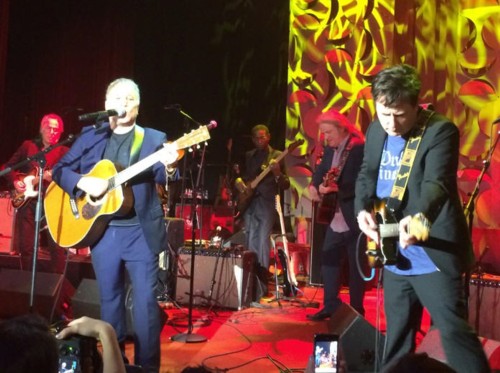 Photo credit: Willie Geist Twitter profile (@WillieGeist)
Fox's duet with the musical guest has become a tradition at the annual "A Funny Thing Happened on the Way to Cure Parkinson's" fundraiser, with previous guests including Coldplay's Chris Martin, Elvis Costello, Gregg Allman, The Who and Sheryl Crow.
The event at New York's Waldorf Astoria raised around $5 million for the Michael J Fox Foundation, which funds research into Parkinson's Disease. Among the other guests at the gala were Julianne Moore, Ryan Reynolds, Katie Couric and George Stephanopoulos.
In other Paul Simon news, this week sees the release of "Simon and Garfunkel – The Complete Albums Collection," which features remastered editions of the duo's five studio albums, the soundtrack to "The Graduate," "The Concert In Central Park," "Old Friends," "Live From New York City, 1967" and "Live 1969".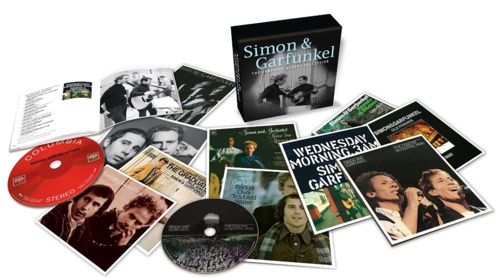 "Simon and Garfunkel – The Complete Albums Collection" can be ordered now from Amazon and iTunes.
Title

Simon and Garfunkel – The Complete Albums Collection

Buy Now
Buy Now
Buy Now
Buy Now
Buy Now
Tags:
A Funny Thing Happened on the Way to Cure Parkinson's
,
Michael J Fox
,
Michael J Fox Foundation
,
Paul Simon
,
Paul Simon and Michael J Fox
Posted in
Gigs
|
Tweet
No Comments »
Leave a Comment