Written by admin on November 13, 2014 – 4:24 pm -
Tweet
John Fogerty has had his say on the controversy sparked by Bruce Springsteen, Dave Grohl and Zac Brown's performance of "Fortunate Son" at Tuesday night's "Concert for Valor" in Washington, D.C.
The performance ended Brown's set and was one of the musical highlights of the night, but the decision to sing the counter-culture classic received a mixed response on social media, with some asserting that the lyrics were inappropriate for a night dedicated to veterans. It should be obvious that no one involved meant the performance as a slight to veterans, but some clearly didn't see it that way.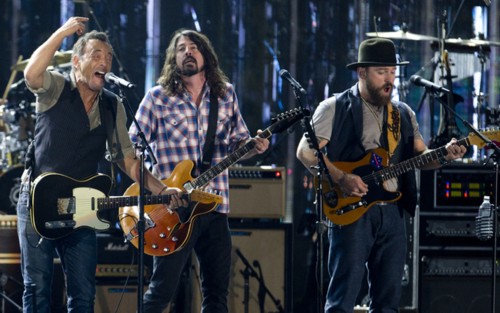 The song's author, John Fogerty, has since issued a statement to provide clarity about the intentions of the song and the high regard he has for veterans:
'Fortunate Son' is a song I wrote during the Vietnam War over 45 years ago. As an American and a songwriter, I am proud that the song still has resonance. I do believe that its meaning gets misinterpreted and even usurped by various factions wishing to make their own case. What a great country we have that a song like this can be performed in a setting like Concert for Valor.

Years ago, an ultraconservative administration tried to paint anyone who questioned its policies as 'un-American'. That same administration shamefully ignored and mistreated the soldiers returning from Vietnam. As a man who was drafted and served his country during those times, I have ultimate respect for the men and women who protect us today and demand that they receive the respect that they deserve.
Grohl guested on "Fortunate Son" with John Fogerty on the 2013 album "Wrote a Song for Everyone," and Springsteen has also performed the song live with Fogerty.
Grohl had earlier entertained the crowd at the Mall with acoustic versions of "There Goes My Hero" and "Everlong," and Brown's set had featured "Chicken Fried," and the mood-fitting "America the Beautiful" and "God Bless the USA".
Springsteen would be back on stage later with a solo acoustic set featuring "The Promised Land, "Born in the USA" and "Dancing in the Dark".
The show was opened by Jennifer Hudson who, not for the first time in her career, performed the National Anthem. After a video message from President Obama, Hudson duetted with Jessie J on "Titanium," who then sang her recent hit "Bang Bang".
There were also performances from the Black Keys ("Howlin' for You," "Fever" and "Lonely Boy"), Carrie Underwood ("Before He Cheats" and "Something in the Water"), Metallica ("For Whom the Bell Tolls," "Master of Puppets" and "Enter Sandman"), Rihanna ("Diamonds," "Stay" and a duet with Eminem on "Monster"), and Eminem ("Not Afraid," "Lose Yourself"). Celebrity presenters included Meryl Streep, Tom Hanks, Reese Witherspoon and Jack Black. First Lady, Michelle Obama, sent a video tribute to Congressional Medal of Honor recipient Cedric King.
The free Veteran's Day event attracted an estimated 100,000 people to the Mall and it was also broadcast on HBO.
Tags:
Bruce Springsteen
,
Concert for Valor
,
Concert for Valor Fortunate Son
,
Dave Grohl
,
Fortunate Song
,
John Fogerty
,
Zac Brown
Posted in
Gigs
|
Tweet
No Comments »
Leave a Comment