Written by admin on August 27, 2011 – 1:13 pm -
Tweet
Harley Payette pays tribute to the legendary songwriter Jerry Leiber, who passed away on August 22.

A few years back there was a tribute to Jerry Leiber and Mike Stoller, the great rock 'n' roll songwriting team, on American Idol. Reviewing the show, my local arts critic wondered in print just who Leiber and Stoller were. According to the writer, such figures were too obscure for a full blown "Idol" tribute. Some would say that this was a sign that Jerry Leiber, who died August 22 of cardiac arrest, had outlived his fame. Maybe Leiber, the lyricist, in the songwriting duo, and his partner Stoller were never famous enough. They made their greatest impact in an age where the roles of songwriters and singers were often rigidly segregated and unlike the golden age of Tin Pan Alley, the media focused almost exclusively on the performers. The sheer number of classic titles though that they contributed to the rock 'n' soul pantheon- "Hound Dog," "Jailhouse Rock," "Kansas City," "Ruby Baby," "Drip Drop," "Stand By Me," "On Broadway," "Yakety Yak" and on and on – made a lot of people find out who they were. Whether or not they were ever household names or whether some hack writer knew who they were in 2007, is not what's important. The people who really care about pop music know Leiber and Stoller because they were unbelievably good at what they did and because what they did was so profound and helped create much of what was best about the pop world of the last half century. Leiber's death does not change that.
Born in Baltimore in 1933, Leiber moved with his mother to Los Angeles in the late 1940s. There he had an epiphany when he heard Jimmy Witherspoon's "Ain't Nobody's Business" on the radio one night during work. The power and mystery of Witherspoon's performance, so different than the traditional pop music that dominated the radio at that time, sparked in the youngster a desire to write blues songs. Although Leiber was by many accounts a fine singer in his own right, he had a great desire to hear his lyrics sung by blues singers like Witherspoon, the only voices he thought could do them justice. Before long he had a notebook full of lyrics. Lester Sill, a promotion man for Modern Records and future partner of Leiber and Stoller, befriended the teenager and expressed interest in the lyrics but noted that they needed annotated music.
Leiber set about finding a songwriting partner. An early attempt did not bear fruit but led him to Stoller, a fellow transplanted East Coaster with a similar interest in the blues. The two began writing together in 1950 and partly due to their friendship with Sill and partly to their own youthful nerve they soon found their songs being recorded by R&B artists on independent labels. Their first record was "That's What the Good Book Says" by the Robins (an early incarnation of the group that would eventually morph into the Coasters) in 1951. They soon followed up with compositions recorded by heavyweights like Witherspoon, Charles Brown and Ray Charles.

Their big commercial break came in 1953 when they wrote a tune for the unusual female blues singer Big Mama Thornton. At the session, Jerry had the temerity to try and tell Big Mama how to sing the song. She was crooning the tune he had intended to be growled. Johnny Otis, who had been playing drums at the session, took Leiber's side and soon Thornton and the band were following the fledgling young writer. As he would do so many times in the future, Leiber found success by encouraging a singer to feel comfortable doing what they did best.
Big Mama Thornton – "Hound Dog"
"Hound Dog" was a huge hit reaching #1 on the R&B chart and gaining some pop play as well, although the duo didn't make a ton of money from it thanks to industry subterfuge. But they did come up with more hits including a pop Top Ten in 1955 with the Cheers' "Black Denim Trousers and Motorcycle Boots."
Another record they made that hit the bottom of the pop charts, The Robins' "Smokey Joe's Café," would have a bigger impact on their career. The record originated on Leiber and Stoller's own Spark Records in Los Angeles which the duo created out of frustration with not receiving their property royalties for "Hound Dog." The label was troubled because although Leiber and Stoller were gifted at making records, they weren't good at distribution, production and promotion. By this time, their records were compelling enough to have captured the attention of Atlantic executive Nesuhi Ertegun. Atlantic was the nation's most successful independent label at the time, specializing in R&B. Ertegun loved the pair's stuff, especially "Smokey Joe's," an outlandish comic story song filled with urban atmosphere that was breaking in Los Angeles at the time. Atlantic agreed to distribute the record nationally. It did so well that Atlantic invited them to become writer/producers at large for their great roster of R&B oriented talent. The duo closed up their record label and went to work as independent producers.
If the deal with Atlantic promised them continued opportunities to create R&B chart topping compositions, a stroke of fate a few months later opened up even greater opportunities. Elvis Presley performed "Hound Dog" to sensational ratings and immense controversy on Milton Berle's TV show.
| | |
| --- | --- |
| | RCA then released "Hound Dog" as one side (along with Otis Blackwell's "Don't Be Cruel") of the up and coming artist's third mainstream 45 on the label. The result was the biggest hit of the 1950s, of Presley and Leiber and Stoller's careers, and the biggest chart hit of the rock era until the early 1990s (when a lot of old chart records tumbled due to changes in Billboard's rules). |
Elvis Presley's "Hound Dog" reportedly sold seven million units in 1956 alone, not to mention the tens of millions of sales it has racked up on LP/CD reissues over the years.

Although the pair did not meet Presley until 1957, they soon became known as Elvis' ace songwriters. In fact, Leiber and Stoller were maybe the only writers to ever receive direct commissions from Elvis to pen material. (Usually the requests came from Elvis' publishing organization.) Writing for Elvis, and those great Atlantic acts including the Drifters, Lavern Baker, Ruth Brown and especially the Coasters, pushed Leiber and Stoller into a period of dizzying commercial and artistic success, making them what some critics called the "poet laureates of rock n' roll." "Jailhouse Rock," "Yakety Yak," "Young Blood," "Don't," "Treat Me Nice," "Fools Fall in Love," "Drip Drop," "Ruby Baby" (two fine Drifters' hits that Dion remade with spectacular success in the early 1960s), "Poison Ivy," "(You're So Square) Baby I Don't Care," "Love Potion No. 9," "There Goes My Baby" (a co-write with Ben E. King), "Trouble," "Santa Claus is Back in Town," "Dance With Me," were only a few of the incredible rock and roll compositions that dotted this period, nearly all of which sold in the millions of copies or made the Pop Top 20 or Top Ten. The pair were so hot that even earlier songs which they might have forgotten or given up on were revived into the Top Ten, including Presley's version of Willie and Ruth's two-year-old "Love Me" and Wilbert Harrison's inspired 1959 #1 recast of the duo's 1952 composition for Little Willie Littlefield "Kansas City" (or "KC Lovin'). Mercy!
In these songs, Leiber and Stoller helped set the face and character of what would become rock 'n' roll as much as Elvis Presley or Chuck Berry or Little Richard or whatever other artist you'd want to name.

The blues and backbeat that defined songs like "Hound Dog" were a big part of it. Leiber's lyrics were an even bigger part. On tracks like "Yakety Yak," a 1958 Coaster's #1, Leiber so perfectly defined the generation gap between parents and teens that the song is still relevant. Some of Leiber's jibes were obvious if funny and cleverly expressed – "Just finish cleaning up your room/Let's see some dust fly with that broom." Others were really sharp social critique. With "Just tell your hoodlum friends outside/You ain't got time to take a ride," Leiber gave us a slight hint at the fear many parents had of the emerging teen culture at the time, but also recognized the natural suspicion that parents often have of their children's new and suddenly larger friends. What's more, the song lets us know that the kids are fully aware of that suspicion. That's what makes "Yakety Yak" ultimately work so well. This is music from the teen's point of view. Along with Chuck Berry and a few other artists, Leiber and Stoller created the template for rock 'n' roll as a voice of teen frustration, from "Summertime Blues," to "School's Out" to "Principal's Office."
The Coasters – "Yakety Yak"
Leiber's lyrics, along with the performance styles of Presley, Richard and McPhatter, helped create the image of rock 'n' roll as an earthy, sensuous music in touch with worldly pleasures and perils. One of their best, "Poison Ivy", a 1959 Coaster's Top Ten, is a thinly veiled, brilliantly comedic, metaphor for venereal disease. "Measles will make you bumpy/And mumps'll make you lumpy/And chicken pox can make you jump and hitch/A common cold can fool you/And whooping cough can cool you/but poison ivy lord'll make you itch." Another classic, "Don't," a 1958 #1 for Presley, delineated teenage sexual gender politics with precision. Although the only act described in the song is kissing, it's hard to miss the implications of the song's opening "Don't, don't/That's what you say/Each time that I hold you this way." The song lays down the male argument in the great personal debate two years before Carole King gave us "Will You Love Me Tomorrow."
Rock 'n' roll's sense of irreverence also had much of its origins in Leiber's lyrics that were often steeped in iconoclastic and outrageous humor. Sometimes that humor was expressed in sly inside jokes, like the subtle homosexual inference on Presley's "Jailhouse Rock" – "Number 47 said to number three/You're the cutest jailbird I ever did see." The implication is that two men are dancing together because prisons are not sexually integrated. Other times they would use direct commentary as on "Yakety Yak." In songs such as "Framed" and "Shopping For Clothes," it would take the form of spoken word black culture stream of consciousness rants, as interpreted through a sympathetic white Jew's eyes. These songs would veer closely to what is today considered rap.
The preferred method of operation was what Leiber and Stoller called "playlets," which told elaborate humorous stories that would often take wildly eccentric turns. "Love Potion Number 9," "Along Came Jones," "Smokey Joe's Café," and the greatest of them all, "Little Egypt," were classic examples. Leiber was a master of detail. "She bent down and turned around and gave me a wink/She said I'm gonna mix it up right here in the sink/It smelled like turpentine and looked like India Ink/I held my nose, I closed my eyes, I took a drink," he wrote in the Clover's United Artists hit "Love Potion #9," giving the song a weird "it sort of could have happened" verisimilitude. And the punch lines he provided were always unexpected and usually on the edge of imagination. "Little Egypt's" fantastic denouement "She did a triple somersault and when she hit the ground/She winked at the audience and then she turned around/She had a picture of a cowboy tattooed on her spine saying 'Phoenix Arizona 19-49!" makes the ending of "Love Potion #9" where the singer gets so horny he gets arrested for kissing a cop on the street seem mundane. Leiber and Stoller's playlets vicariously took you to places you weren't supposed to go, to do things you would never have thought to do.
Leiber and Stoller's playlets, many conceived as full scale performance pieces with various speaking and singing parts and sound effects, would not have worked as well as they did if the pair were not so gifted at record production. "In each case, the production is equal partner to the melody and the lyrics," said Mike Stoller's son Peter in his section of his dad's autobiography. "'Just the song' would be like Star Wars without special effects."
The vast majority of Leiber and Stoller's hits were songs they also produced. As the 1950s turned into the 1960s, the duo focused more and more of its time on production, creating a new slew of hits, including many written by other authors. Among these were classics such as the Drifter's "Save the Last Dance for Me." They wrote less than before, usually focusing their attention on finishing ideas proposed by other writers, but whether they wrote it alone or with a collaborator, they still could provide killer material like "Stand By Me," (written with Ben E King), "Spanish Harlem" (which Leiber wrote with Phil Spector), "She's Not You" (a collaboration with Doc Pomus), and "On Broadway" (with Barry Mann and Cynthia Weil).
The Drifters – "On Broadway"
The mark they made in this period, though in production, was a mark as profound as the one they made in composition. Their 1959 production of the Drifter's "There Goes My Baby" (a Leiber and Stoller co-write with King and Drifter's manager George Treadwell) was one of the most important records in the rock era in that it was the first R&B hit to incorporate strings into the production. The record was a downright extravaganza featuring a prominent tympani and the use of Brazilian baion rhythms, both novelties on pop records at that time. For all the painstaking care that went into the production, a mistake by Ben E. King where he comes in too early on one line was allowed to remain. Somehow Leiber and Stoller had made a record that combined the sophistication, ambition and even pretensions of classic Tin Pan Alley and Broadway pop, while still retaining the raw human element that made rock 'n' roll so special. Eight years before Sgt Pepper, Leiber, Stoller and the Drifters made music that demanded listening before dancing.
The records the pair made with the Drifters over the course of the next several years, many written by the more sentimental team of Doc Pomus and Mort Shuman, were tremendously influential. You can hear their influence in records like Luther Dixon's production of the Shirelles' "Will You Love Me Tomorrow," the work of Burt Bacharach (who occasionally arranged for Leiber and Stoller) and Hal David, and of course Phil Spector.
Spector learned the ropes first hand from Leiber and Stoller. He would not pay back their kindness but would build on what they had taught him and influence virtually every producer and the entire concept of what was acceptable in rock music. In this way nearly all modern rock 'n' roll record production has its roots in Leiber and Stoller.
As great as the duo were as songwriters, they were probably even better producers. Listening to a karaoke singer mangle "Stand By Me" can put you off, but Leiber and Stoller's production of Ben E. King's record always dances in your ears.
Ben E. King – "Stand By Me"

Both elements – production and composition – defined the most famous and popular chapter in the great pair's career – their collaboration with Elvis Presley. Leiber and Stoller actually had very little to do with their first and biggest Presley hit "Hound Dog." In fact, they, Leiber in particular, despised the record. That's because Presley's recording was based not on Big Mama's hit, but on a parody version done by Vegas lounge act Freddy Bell and the Bell Boys. (Presley knew the Thornton record, but didn't record it because he saw it as a woman's record. He would eventually sing the Thornton lyrics on stage in Vegas in 1971.) It changed not only the tempo of the song but also much of the lyric including the incorporation of the line "You ain't never caught a rabbit." To Leiber this made the lyric meaningless. Thornton's record was about a no-good gigolo, the "rabbit" line made the song seem more literally about a dog.
The two were also not initially the greatest fans of Presley in particular. As white hipsters ahead of their time in their appreciation of black culture, they first saw Presley as an interloper. Presley, though, was interested enough in the material he had recorded from the pair, which included by early 1957 not only "Hound Dog," but also "Love Me," "Loving You" and the album track "Hot Dog," that he requested an audience.
Elvis Presley – "Love Me"
When Leiber and Stoller met Elvis in May 1957 they immediately recognized that Presley was not "lame ofay," a pretty boy taking a ride on a style he didn't understand, but a genuine kindred spirit. "When it came to the blues, Elvis knew his stuff," Leiber explained in his autobiography. "He may not have been conversant about politics or world history, but his blues knowledge was almost encyclopedic. Mike and I were blown away. In fact, the conversation got so enthusiastic that Mike and Elvis sat down at the piano and started playing four-handed blues. He definitely felt our passion for the real roots material and shared that passion with all his heart. Just like that, we fell in love with the guy."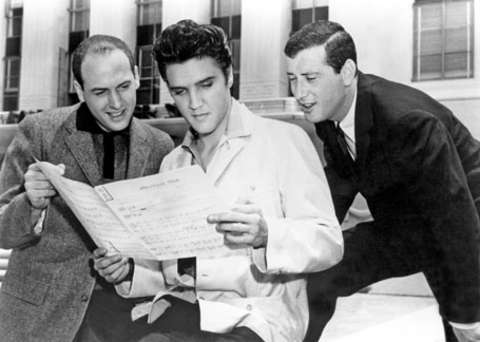 Mike Stoller, Elvis Presley and Jerry Leiber at MGM Studios (1957)
It was an extremely rare moment in Presley's career where the singer got to collaborate one-to-one with equally powerful artists. Leiber and Stoller had written the score for Presley's film Jailhouse Rock before their meeting with Elvis, but worked directly with Elvis and the band on the sessions, helping to produce what would become some of Presley's most exciting post-Sun recordings. The best of them, "Jailhouse Rock," seemed to have it all – Presley's fury and enthusiasm, Leiber's wit, Stoller's bluesy drive, and a sense of free wheeling swing that came equally from all parties involved, including the Presley band augmented by Stoller on piano. The King was so pleased working with Leiber and Stoller that the pair were often invited into sessions over the course of the next year. Presley eventually began to consider them his good luck charms and in June 1958 pleaded with Leiber and Stoller to work with him on that session. (They were unavailable.) The pair composed "Don't" and "Santa Claus is Back in Town" especially on request for Presley.
Amazingly, despite the overwhelming success of these songs and all the sessions Leiber and Stoller worked on, and Presley's extreme pleasure with their work, Elvis' Manager Colonel Parker was unhappy. He didn't like anyone else to have influence with Elvis. He chastised Leiber and Stoller for not clearing the new songs through him and his publishing agents.
Despite that setback, working with Presley so intoxicated the young songwriters that they proposed an even more ambitious project that would have broken new ground for both the songwriters and the performer. It was a musical film version of Nelson Algren's novel "Walk on the Wild Side," with Leiber and Stoller writing the score and Presley as the star. Making the project that much more exciting was the very tangible possibility that Leiber and Stoller could have gotten Elia Kazan (East of Eden, On the Waterfront, Streetcar Named Desire) to direct and Budd Schulberg (On the Waterfront, A Face in the Crowd) to write the script. It was a dizzyingly tantalizing idea. It would have been the first rock 'n' roll film project directly initiated by the creators of rock 'n' roll, as opposed to an exploitation movie as most of Elvis' and the early rock 'n' roll movies were, or a movie where rock and roll had been shoved into an existing story like "King Creole." In other words, it was to be the first real rock musical. The proposed talent involved, all at the peak of their abilities, would have rivaled the best ever assembled in that decade. And it would have opened new arenas to Presley and Leiber and Stoller, providing the writers with an entry into the great American musical tradition, and Presley the dramatic role he so craved in a context (potentially great script, great director, great story, great songs) where he could have succeeded.
For really no good reason, Parker and his cronies scotched the project. Perhaps the motive was jealousy over Leiber and Stoller's status with Presley, but the losers were virtually everyone involved, especially the fans. After that Leiber and Stoller lost interest in working with Presley. From then on in, the duo rarely submitted material to Presley and when they did it was usually retreads, songs like "Bossa Nova Baby" that had failed with other artists. They took part in no more recording sessions with Elvis.
"We could have made f***ing history and these assholes only wanted to make another nickel the same way," Leiber remembered to Peter Guralnick.
For all the possibilities and success of their work with Presley, it would be a shame if Leiber and Stoller were remembered only as Elvis' songwriters. This piece has spent a lot of time on Presley because the work the team did was so extraordinary and because Presley is such an enduring figure of importance and popularity. But their work with Presley was a mere bleep in their career, one extraordinary moment in an even more extraordinary tapestry.

In fact, the Presley saga demonstrates why it's so tough to summarize Leiber and Stoller's work in a single essay. There are at least a half dozen incidents that deserve their own in-depth appreciation. I've already written 3,400 words without mentioning the fine work the duo did with Peggy Lee, their out of the comfort zone work with Procol Harum and Stealer's Wheel, or their great indie record label Red Bird/Blue Cat, which provided a home for some of the 1960s greatest girl group hits, and for displaced talents like George Goldner. I also haven't discussed the group's role in discovering new and untested talent, both songwriters and performers. Spector, Carole King, Jay and the Americans, Burt Bacharach, Pomus and Shuman and so many others owe at least part of their success to the duo's mentorship, aid, and/or discovery.
I've also not mentioned "Smokey Joe's Café," the successful stage play based upon their hit songs. Then there's their third life as rock 'n' roll's great historians and raconteurs, telling us how it was back in rock 'n' roll's early glory days, sometimes cantankerous, more often affectionate and always passionate and honest. Their 2009 autobiography is one of the most vivid and exciting of its type, a complete evocation of a great era.
| | |
| --- | --- |
| | "Is that all there is?" was a question asked by Leiber in one of his most famous compositions. Thinking of the monumental contributions he made in his 78 years you arrive at sort of an answer. In the space of one man's life, if that's all there was; it was more than enough. |
(PS- You could say the same thing about Mike Stoller as well. This piece has focused more on Leiber, to honor him on his passing. However, Leiber and Stoller were above all one of the great teams in the history. One's mark was nearly impossible to separate from the other's. Stoller, according to statement made by his son, is doing quite well. If you get a chance to thank him for what he helped to do over the course of these 60 years, please do it.)
Sources:
* Liner notes by Randy Poe and Tony Rounce
Tags:
Big Mama Thornton
,
Elvis Presley
,
Harley Payette
,
Hound Dog
,
Jerry Leiber
,
Jerry Leiber death
,
Jerry Leiber obituary
,
Jerry Leiber tribute
,
Leiber and Stoller
,
the Coasters
,
The Drifters
Posted in
60s pop
,
Elvis
,
Rock 'n' roll
|
Tweet
No Comments »
Leave a Comment