Written by admin on February 17, 2013 – 9:37 pm -
Tweet
British singer/guitarist and early Beatles collaborator, Tony Sheridan, died in Hamburg, Germany on Saturday (Feb 16). He was 72.
Sheridan's family posted the following statement on his Facebook profile on Saturday:
"Our beloved father and friend! Thank you for your love and inspiration. You left us today at 12.00 pm."
Former Beatles drummer, Pete Best, responded to the news on his Facebook page:
"It is with the greatest of regrets I heard that my friend and a man I spent many hours with on stage, recorded with and regarded as a very special musician passed away this morning. I will miss him, but he will always live in my memories. Rest in peace Mr. Tony Sheridan (The Teacher), Pete."
Sheridan was born Anthony Esmond Sheridan McGinnity in Norwich, England on May 21, 1940. As a teenager he was part of the early British rock 'n' roll scene, firstly as a regular at London's "Two I's" club and then on the popular teen show "Oh Boy!".
This "Oh Boy!" footage features Tony Sheridan playing guitar for Chris Andrews on a cover of Cliff Richard's "Move It". Andrews would later achieve big chart success with "Yesterday Man".
"Move It" – Chris Andrews and Tony Sheridan
In 1960, his Tony Sheridan Trio toured the UK with American rockers Gene Vincent and Eddie Cochran. The tour would end in tragedy when Cochran was killed in a car crash.
Later that year, Sheridan accepted an offer to play at the "Kaiserkeller" club in Hamburg, Germany. It was while at the "Kaiserkeller" that he met and formed a friendship with The Beatles, who were then an unknown group playing at the nearby "The Indra" club. After seeing The Beatles on stage with Sheridan, German Polydor A&R man, Bert Kaempfert, suggested that they record some songs together. The June 1961 session produced the single "My Bonnie" b/w "The Saints," and a number of other tracks that were not released until The Beatles were famous. The single was credited to Tony Sheridan and The Beat Brothers in Germany.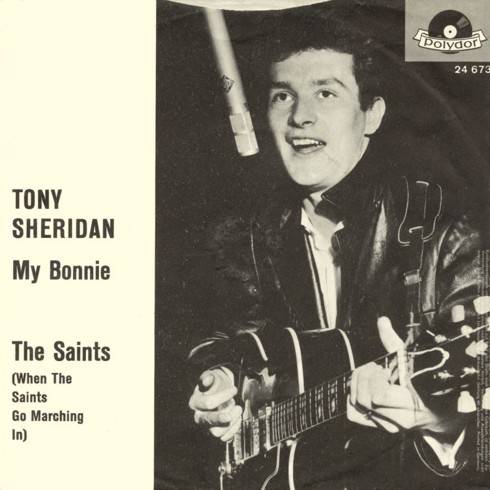 It is said that Brian Epstein's interest in The Beatles was prompted by a request for the "My Bonnie" single at his NEMS record store in Liverpool.
"My Bonnie" – Tony Sheridan and The Beat Brothers
The songs also appeared on Sheridan's 1962 album "My Bonnie".
Sheridan continued to perform in Europe throughout the 1960s, touring with top names such as Jerry Lee Lewis and Chubby Checker. He also continued to release records, including the albums "Just a Little Bit of Tony Sheridan" and "My Babe" with the Big Six. There were also a number of single releases, including "Shake It Some More" b/w "La Bamba"
Later in the decade he performed for the US troops in Vietnam, losing one of his bandmates to enemy fire. For this work Sheridan was made an honorary Captain of the United States army.
Professional highlights in the 1970s included managing a popular blues radio show, and performing live at Hamburg's Star Club with Elvis Presley's TCB Band. He also collaborated with the TCB Band on the album "Tony Sheridan & The Elvis Presley Band: Worlds Apart".
Sheridan's most recent releases were "Vagabond" (2002) and "Chantal Meets Tony Sheridan" (2004). The latter featured a recording of "Tell Me If You Can," which was a song he had written with Paul McCartney in the early 1960s.
"Tell Me If You Can" – Tony Sheridan
Tony Sheridan is survived by his two daughters, Wendy Clare and Amber; and three sons, Tony Jr., Bennet and Felim.
Tags:
My Bonnie
,
The Beatles
,
Tony Sheridan
,
Tony Sheridan dies
,
Tony Sheridan obituary
Posted in
Obituaries
,
Rock 'n' roll
|
Tweet
No Comments »
Leave a Comment