Written by admin on February 9, 2013 – 10:14 pm -
Tweet
Bruce Springsteen received the MusiCares Person of the Year award at a ceremony in Los Angeles on Friday night. The award recognises Springsteen's "exceptional artistic achievements and philanthropic work".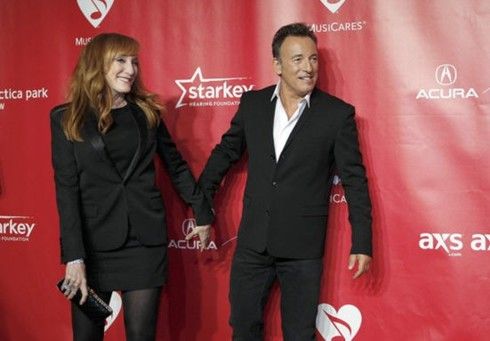 Bruce Springsteen with his wife Patti Scialfa (Photo credit: LA Times)
The gala, hosted by comedian Jon Stewart, included musical tributes to Springsteen from Neil Young ("Born in the U.S.A"); Patti Smith ("Because The Night"); Elton John ("Streets of Philadelphia"); Alabama Shakes ("Adam Raised a Cain"); Mumford & Sons ("I'm On Fire"); Jackson Browne ("American Skin (41 Shots)"); Emmylou Harris ("My Hometown"); John Legend ("Dancin' in the Dark"); Juanes ("Hungry Heart"); Ken Casey ("American Land"); Mavis Staples and Zac Brown ("My City of Ruins"); Sting ("Lonesome Day"); Kenny Chesney ("One Step Up"); Faith Hill and Tim McGraw ("Tougher than the Rest"); and Natalie Manes, Ben Harper and Charlie Musselwhite ("Atlantic City").
Before playing his own five-song set, Springsteen commented on the tribute:
"It's kind of a freaky experience, the whole thing. This is the huge Italian wedding Patti (Scialfa) and I never had. It's a huge Bar Mitzvah. I owe each and every one of you. You made me feel like the person of the year. Now give me that damn guitar."
He then closed the show with "We Take Care of Our Own," "Death to My Hometown," "Thunder Road," "Born to Run," and "Glory Days". Springsteen was joined on stage by all musicians for the final number.
"2013 MusiCares Person of the Year red carpet highlights"
All proceeds from the show went to MusiCares, including a charity auction during which a guitar signed by Springsteen and several others sold for $250,000 – the total helped by the fact that Springsteen added a free guitar lesson and a ride in his motorcycle sidecar to the prize.
MusiCares provides support to struggling musicians in financial, medical and personal need.
Past recipients of the Musicares award include Tony Bennett, Bono, Natalie Cole, Phil Collins, David Crosby, Neil Diamond, Gloria Estefan, Aretha Franklin, Don Henley, Billy Joel, Elton John, Quincy Jones, Paul McCartney, Luciano Pavarotti, Bonnie Raitt, Paul Simon, Sting, Barbra Streisand, James Taylor, Brian Wilson, Stevie Wonder, and Neil Young.
Tags:
Bruce Springsteen
,
Bruce Springsteen Musicares Person of the Year
,
Elton John
,
MusiCares
,
MusiCares person of the year
,
Neil Young
,
Patti Smith
,
Sting
Posted in
American Rock
,
Awards
|
Tweet
No Comments »
Leave a Comment