Written by admin on April 17, 2010 – 6:59 am -
Tweet
One of Britain's best loved early rockers, Billy Fury, would have been 70 years old today.
Billy Fury was born Ronald Wycherley in Liverpool on April 17, 1940 and died from heart failure at the age of just 42 on January 28, 1983.
Becoming Billy Fury
Like many early British rockers, Billy Fury got his big break when he was discovered by Larry Parnes. Billy gave an impromptu audition at a Marty Wilde gig in Birkenhead and Parnes was impressed enough that he added him to the tour. It was Parnes who came up with the name Billy Fury and Wycherley used it from that moment on.

Fury soon became a popular chart act, with early hits such as "Maybe Tomorrow," "Margo" and "Colette" hitting the top 20. He also became a regular on television shows such as Oh Boy! and Boy Meets Girl.
 
Billy Fury – "Maybe Tomorrow" (live at the BBC)
Touring with Cochran and Vincent
In February 1960, Billy began touring the UK with "The Fast Moving Anglo-American Beat Show," which was headlined by Eddie Cochran and Gene Vincent, and would be Cochran's final tour. The American star was killed in a car accident while on his way to the airport to get a plane back home to the US.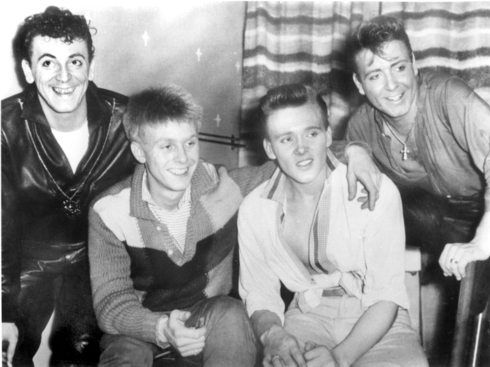 Gene Vincent, Joe Brown, Billy Fury and Eddie Cochran
The Sound of Fury
Billy's debut album "The Sound of Fury" was released in 1960 and no doubt named after the William Faulkner novel "The Sound and the Fury," which had been released as a film the previous year.

"The Sound of Fury" is considered to be one of the best early British rock and roll albums. Billy wrote all tracks on the album, which was very unusual for a British rocker.
 
Auditioning the Fab Four
In May 1960, Billy famously auditioned the pre-fame Beatles to be his backing group. The Beatles were offered the job on condition that they sacked bassist Stuart Sutcliffe. John Lennon would not agree to this, so the job fell through. The Tornadoes were hired instead as Billy's new backing group.
On February 17, 1963, Billy met with the Beatles again on the set of the "Thank Your Lucky Stars" television show.
Billy Fury chart success
The most successful period for Billy was 1961 to 1964, during which time he had three top 20 albums and nine top ten singles in the UK, including his most famous hit "Halfway to Paradise" (#3), "Jealousy" (#2), "I'd Never Find Another You" (#5), "Last Night Was Made For Love" (#4), "Once Upon a Dream" (#7), "Like I've Never Been Gone" (#3), "When Will You Say You Love Me?" (#3), "In Summer" (#5) and "It's Only Make Believe" (#10). The popular and memorable "I Will" hit #14.
Billy Fury – "Halfway To Paradise"
Billy Fury – "I Will"
Billy Fury – "Once Upon A Dream"
Billy meets Elvis
| | |
| --- | --- |
| Elvis Presley was one of Billy Fury's main musical inspirations, so it was a big thrill for Billy when he got to meet Elvis on the set of Girls, Girls Girls! in Hollywood in 1962. Billy presented Elvis with a Gold disc for UK sales on behalf of the Disc music paper, and also took back the song "Because of Love," which featured on the soundtrack of Elvis' movie. Billy had a top 20 hit with his version shortly after. | |
 
The movie star
Billy Fury began making his own movies in this period, the first of which was Play It Cool, which featured Helen Shapiro and Bobby Vee. This was followed by "I've Gotta Horse" in 1965.
Billy in the 1970s
The 1970s were less successful for Fury and his health also worsened in this period. He underwent his first major heart surgery in 1971 and another followed later in the decade.
Despite Billy's ill health, there were some highlights in the '70s, including an appearance at Wembley Stadium for the "London Rock'n'Roll Festival," alongside acts such as Little Richard, Jerry Lee Lewis and Billy Haley.

Another big highlight was Billy's cameo in the highly successful David Essex movie "That'll Be the Day" in 1973. The soundtrack, which featured five tracks by Billy, hit number one in the UK.
 
Billy dies at 42
As often seems to happen with artists, Billy Fury died just as his career was picking up. He had a new album and tour on the way and had just taped some performances for the Channel 4 show "Unforgettable." He collapsed at home on January 27, 1983 and died the next day in hospital.
Recommended purchases
Tags:
Billy Fury
Posted in
Rock 'n' roll
|
Tweet
3 Comments »
3 Comments to "Billy Fury – 70th birthday"
linda Says:
August 2nd, 2010 at 4:29 am

He was the GREATEST of ALL love him

TheBillyFuryStory Says:
September 6th, 2010 at 9:11 pm

http://www.billyfurystory.com or http://www.billyfurystory.co.uk….featuring billy's original band from the 70's "fury's Tornadoes" and colin gold as billy fury..now in its 13th successful year….check it out….a great night out!

moira cubitt Says:
March 19th, 2011 at 10:33 pm

BILLY FURY,the british ELVIS
Leave a Comment