Written by admin on April 27, 2013 – 10:14 am -
Tweet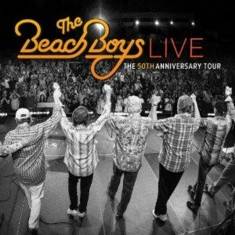 The Beach Boys will release a double-CD next month to commemorate last year's 50th anniversary reunion tour.
"The Beach Boys Live – The 50th Anniversary Tour" will include 41 tracks from the highly successful, but short-lived reunion of Brian Wilson, Mike Love, Al Jardine, Bruce Johnston, and David Marks.
The following songs will be included on "The Beach Boys Live – The 50th Anniversary Tour":
CD 1
Do It Again
Little Honda
Catch a Wave
Hawaii
Don't Back Down
Surfin' Safari
Surfer Girl
The Little Girl I Once Knew
Wendy
Getcha Back
Then I Kissed Her
Marcella
Isn't It Time
Why Do Fools Fall In Love
When I Grow Up (To Be a Man)
Disney Girls
Be True To Your School
Little Deuce Coupe
409
Shut Down
I Get Around.
CD 2
Pet Sounds
Add Some Music To Your Day
Heroes and Villains
Sail On, Sailor
California Saga: California
In My Room
All This is That
That's Why God Made the Radio
Forever
God Only Knows
Sloop John B
Wouldn't It Be Nice
Good Vibrations
California Girls
Help Me Rhonda
Rock and Roll Music
Surfin' U.S.A.
Kokomo
Barbara Ann
Fun, Fun, Fun.
The album is released on May 21 in North America and May 20 in the UK.
The 50th anniversary tour was already commemorated last year with the release on DVD and Blu-ray of "The Beach Boys Live in Concert: 50th Anniversary" but that release only features 21 songs.
Tags:
beach boys
,
The Beach Boys Live - The 50th Anniversary Tour CD
Posted in
60s pop
,
Gigs
|
Tweet
No Comments »
Leave a Comment