Posts Tagged 'Graham Nash'
Written by admin on June 14, 2013 – 11:22 pm -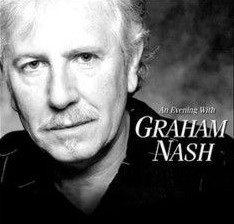 Graham Nash is performing a series of "An Evening With" gigs in the US this September, during a break in the Crosby, Stills & Nash tour (which ends in the UK in October).
Tags:
An Evening With Graham Nash
,
Crosby Stills and Nash
,
Graham Nash
,
Graham Nash autobiography
,
Graham Nash memoir
,
Wild Tales: A Rock & Roll Life
Posted in
Books
,
Gigs
|
No Comments »

Written by admin on April 15, 2013 – 9:55 pm -
Crosby, Stills, Nash & Young are releasing a live album from their 1974 reunion tour. The as yet untitled album is expected to be released on August 27.
Graham Nash told Rolling Stone:
"It's going to f—in' stun people. We only multi-tracked eight or nine shows from the tour, and we've chosen the best from those gigs. We've had to do a little tuning, but not that much…But the spirit of the band! If I take myself out the band and look at it, it was a f—in' great band."
Tags:
Crosby Stills Nash and Young 1974 tour
,
Crosy Stills Nash and Young
,
David Crosby
,
Graham Nash
,
Neil Young
,
Stephen Stills
Posted in
American Rock
,
Gigs
,
New releases
|
No Comments »


Written by admin on October 11, 2011 – 7:27 pm -
T

oday sees the release of "Crosby-Nash: In Concert," which features the full concert performed by David Crosby and Graham Nash at the Palace Theatre in Stamford, CT on May 22, 2011.
Tags:
Crosby and Nash tour
,
Crosby-Nash: In Concert
,
David Crosby
,
Graham Nash
Posted in
Folk
,
New releases
|
No Comments »

Written by admin on August 28, 2011 – 6:25 pm -
B

rian Wilson, Chris Isaak, Imelda May, Stevie Nicks, Ringo Starr and Jeff Lynne are among the artists covering classic Buddy Holly songs on a new tribute CD titled "Listen to Me: Buddy Holly."
Tags:
Buddy Holly
,
Buddy Holly tribute album
,
Chris Isaak
,
Graham Nash
,
Imelda May
,
Jackson Browne
,
Jeff Lynne
,
Linda Ronstadt
,
Listen to Me Buddy Holly
,
Lou Reed
,
Patti Smith
,
Paul McCartney
,
Rave On Buddy Holly
,
Ringo Starr
Posted in
New releases
,
Rock 'n' roll
|
No Comments »