Posts Tagged 'Dave Grohl'
Written by admin on November 13, 2014 – 4:24 pm -
John Fogerty has had his say on the controversy sparked by Bruce Springsteen, Dave Grohl and Zac Brown's performance of "Fortunate Son" at Tuesday night's "Concert for Valor" in Washington, D.C.
The performance ended Brown's set and was one of the musical highlights of the night, but the decision to sing the counter-culture classic received a mixed response on social media, with some asserting that the lyrics were inappropriate for a night dedicated to veterans. It should be obvious that no one involved meant the performance as a slight to veterans, but some clearly didn't see it that way.
Tags:
Bruce Springsteen
,
Concert for Valor
,
Concert for Valor Fortunate Son
,
Dave Grohl
,
Fortunate Song
,
John Fogerty
,
Zac Brown
Posted in
Gigs
|
No Comments »

Written by admin on December 16, 2012 – 10:41 pm -
Paul McCartney teamed up with Nirvana's Dave Grohl, Krist Novoselic and Pat Smear on Saturday Night Live at the weekend, just days after their collaboration at "12.12.12 – The Concert for Sandy Relief".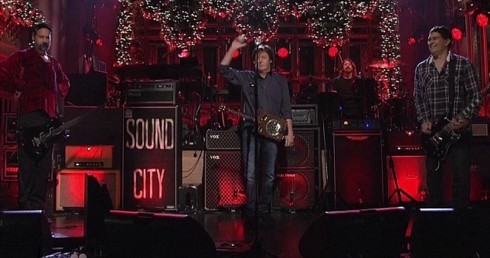 Tags:
Cut Me Some Slack
,
Dave Grohl
,
Joe Walsh
,
Krist Novoselic
,
Nirvana
,
Pat Smear
,
Paul McCartney
,
Paul McCartney on Saturday Night Live
Posted in
American Rock
|
No Comments »