Posts Tagged 'A change is gonna come'
Written by admin on April 22, 2013 – 10:21 pm -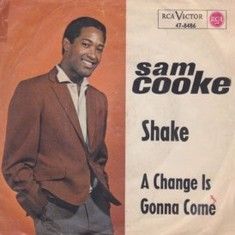 Sam Cooke's "A Change is Gonna Come" is Song of the Week on Classic Pop Icons.
Tags:
A change is gonna come
,
Sam Cooke
,
Sam Cooke A change is gonna come
Posted in
Song of the Week
,
Soul
|
1 Comment »

Written by admin on December 11, 2009 – 6:08 pm -
The great soul pioneer Sam Cooke died 45 years ago today. Sam Cooke possessed one of the finest soul voices of all time and has been a huge inspiration to countless artists.
Just last year, Sam Cooke's civil rights anthem 'A Change is Gonna Come' was featured prominently during Barack Obama's election campaign. Others have covered it, including Otis Redding and recently Seal, but none match the masterful delivery of Sam Cooke on the original. On this 45th anniversary of his death, take a few minutes to listen to this superb performance and remember why Sam was so revered among his peers and continues to delight fans to this day.
Tags:
A change is gonna come
,
Sam Cooke
,
Soul
Posted in
Soul
|
1 Comment »