Written by admin on April 21, 2014 – 9:32 pm -
Tweet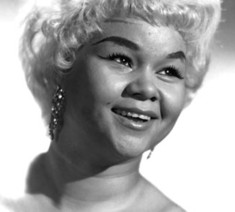 Etta James' "I'd Rather Go Blind" is Song of the Week on Classic Pop Icons.
"I'd Rather Go Blind" was released in October 1967 as the B-side of the Cadet label single "Tell Mama" (Cadet 5578), and also featured on the "Tell Mama" album released in August 1968.
Etta James had been in the business for more than a decade when she arrived at FAME Studios in Muscle Shoals in the summer of 1967, but hadn't managed a hit for several years and had struggled through personal hardships, including addictions. Chess Records boss, Leonard Chess, had been impressed with the recordings that had come out of Rick Hall's FAME Studios, including Aretha Franklin's recent cuts for Atlantic Records, and so sent Etta there in the hope that Hall could work his magic with the gifted but temperamental artist.
Among the first songs recorded was "I'd Rather Go Blind," which Etta had co-written with Ellington Jordan, who began the song while in prison. In 2006, Jordan told allhiphop.com:
I'm not an optimistic songwriter. If it has meaning and means something to someone, then I'll finish it. If not, then I throw it out. I got tired of losing and being down. I was in prison and didn't know when I was going to get out. I sat in a piano room and began to write.
Etta completed the song, but in a costly move that was prompted by tax issues that she was facing at the time, she gave up her half of the publishing to her then partner Billy Foster.
In her memoir, "Rage To Survive: The Etta James Story," Etta said of the song:
Well, I was blind. I was blind in my love life, and I was blind in my personal ways. Like the song says, "I just don't want to be free." The thrill of writing a composition that expressed the feelings in my heart was wonderful…

Funny, but that's a tune that's deepened along with my life, it's meaning growing more mysterious. Me and the song have grown old together.
She also discussed the reaction of Leonard Chess when he first listened to the song:
When Leonard heard the song the first time, he got up and left the room 'cause he started crying. That touched my heart. Other cats I know would have wanted me to see them cry, just to show me how soulful they were. I liked that Leonard did his weeping in private. He was a man who, while not completely honest in business, was at least honest about his emotions. When he came back in the room, he said, "Etta, it's a mother… it's a mother."
Although Chess was moved by "I'd Rather Go Blind," he clearly felt that "Tell Mama" was the more commercial choice as the A-side. In her memoir, Etta makes it clear that, as well loved as the A-side has been among fans of soul music, she didn't particularly care for it. It was "I'd Rather Go Blind" that meant more to her, which is no surprise given that it had been a personal statement.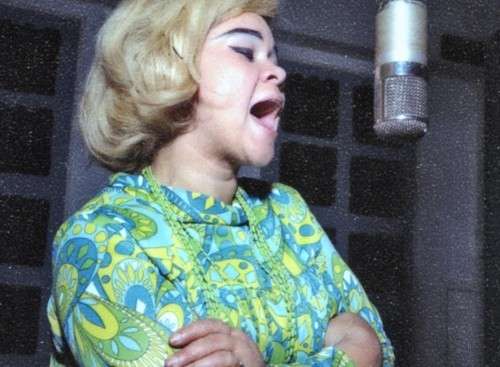 Songs that take on classic status often have that one moment that makes you want to replay them right over as soon as they end. In "I'd Rather Go Blind," that moment, for this listener, comes when Etta repeats the words "I was just" before telling us that she has been moved to tears by thoughts of her absent lover's warm embrace. The repeated line is unexpected, exquisitely sung, and adds drama to the succeeding lyrics. A lesser singer, with poorer instincts, would have oversang the repeated line, but Etta judges it just right. Perhaps this is what Leonard Chess was responding to when he left the room.
The backing, provided by Muscle Shoals' legendary Swampers, is both of its time and timeless. It's unfussy but full of imaginative touches, with a fine guitar part, soothing keyboards, atmospheric horns, and simple but effective percussion. These gifted musicians were creating some of the finest soul/R&B music of the era, with producer Rick Hall at the helm.
"I'd Rather Go Blind" – Etta James
Etta re-recorded "I'd Rather Go Blind" in 1978 for the album "Deep In The Night," re-titling the song "Blind Girl," which she says was "more specific to the confusion I was feeling." The slower tempo suits the song and it's another fine vocal, but it doesn't eclipse the original.
"Blind Girl" – Etta James
Authorship
"I'd Rather Go Blind" was written by Ellington Jordan and Etta James. As noted above, Etta's credit went to Billy Foster.
Recording date/location
"I'd Rather Go Blind" was recorded at FAME Studios, Muscle Shoals, Alabama during the sessions for her "Tell Mama" album between August and December 1967.
Musicians
"I'd Rather Go Blind" featured Muscle Shoals' so-called Swampers, who were the FAME Studios house band that appeared on classic songs by the likes of Aretha Franklin, Wilson Pickett, Percy Sledge, and Clarence Carter.
The following musicians are credited for the "Tell Mama" album on which the song appeared:
Etta James – vocals
Jimmy Ray Jenkins – guitar
Albert Lowe – guitar
Carl Banks – organ
Barry Beckett – organ
George Davis – keyboards
Spooner Oldham – keyboards
Marvell Thomas – piano
George Davis – keyboards
David Hood – bass
Roger Hawkins – drums
Gene Miller – trumpet
James Mitchell – saxophone
Floyd Newman – saxophone
Aaron Varnell – saxophone
Charles Chalmers – background vocals.
It's evident that Roger Hawkins (drums) and David Hood (bass) are on "I'd Rather Go Blind" as they are the only drummer and bassist listed for the sessions. If you know who else was on the song, please let us know via our Contact Us page.
Chart performance
The "Tell Mama" single, with "I'd Rather Go Blind" on the B-side, peaked at #10 on Billboard's R&B chart for the week ending January 13, 1968 and #23 on the pop chart for the week ending January 20, 1968. This was the singer's biggest pop hit.

Other notable versions
"I'd Rather Be A Blind Man" – Ellington Jordan (Fugi)
The song's co-writer, Ellington Jordan (aka Fugi), released his own version of the song in 1968. Backed by a group called Black Merda, Jordan retitled the song "I'd Rather Be A Blind Man." Jordan's vocal is strong and works well against the cool new arrangement.
"I'd Rather Go Blind" – Rod Stewart
Rod Stewart covered "I'd Rather Go Blind" for his 1972 album "Never a Dull Moment". Stewart's distinctive voice is well suited to the song and the understated backing is just right, including a fine contribution from Ian McLagan on organ.
Stewart also performed the song with the Faces on the 1974 live album "Coast to Coast: Overture and Beginners".
"I'd Rather Go Blind" – Paul Weller
Paul Weller featured his cover of the song on the B-side of his 1995 hit single "The Changingman". He chose a similar arrangement to the original, livening up the proceedings occasionally with some punchy piano work. It's a good rendition, clearly recorded because he admired the original.
"I'd Rather Go Blind" – Joe Bonamassa and Beth Hart
Joe Bonamassa and Beth Hart included the song on their 2011 album "Don't Explain". It's an accomplished vocal from Hart, and there's a well constructed, lengthy guitar break from Bonamassa in the second half of the song.

Etta James' "I'd Rather Go Blind" is available on the album "Tell Mama: The Complete Muscle Shoals Sessions".
For those interested in the fine music that came out of these studios, the documentary film "Muscle Shoals" comes highly recommended.
Tags:
Beth Hart
,
Ellington Jordan
,
Etta James
,
Etta James I'd Rather Go Blind
,
FAME Studios
,
I'd Rather Go Blind
,
Joe Bonamassa
,
Muscle Shoals
,
Paul Weller
,
Rick Hall
,
Rod Stewart
Posted in
Song of the Week
,
Soul
|
Tweet
No Comments »
Leave a Comment