Written by admin on April 22, 2013 – 10:21 pm -
Tweet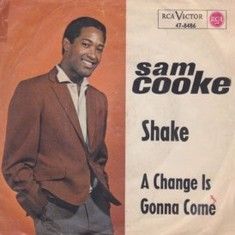 Sam Cooke's "A Change is Gonna Come" is Song of the Week on Classic Pop Icons.
"A Change is Gonna Come" was released in March 1964 on Cooke's "Ain't That Good News" album, and then posthumously as the B-side of the single "Shake" in December 1964.
Sam Cooke reportedly determined that he should make his own statement about race and social justice after hearing Bob Dylan's "Blowin' in the Wind". His first draft of "A Change is Gonna Come" was written by May 1963, but then put aside to revisit at a later date. In October 1963, Cooke and his band were arrested in Shreveport, Louisiana for a disturbance of the peace after trying to register at a "whites only" hotel. Cooke's most potent weapon against bigotry was his art and he had soon finished the song that would go on to become an enduring civil rights anthem.
In November 1963, President John F. Kennedy was assassinated in Dallas, Texas – an event that must surely have focused Cooke's mind on social and racial issues, and particuarly on the prospects for meaningful change. Kennedy had made a speech in June 1963 calling for legislation "giving all Americans the right to be served in facilities which are open to the public — hotels, restaurants, theaters, retail stores, and similar establishments," and referring to the denial of these rights as an "arbitrary indignity that no American in 1963 should have to endure". Kennedy then prepared a civil rights bill that was still under consideration when the assassination occurred. President Lyndon Johnson was quick to stress his commitment to Kennedy's civil rights agenda, telling legislators "No memorial oration or eulogy could more eloquently honor President Kennedy's memory than the earliest possible passage of the civil rights bill for which he fought so long."
Cooke's "A Change is Gonna Come," recorded two months later, reflects on hardships and prejudices, but ultimately carries an inspiring, positive message. Cooke doesn't hope that change is gonna come, he "knows". Given the uncertainty and turmoil of the time, this would have been an encouraging assertion for those disadvantaged by the current social structure.
President Johnson would sign the Civil Rights Act into law on July 2, 1964 after a drawn out, controversial passage through the House and Senate.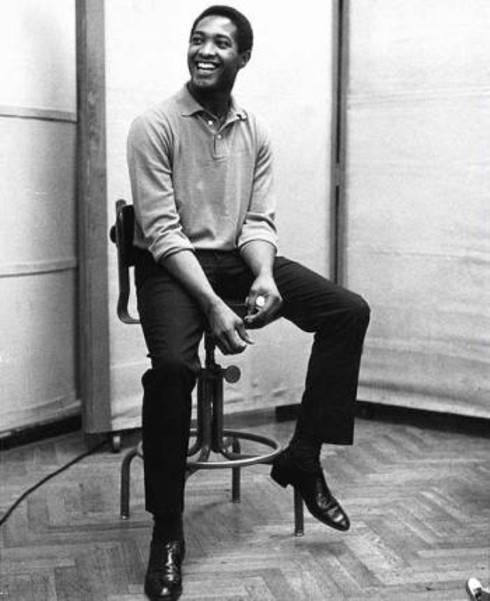 "A Change is Gonna Come" opens with a dramatic orchestral fanfare, in keeping with the weighty subject matter of the song. Such a build-up also demands an impressive vocal response and Cooke doesn't disappoint. In a nod to his gospel roots, Cooke delivers perhaps the most powerful and intense vocal of his career, far removed from the smooth pop of some of his best known hits such as "Wonderful World". His opening "I was born by the river" is startling, no matter how many times you hear it.
The song was ranked #12 on Rolling Stone's list of the "500 Greatest Songs Of All Time" in 2005 and topped their list of the "Greatest Soul Song Ever" the previous year. It was added to the Library of Congress National Recording Registry in 2006.
The Songwriters Hall of Fame (SHOF) has announced that "A Change is Gonna Come" will be the 2013 recipient of the Towering Song Award, which goes to "the creator or creators of an individual song that has influenced our culture in a unique way over many years".
The original album version of the song is the go-to version, as the third verse ("I go to the movie/And I go downtown/Somebody keep telling me/Don't hang around") was edited out of the single, perhaps to make it more radio friendly.
"A Change Is Gonna Come" – Sam Cooke
Authorship
"A Change Is Gonna Come" was written by Sam Cooke.
Recording date/location
"A Change is Gonna Come" was recorded on January 30, 1964 at RCA Studios in Los Angeles.
Musicians
According to the excellent Songs of Sam Cooke website, the following musicians played on "A Change is Gonna Come":
Sam Cooke – vocals
Harold Battiste – piano
Norman Bartold – guitar
Arnold Belnick – guitar
René Hall – guitar
Clifton White – guitar
Chuck Badie – bass
Earl Palmer – drums
Israel Baker – violin
Irving Lipschultz – violin
Leonard Malarsky – violin
Jack Pepper – violin
Ralph Schaeffer – violin
Sidney Sharp – violin
Darrel Terwilliger – violin
Tibor Zelig – violin
Alexander Neiman – viola
Harry Hyams – viola
Emmet Sargeant – cello
Louis Blackburn – trombone
John Ewing – trombone
William Hinshaw – french horn
William Kurasch – trumpet
David Wells – trombone
Emil Radocchia – marimba, tympani, percussion.
Rene Hall arranged and conducted the superb orchestration.
Chart performance
"A Change is Gonna Come" peaked at #31 on the Billboard Hot 100 on February 28, 1965.

The song reached #9 on Billboard's Black Singles chart.
Notable other versions
"A Change is Gonna Come" – Aretha Franklin
Aretha Franklin opens the song with a message to Sam Cooke, who she had been good friends with – "There's an old friend/That I once heard say/Something that touched my heart/And it began this way".
The soulful arrangement, dominated by thumping piano, works very well, and Franklin delivers a powerful and emotional vocal, clearly meaning every word.
Franklin's version appeared on her 1967 album "I Never Loved a Man The Way I Love You".
"A Change is Gonna Come" – Seal
Seal covered "A Change is Gonna Come" in 2008 on his album "Soul" and had a moderate hit single with it, partly due to the airplay received during Barack Obama's Presidential campaign. Seal does well with the song, borrowing much from Cooke, but including his own interesting touches.

Sam Cooke's "A Change is Gonna Come" features on a number of Sam Cooke compilations, including "Portrait of a Legend 1951-1964" and the four disc box set "Man Who Invented Soul."
Title

Sam Cooke: Portrait of a Legend – 1951-1964 (CD)

Buy Now
Buy Now
Buy Now
Buy Now

Sam Cooke: Man Who Invented Soul (4 CDs)

Buy Now
Buy Now
Buy Now
Buy Now
Tags:
A change is gonna come
,
Sam Cooke
,
Sam Cooke A change is gonna come
Posted in
Song of the Week
,
Soul
|
Tweet
1 Comment »
One Comment to "Song of the Week #151 – "A Change Is Gonna Come""
Sam Cooke - 50 years on | Classic Pop Icons Says:
December 11th, 2014 at 11:00 am

[…] items: Song of the Week #151 – "A Change Is Gonna Come" Song of the Week #131 – "Bring It On Home to Me" Sam Cooke – Profile of a soul […]
Leave a Comment