Written by admin on November 26, 2012 – 6:52 pm -
Tweet
I

vory Joe Hunter's "Since I Met You Baby" is Song of the Week on Classic Pop Icons.

"Since I Met You Baby" was released in October 1956, backed with "You Can't Stop This Rocking and Rolling".
Ivory Joe Hunter's first success came in 1945 with the number three R&B hit "Blues At Sunrise". Many hits followed over the next decade, but he would have to wait until 1956 and "Since I Met You Baby" before achieving his first hit on the pop charts and his only gold record.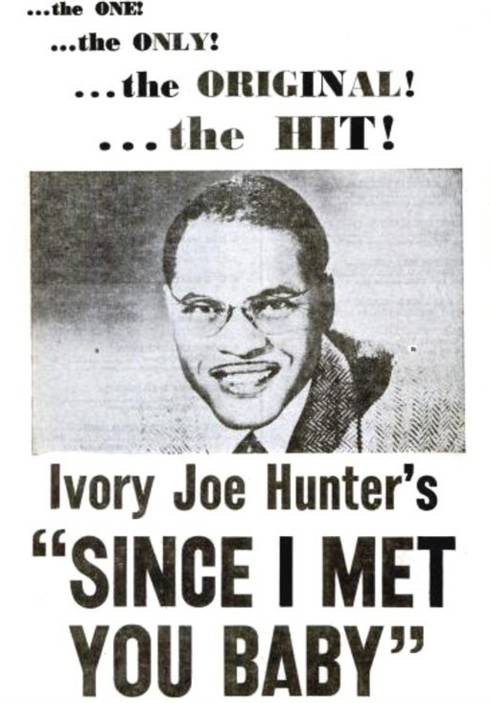 Vintage magazine ad for "Since I Met You Baby" single
"Since I Met You Baby" opens with Ivory Joe's engaging piano work, played in the slip-note style that Floyd Cramer would use so successfully on country and pop records over the next few years. This piano part (or a very close approximation of it) was in fact played by Cramer on Elvis Presley's cover of the Ivory Joe Hunter song "It's A Sin" in 1961.
The happy piano intro sets the scene for a tale of newfound love, with Hunter's unforced and rich voice making the most of the simple and attractive melody. The song has a 12-bar blues structure, but the recording is more pop than raw R&B. After Hunter died in 1974, his manager, Bettye Berger, said: "His songs cut across classifications; they were simple enough to get to everyone. You know, he was always a writer and singer of soft, melodic tunes; he never was into real dirty, lowdown blues." (Rolling Stone, Dec 19, 1974). One listen to "Since I Met You Baby" and you know exactly what Berger meant.
"Since I Met You Baby" – Ivory Joe Hunter
Authorship
Ivory Joe Hunter wrote the words and music for "Since I Met You Baby".
Recording date/location
"Since I Met You Baby" was recorded at Atlantic Records studios in New York City on September 5, 1956.
Musicians
Ivory Joe Hunter's piano and vocals were backed by the Ray Ellis Orchestra. Jesse Powell played the saxophone on the second verse.
The session was produced by Atlantic Records heads, Ahmet Ertegun and Jerry Wexler.
Chart performance
"Since I Met You Baby" was a number one on Billboard's Rhythm and Blues Records chart for three weeks in January 1957. The song peaked at number 12 on the pop chart. This was Hunter's first single to cross over to the pop chart and his biggest seller.
Other notable recordings
"Since I Met You Baby" – Sam Cooke
Sam Cooke's cover of "Since I Met You Baby" was included on his 1961 album "My Kind of Blues". Cooke sings it in a higher key than Hunter and it's a typically inspired and expressive vocal. The instrumentation is also somewhat of a departure from the original, with prominent and well conceived orchestration from Sammy Lowe, and the distinctive piano intro dropped.
"Since I Met You Baby" – Wanda Jackson
Wanda Jackson featured "Since I Met You Baby" on her 1963 album "Love Me Forever". The arrangement is similar to the original, with the great piano part retained, although this recording does have more of a country feel, thanks mainly to Jackson's vocal delivery and the smooth guitar riffs.
"Since I Met You Baby" – Solomon Burke
Solomon Burke wasn't really capable of delivering anything less than a great vocal and this recording is no exception. The bluesy guitar lines and punchy horns are also stand-out elements. Burke's cover appeared on his 1968 album "I Wish I Knew".

There will be a new Song of the Week on December 3.
Ivory Joe Hunter's "Since I Met You Baby" is available on a number of compilations, including "Since I Met You Baby" (2006).
Title

Ivory Joe Hunter – "Since I Met You Baby" (CD)

Buy Now
Buy Now
Buy Now
Tags:
Ivory Joe Hunter
,
Sam Cooke
,
Since I Met You Baby
,
solomon burke
,
Wanda Jackson
Posted in
Song of the Week
|
Tweet
No Comments »
Leave a Comment