Written by admin on December 12, 2012 – 8:08 am -
Tweet
Ravi Shankar, the legendary sitar player who helped introduce Indian music to the West, died last night at a hospital near his home in San Diego, California. He was 92.
Shankar underwent heart-valve replacement surgery last week, but according to a statement from his wife and daughter, "Unfortunately, despite the best efforts ofthe surgeons and doctors taking care of him, his body was not able to withstand the strain of the surgery."
Born Robindro Shaunkor Chowdhury on April 7, 1920 in Varanasi, India, he began his performing career as a dancer in the 1930s, before studying the sitar under the tutelage of Allauddin Khan. Shankar became an accomplished musician and composer, taking the role of music director for All India Radio, New Delhi, from 1949 to 1956, after which he began touring Europe and the US.
Shankar collaborated with many great talents over the years, including jazz saxophonist John Coltrane, and composer Philip Glass, but his most well-known collaborations were with George Harrison. Shankar taught Harrison how to play the sitar and was a major factor in Harrison so enthusiastically embracing Eastern music. In 1971, the pair collaborated on the organisation of the Concert for Bangladesh. Two years later, Harrison produced and appeared on the album "Shankar Family & Friends". The pair worked together periodically and remained close until Harrison's death in 2001.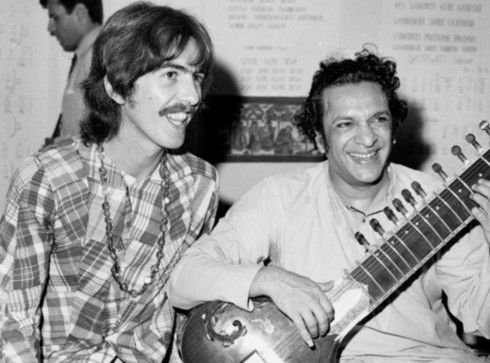 The association with the Beatles raised Shankar's profile in the West in the 1960s, which he solidified with impressive performances at the Monterey and Woodstock music festivals in 1967 and 1969, respectively.
Shankar continued to tour the world in the 1970s and 1980s, merging East and West with concertos composed for sitar and orchestra. He also wrote for film, including the score for Richard Attenborough's "Gandhi" which earned him an Oscar nomination for Best Original Music Score.
In the 1990s, Shankar began touring with his daughter, Anoushka Shankar, who he had taught to play sitar. In 1999, he received the Bharat Ratna, which is India's highest civilian honour. The following year, his "Full Circle: Carnegie Hall 2000" album won a Grammy award for Best World Music Album. In 2001, Shankar was made an Honorary Knight Commander of the Order of the British Empire by Elizabeth II for his "services to music".
Last week, Shankar's "The Living Room Sessions Part 1" was nominated for a Grammy in the Best World Music Album category.
Shankar's last public performance was in November, when he took to the stage with his daughter Anoushka.
Ravi Shankar is survived by his wife, Sukanya Rajan; daughters, Anoushka Shankar and popular singer Norah Jones; three grandchildren and four great-grandchildren.
Tags:
George Harrison
,
Ravi Shankar
,
Ravi Shankar dies
,
Ravi Shankar obituary
Posted in
Obituaries
|
Tweet
No Comments »
Leave a Comment