Written by admin on December 3, 2012 – 1:57 pm -
Tweet
Led Zeppelin, Buddy Guy, ballerina Natalia Makarova, David Letterman, and Dustin Hoffman were this year's recipients of Kennedy Center Honors in Washington D.C. on Sunday.
President Obama led tributes to the recipients at a special afternoon reception at the East Room of the White House, referring to Buddy Guy as one of the "last guardians of the great American blues" and joking that "a generation of young people survived teenage angst with a pair of headphones and a Zeppelin album, and a generation of parents wondered what all that noise was about."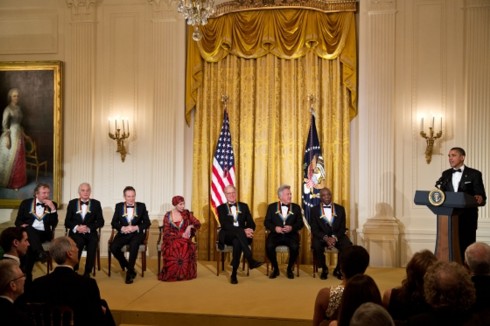 President Obama & the Kennedy Center Honors recipients – Official White House Photo by Pete Souza
The President summed up the cultural impact of the recipients in his closing comments:
"Each of us can remember a moment when the people on this stage touched our lives. Maybe they didn't lead us to become performers ourselves. But maybe they inspired us to see things in a new way, to hear things differently, to discover something within us or to appreciate how much beauty there is in the world.
It's that unique power that makes the arts so important. We may not always think about the importance of music or dance or laughter to the life of this nation, but who would want to imagine America without it? That's why we celebrate artists like the ones here tonight. That's why in the season of joy and thanksgiving they have earned our deepest appreciation."
President Obama tribute to Kennedy Center Honors recipients
The reception was followed by the annual Kennedy Center Honors gala in the evening, during which there were musical tributes to Buddy Guy and Led Zeppelin.
After an introduction by Morgan Freeman, who enthused that Buddy Guy had "made a new music that no one had ever heard before," Gary Clark Jr. and Jimmie Vaughan joined forces on "The Things That I Used to Do," Tracy Chapman played a bluesy rendition of "Hound Dog," Jeff Beck and Beth Hart performed "I'd Rather Go Blind," and Bonnie Raitt covered "My Time After Awhile." The tribute to Guy concluded with all performers jamming on "Sweet Home Chicago."
The evening closed with a Led Zeppelin tribute, witnessed by surviving members Robert Plant, John Paul Jones and Jimmy Page. The tribute opened with The Foo Fighters on "Rock and Roll," followed by Kid Rock's convincing renditions of "Babe I'm Gonna Leave You" and "Ramble On," and a great version of "Whole Lotta Love" by Lenny Kravitz." The tribute closed with Jason Bonham, son of original drummer John, joining Ann and Nancy Wilson of Heart and the Joyce Garrett Youth Choir for a powerful version of "Stairway to Heaven."
Tags:
Buddy Guy
,
Jimmy Page
,
John Paul Jones
,
Kennedy Center award
,
Kennedy Center Honors
,
Led Zeppelin
,
Robert Plant
Posted in
Awards
|
Tweet
No Comments »
Leave a Comment