Written by admin on November 29, 2013 – 8:57 am -
Tweet
"John Lennon: The Bermuda Tapes" is a groundbreaking new interactive album app for iPhone, iPad and iPod touch which commemorates the 33rd anniversary of "Double Fantasy". The app tells the story of John Lennon's journey sailing through a mid-Atlantic storm to Bermuda in June 1980, integrating excerpts of demo tapes recorded there.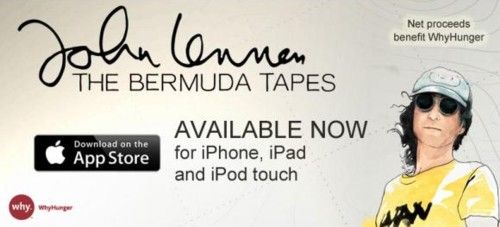 The app user is presented with two paths: Play and Listen. Selecting "Play" will allow the user to guide the Megan Jaye through the mid-Atlantic storm while Lennon, Captain Hank Halsted, and Tyler Coneys narrate their dramatic story. Users can also visit the Forty Thieves Disco in Bermuda and create interactive illustrations of John and Yoko.
The "Listen" side of the app allows the user to hear demo tapes of several songs that Lennon worked on while in Bermuda, including "Woman," "Starting Over," "I'm Losing You," "(Just Like) Starting Over," "Nobody Told Me," "Dear Yoko" and an unreleased demo version of "Stepping Out." The demo tapes are complimented by photos of Lennon aboard the Megan Jaye, and hand-written lyric sheets.
Profits from the sale of the app go to WhyHunger and its "Imagine There's No Hunger" campaign to combat global childhood hunger and poverty through sustainable agriculture. The campaign is supported by Yoko Ono and Hard Rock International.
Bill Ayres, executive director and co-founder of WhyHunger, says:
"John Lennon remains an inspiration to people throughout the world, for his music and his willingness to imagine our world in a different way. We are thrilled to be a leader in this innovative approach to charitable giving that re-imagines John's work and allows us to imagine a world free of hunger by investing in sustainable agriculture and securing the right to good food for all."
Yoko Ono says:
"Writing Double Fantasy was a very exciting time creatively for both John and me. I think the album app captures the sense of discovery and the artistic dialogue that John and I shared at that time and provides a new way to help us imagine a world without hunger."
"John Lennon: The Bermuda Tapes" is directed by Emmy and Peabody Award-winning filmmaker Michael Epstein ("LENNONNYC") and veteran digital artist Mark Thompson. It is available now for $4.99 in the US and £2.99 in the UK.
Tags:
Double Fantasy
,
John Lennon
,
John Lennon: The Bermuda Tapes
,
Yoko Ono
Posted in
New releases
|
Tweet
No Comments »
Leave a Comment