Written by admin on July 13, 2013 – 9:30 am -
Tweet
A great and unexpected image has emerged of John Lennon and his son Julian visiting Fonzie and co. on the set of the classic U.S. sitcom "Happy Days".
According to May Pang, who posted the image on her Facebook profile, the picture was taken during a tour of Paramount Studios in January, 1974. Whether or not John would have known the cast is debatable, as the first episode only debuted that month.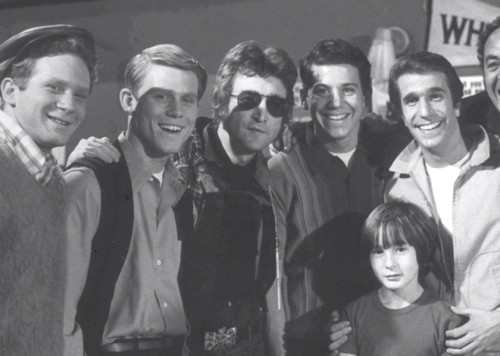 John and Julian are pictured with (left to right): Donny Most (Ralph Malph), Ron Howard (Richie Cunningham), Anson Williams (Warren "Potsie" Weber), and Henry Winkler (Arthur 'The Fonz' Fonzarelli).
For those looking for reassurance that this isn't a clever photoshop creation, Henry Winkler has confirmed via Twitter that the photograph is authentic: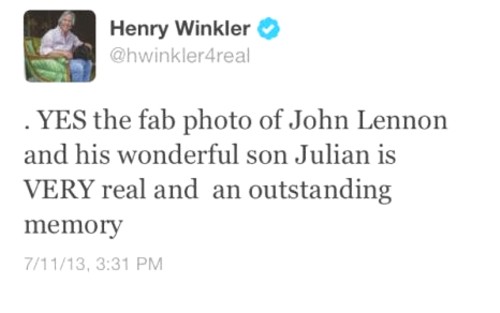 John Lennon was separated from Yoko Ono in this period and living with his girlfriend, May Pang, in Los Angeles and then New York. He would later describe his 18-month estrangement from Yoko as his "lost weekend".
Tags:
Happy Days
,
Henry Winkler
,
John Lennon
,
John Lennon and Fonzie
,
John Lennon on the Happy Days set
,
Julian Lennon
,
Ron Howard
Posted in
The Beatles
|
Tweet
No Comments »
Leave a Comment