Written by admin on September 19, 2013 – 10:02 pm -
Tweet
John Fogerty performed a series of Creedence Clearwater Revival classics during a surprise collaboration with Mumford & Sons at their Gentlemen of the Road Stopover in St. Augustine, Florida on Saturday night. The band Fun. had been scheduled to play, but singer Nate Ruess was unwell so Mumford & Sons contacted Fogerty to ask him to step in. He was on a plane from LA within hours and began rehearsing with the band on Saturday morning.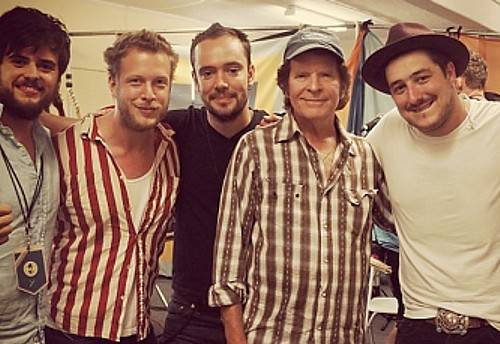 Fogerty and Mumford & Sons evidently had great fun playing classic songs such as "Proud Mary," "Down on the Corner," "Born on the Bayou," "Lodi," and "Have You Ever Seen the Rain?" Keyboardist, Ben Lovett, told Rolling Stone:
"My personal highlight was getting to play cowbell on 'Down on the Corner. I've played air-cowbell to that so many times while DJ'ing at friends' parties. His voice right now is incredible. When he started singing those songs, it sounded exactly like 43 years ago.

The guy has sold over 30 million records. He's one of the most under-praised, underrated heroes in rock history and he was up for tuning his plans for the weekend, getting on a plane out, coming over, having a sleepless night just to play an event with us, which is hugely humbling and inspiring to see the real deal. He didn't want to take one break in rehearsal. He just had one bottle of water by his side and just kept on knocking in through for four hours even though he was going to be performing that evening. He had a better work ethic than anyone we've ever worked with."
A complete performance of "Lodi" from the gig was posted on John Fogerty's YouTube channel.
Here's more amateur footage of the gig, with clips of "Susie Q," "Fortunate Son," "Down on the Corner," "Lodi," and "Bad Moon Rising".
Tags:
John Fogerty
,
John Fogerty and Mumford & Sons
,
Mumford & Sons
Posted in
American Rock
,
Gigs
|
Tweet
No Comments »
Leave a Comment