Written by admin on February 8, 2015 – 7:32 am -
Tweet
Joe B. Mauldin, the bassist for Buddy Holly's Crickets, died on Saturday morning (Feb 7th) in Nashville. He was 74.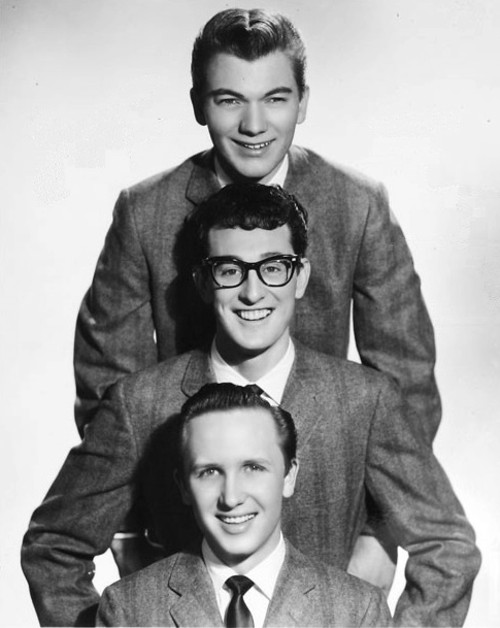 Jerry Allison, Buddy Holly and Joe B. Mauldin (top to bottom)
Born in Lubbock, Texas on July 8, 1940, Mauldin played with The Four Teens of Lubbock, before teaming up with Holly's band in 1957. He would appear on many classic recordings during his time with Buddy Holly, including "Peggy Sue," "Oh Boy!" and "Rave On".
"Oh Boy!" – Buddy Holly and The Crickets
Buddy Holly and The Crickets went separate ways in late 1958, with Holly moving to New York. On the evening of Holly's death (Feb 3, 1959), Mauldin, drummer Jerry Allison and guitarist Sonny Curtis had decided to contact Buddy and ask about a possible reunion.
Mauldin continued to play with The Crickets after Holly's death, backing the Everly Brothers on tour in 1959-1960 and releasing the album "In Style With the Crickets" the following year.
After serving in the U.S. army from 1964-66, Mauldin worked as an engineer at Gold Star Studios in Los Angeles. He would return to The Crickets for many projects over the next four decades, including the 2004 album "The Crickets and Their Buddies," which featured guest artists such as Phil Everly, Eric Clapton and Graham Nash.
The bassist was inducted into the Rock and Roll Hall of Fame in 2012 as a member of The Crickets. He was also in the West Texas Walk of Fame in Lubbock and the Musicians Hall of Fame and Museum in Nashville.
Mauldin leaves behind his wife, Jane, and daughters Jane Mauldin and Melody Stephenson.
Tags:
Buddy Holly
,
Buddy Holly and the Crickets
,
Joe B Mauldin
,
Joe B Mauldin death
,
Joe B Mauldin obituary
,
Joe Mauldin
,
The Crickets
Posted in
Obituaries
,
Rock 'n' roll
|
Tweet
No Comments »
Leave a Comment