Written by admin on December 18, 2013 – 7:50 pm -
Tweet
We celebrate Keith Richards' 70th Birthday by looking back at 10 of the veteran rocker's greatest guitar riffs.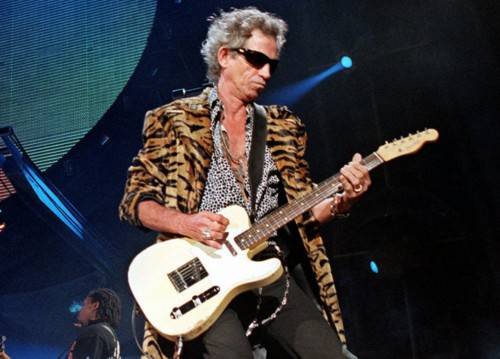 Richards' remarkable gift for crafting memorable guitar parts has been a huge factor in the enormous success achieved by the Rolling Stones over their 50 year history. In his 2010 autobiography, "Life," Richards noted:
These crucial, wonderful riffs that just came, I don't know where from. I'm blessed with them and I can never get to the bottom of them. When you get a riff like "Flash" you get a great feeling of elation, a wicked glee.

Nearly all of these riffs are closely related. But if someone said "You can play only one of your riffs ever again," I'd say "OK, give me 'Flash'."
And it's "Jumpin' Jack Flash" that starts our list of classic Keith Richards riffs.
"Jumpin' Jack Flash"
Recorded: 20 April 1968, Olympic Studios, London
Chart performance: #3 (US), #1 (UK)
Richards crafted the "Jumpin' Jack Flash" riff while experimenting with amplifying his acoustic guitar through a cassette player, which was overloaded to create a distorted sound. One guitar is played in open D tuning (with a capo) and another is played an octave higher in standard tuning. The result was one of the most iconic and timeless guitar introductions in rock 'n' roll history. No wonder it's the one that Keith is most fond of.
"(I Can't Get No) Satisfaction"
Recorded: 12 May 1965, RCA Studios, Hollywood
Chart performance: #1 (US), #1 (UK)
Richards has claimed that the guitar riff that introduces "(I Can't Get No) Satisfaction" came to him in his sleep. He originally imagined the guitar part as a horns part, akin to how Otis Redding approached the song when he covered it. With no horns to hand, Richards instead recorded the guitar part through a Gibson fuzz tone pedal, with a view to overdubbing horns at a later date. The horns were never added and the fuzz tone guitar sound captured the imagination of the world in 1965.
"Honky Tonk Women"
Recorded: June 1969, Olympic Studios, London
Chart performance: #1 (US), #1 (UK)
"Honky Tonk Women" began life as a country blues recording titled "Country Honk", minus the classic guitar riff that helped make the hit version so popular. In this period, Richards made what he has called his "big discovery" when he began experimenting with open five-string tuning. He found that this approach greatly assisted with his riff writing. For "Honky Tonk Women," Richards used open G tuning to craft the brilliant blues rock riffs.
"Brown Sugar"
Recorded: December 1969, Muscle Shoals Sound Studio, Muscle Shoals, Alabama
Chart performance: #1 (US), #2 (UK)
Richards was on top of his game when he came up with the powerful chordal riff that opens "Brown Sugar". This is followed by some fine interplay between Richards and Mick Taylor, with the Chuck Berry influence to the fore.
It took 16 months for "Brown Sugar" to be released, but it was a fine way to open their superb 1971 album "Sticky Fingers".
"Gimme Shelter" (1969)
Recorded: November 1969, Sunset Sound & Elektra Studios, Los Angeles
Richards' descending riff and Merry Clayton's otherworldly vocalisations create a forboding and intriguing tone at the outset of "Gimme Shelter". In his "Life" memoir, Keith reflected on how the guitar part came about:
It's got menace, all right. It's scary stuff. And those chords are Jimmy Reed inspired – the same haunting trick, sliding up the fret board against the drone of the E note. I'm just working my way up A major, B major, and I go, hello, whee are we ending up? C-sharp minor, OK. It's a very unlikely guitar key. But you've just go to recognize the setups when you hear them. A lot of them, like this one, are accidents.
The song opened the 1969 album "Let It Bleed".
"The Last Time"
Recorded: January 11-12, 1965 at RCA Studios in Hollywood, California
Chart performance: #9 (US), #1 (UK)
"The Last Time" features what Richards has called "the first recognizable Stones riff or guitar figure". The simple and very catchy riff introduces the song and acts as a recurring theme throughout.
This was a breakthrough song for the band as it was the first UK single to be penned by the Jagger/Richards partnership.
"Get Off of My Cloud"
Recorded: 6–7 September 1965, RCA Studios, Hollywood
Chart performance: #1 (US), #1 (UK)
This isn't one of Keith's favourite recordings, as he preferred a more laidback approach to the song and was talked out of it, but it is one of his most infectious guitar parts, supporting one of Jagger's most arresting vocals. The riff that is repeated throughout the song has an infectious quality that really drives the song along.
"Start Me Up"
Recorded: June-October 1979, April-June 1981
Chart performance: #2 (US), #7 (UK)
The Rolling Stones had been experimenting with "Start Me Up" since it began life as a reggae-rock style song in 1975. It was finally released on 1981's "Tattoo You" and has become one of the band's most popular songs, with one of Richards' most memorable riffs. Sometimes it pays to be persistent.
"Beast Of Burden"
Recorded: 10 October – 21 December 1977, Pathé Marconi Studios, Paris
Chart performance: #8 (US), N/A (UK)
"Beast of Burden" is one of the highlights of the "Some Girls" sessions. Richards plays with sensitivity and flair, and there is seamless interplay with Ronnie Wood.
"Tumbling Dice"
Recorded: July–November 1971, Villa Nellcôte, France
Chart performance: #7 (US), #5 (UK)
The memorable introduction for "Tumbling Dice" was worked on over a few days at Richards' French chateau, Villa Nellcôte, where the band were recording songs for their "Exile On Main Street" album. Richards recalls that this was the time when he really began to find his sound and develop his trademark five-string, open tuning approach. "Tumbling Dice" took its musical inspiration from an earlier Stones recording, "Good Time Women", which didn't feature the great intro.
All 10 tracks and many more feature on the 2012 "GRRR!" collection.
Tags:
Keith Richards
,
Keith Richards 70th Birthday
,
The Rolling Stones
Posted in
British Invasion
|
Tweet
No Comments »
Leave a Comment