Written by admin on May 19, 2010 – 8:47 pm -
Tweet
Elvis Presley is featured strongly in the forthcoming "We Will WOCU" music and film memorabilia auction by Fame Bureau. The auction takes place in London on May 27 and online bidding is an option.
Here's my top Elvis picks.
Elvis Presley's record collection
Scotty Moore was Elvis Presley's original guitarist, responsible for those classic solos on "That's All Right," "Hound Dog," "Jailhouse Rock" and many more. Scotty is now selling off a collection of singles that were once owned by Elvis.

In January 1968, Elvis asked Scotty to transfer these 78s to reel-to-reel tape for him. Scotty did so and mailed the tape to Graceland, but Elvis never asked for the 78s back. There were 26 in total and they are a great insight into Elvis' musical tastes.



Among the singles are: Joe Turner – Corrine Corrina / Boogie Woogie Country Girl; The Dominoes – That's What You're Doing To Me / When The Swallows Come Back To Capistrano; Ivory Joe Hunter – It's A Sin / Don't You Believe Her ; Fats Domino – Blueberry Hill / Honey Chile; Lowell Fulson – Reconsider Baby / I Believe I'll Give Up; and Lloyd Price – Lawdy Miss Clawdy / Mailman Blues.
I think this is an interesting lot because it gets to the heart of what was most important about Elvis – the music. Here we have 26 singles that Elvis listened to and in some cases was directly influenced by, eg he covered Lawdy Miss Clawdy, Blueberry Hill, Reconsider Baby, It's a Sin and others in the collection.
Estimate: £100,000 – £125,000
Starting Bid: £50,000
Click here for further information
Elvis Presley's fingerprints
This item is the only record of Elvis Presley's fingerprints known to exist. Elvis gave his fingerprints as part of his application for a concealed weapon permit for his Colt revolver 38 in October 1970.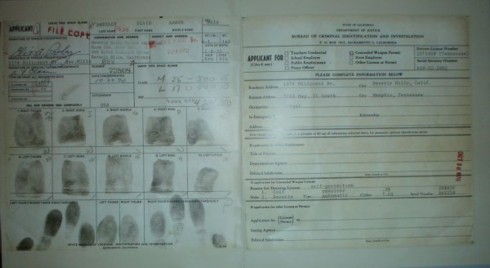 As well as the full set of fingerprints for both hands, the document provides details of Elvis' hair and eye colour, height, weight, date of birth, driving license and social security numbers, and residential and business addresses.
Estimate: £50,000 – £75,000
Starting Bid: £25,000
Click here for further information
Elvis Presley's golden guitar
Elvis Presley continued to make music in private during his time in the army and a number of home recordings have been made available, both officially and unofficially. You can now get your hands on the golden guitar seen clearly in a number of photographs of Elvis in this period. The guitar is an Alden Solid body copper/bronze finish guitar produced circa 1958, derived from the Harmony H44 Stratatone. The guitar comes with its original amp and lead and a number of rare army photographs.
Estimate: £25,000 – £30,000
Starting Bid: £12,500
Click here for further information
Electric sitar played on Elvis Presley session
This electric sitar was owned by Memphis guitar legend Reggie Young, who played at the Elvis Presley sessions in 1969 which produced the hit album "From Elvis in Memphis" and classic singles such as "Suspicious Minds" and "In the Ghetto."

The electric sitar is heard very prominently on the song "You'll Think of Me," which was the B-side of "Suspicious Minds" and also appeared on the "Back in Memphis" album. Here's the song.
Estimate: £3,000 – £5,000
Starting Bid: £1,500

Click here for further information
Elvis Presley's solid gold medallion
The most highly valued item in the auction is a solid gold medallion gifted to Elvis by Barron Hilton in 1975.

Elvis wore the medallion on December 15, 1975 during his closing night gig at the Hilton.

The solid gold medallion surrounds a very rare and collectible 1924 St Gaudens double eagle gold coin. Within the gold, there are 40 round cut diamonds, each measuring 1.6mm in diameter with colour H, clarity VS2.
Estimate: £725,000 – £1m
Starting Bid: £360,000
Click here for further information
Other top lots
The Fame Bureau auction on May 27 features memorabilia associated with many other music and film stars, including rare records, posters and costumes. These lots in particular also caught my eye:
John Lennon original artwork – WWIII

Estimate: £25,000 – £30,000
Starting Bid: £12,500
Jimi Hendrix home recordings

Estimate: £15,000 – £20,000
Starting Bid: £7,500
Michael Jackson owned and worn glitter jacket

Estimate: £2,500 – £3,500
Starting Bid: £1,200
Rolling Stones – signed black leather jacket

Estimate: £600 – £800
Starting Bid: £300
Jim Morrison's unpublished handwritten lyric/poem

Estimate: £3,000 – £4,000
Starting Bid: £1,500
Fame Bureau auction preview video

Click here to view the full list of Fame Bureau auction items
Tags:
Elvis Presley
,
Fame Bureau auction
,
Jim Morrison
,
Jimi Hendrix
,
John Lennon
,
Scotty Moore
,
The Rolling Stones
Posted in
American Rock
,
Auctions
,
British Invasion
,
Elvis
,
The Beatles
|
Tweet
No Comments »
Leave a Comment