Written by admin on June 4, 2010 – 4:21 pm -
Tweet
On this day forty years ago, Elvis Presley began a five-day recording session at RCA's Studio B in Nashville. The session has since been dubbed the "Nashville Marathon."
This was Elvis's first substantial studio time since the now legendary sessions of January and February 1969 at the American Studios in Memphis. Elvis had entered those Memphis sessions off the back of a successful television special and had approached the sessions like a hungry fighter aiming to reclaim his title. This focus led to some of the finest recordings of Elvis' career, including hits such as "Suspicious Minds," "In the Ghetto" and "Kentucky Rain," and two impressive albums in "From Elvis in Memphis" and "Back in Memphis." In short, the Nashville sessions had a lot to live up to.
By June 1970, Elvis' comeback was secured. He had achieved four top ten hits on the US singles chart over the previous 12 months, including a number one with "Suspicious Minds," and his return to live performance in Las Vegas had been a critical triumph, as had his appearances at the Houston Astrodome three months before.
Lets take a look at what Elvis recorded at the Nashville Marathon and who played on the sessions.
Musicians/technicians
Guitar: Elvis Presley
Guitar: James Burton
Guitar: Chip Young
Guitar: Charlie Hodge
Drums: Jerry Carrigan
Piano: David Briggs
Bass: Norbert Putnam
Organ/Harmonica/Marimba: Charlie McCoy
Engineer: Al Pachuki
Producer: Felton Jarvis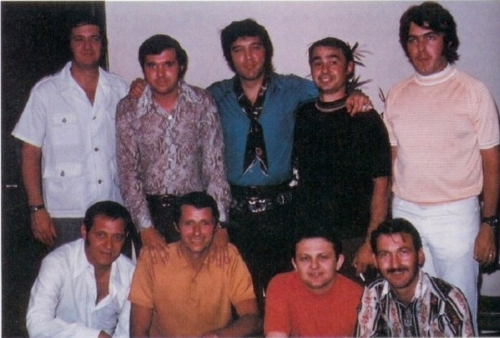 Top: David Briggs, Norbert Putnam, Elvis Presley, Al Pachuki, Jerry Carrigan
Bottom: Felton Jarvis, Chip Young, Charlie McCoy, James Burton
The musicians on the session were entirely different to those on the Memphis sessions and, apart from James Burton on lead guitar, no member of his live band was present either. The personnel were not unfamiliar however as, apart from Carrigan and Putnam, they had all worked with Elvis before. Putnam had also technically appeared with Elvis before, but only by way of an overdub session for "Beyond the Reef" in 1968, which Elvis wasn't present at.
Putnam later told Elvis biographer Peter Guralnick how nervous he was about the prospect of working with Elvis:
"I was scared to death. I remember standing in the bathroom looking in the mirror and saying 'Dear God, don't let me be the one to screw up this session. Don't let me be the first guy to ruin it!'"
Chip Young had first worked with Elvis on the 1966 sessions that produced the "How Great Thou Art" gospel album. Briggs' association began at the same session, where he played piano on the single Love Letters. McCoy had done some great work with Elvis on tracks such as Big Boss Man (1967), but began his association less auspiciously as a guitarist on the best forgotten "Harum Scarum" sessions in 1965. Charlie Hodge was one of Elvis' closest friends and he had appeared on and off at sessions since 1960.
What was recorded?
Elvis and his band recorded 35 masters over the five-day session. The quality of the songs varied, but Elvis' performances were generally excellent, if not quite matching the intensity and polish of the best of the Memphis sessions.
Most of the songs found their way on one of three albums:
"Elvis Country – I'm 10,000 Years Old" (EC)
"That's the Way It Is" (TTWII) – a half live/half studio album released to coincide with Elvis' documentary movie of the same name
"Love Letters from Elvis" (LLFE) – the weakest of the albums, where most of the lesser material seems to have been relegated to.
A great overview of the session was also provided by "The Nashville Marathon" release on the FTD label in 2002.
Here's the full line-up of tracks for the five days, with the album the tracks appeared on indicated, where relevant:
June 4, 1970 RCA Studio B – Nashville, Tennessee
Mystery Train / Tiger Man – instrumental jam
Twenty Days & Twenty Nights (TTWII)
I've Lost You (Single)
I Was Born About Ten Thousand Years Ago (EC)
The Sound Of Your Cry (Single)
Faded Love – just a short try out
The Fool (EC)
A Hundred Years From Now
Little Cabin On The Hill (EC)
Cindy Cindy (LLFE).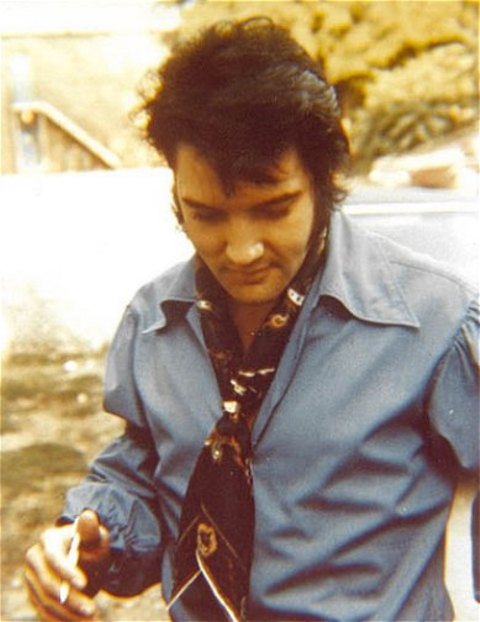 Elvis arriving at Studio B on June 4, 1970.
The first day set the tone for what was to follow, with Elvis in a loose mood – as if he might break off into a jam at any moment – but also in strong voice and generally committed to the material.
"I've Lost You" was released as a single and a live and marginally superior version of it appeared on "That's the Way It Is." This is a strong song, with adult lyrics that possibly resonated strongly with Elvis – depending on who you believe about the state of his marriage at this time. Although quality material, it wasn't particularly commercial and so peaked at a disappointing number 32 on the US charts.
I've noted that track four appeared on the Elvis Country album, but it wasn't presented in full. Instead, it ran as a theme throughout the album, with snippets played between each track.
Elvis had been messing around with "The Fool" for many years before cutting it for his country album. There's a home recording of him performing this from a decade before. The studio version takes a bluesy approach which is very effective but I always think it might have benefitted from being in a slightly higher key. The same goes for "Little Cabin on the Hill," which is the kind of song Elvis had been singing since the 1950s and did actually sing at the infamous Million Dollar Quartet session in 1956.
Twenty Days and Twenty Nights is a standout performance from the first day.
Twenty Days and Twenty Nights
June 5, 1970 RCA Studio B – Nashville, Tennessee
Bridge Over Troubled Water (TTWII)
Got My Mojo Working / Keep Your Hands Off It (LLFE)
How The Web Was Woven (TTWII)
It's Your Baby, You Rock It (EC)
Stranger In The Crowd (TTWII)
I'll Never Know (LLFE)
Mary In The Morning (TTWII).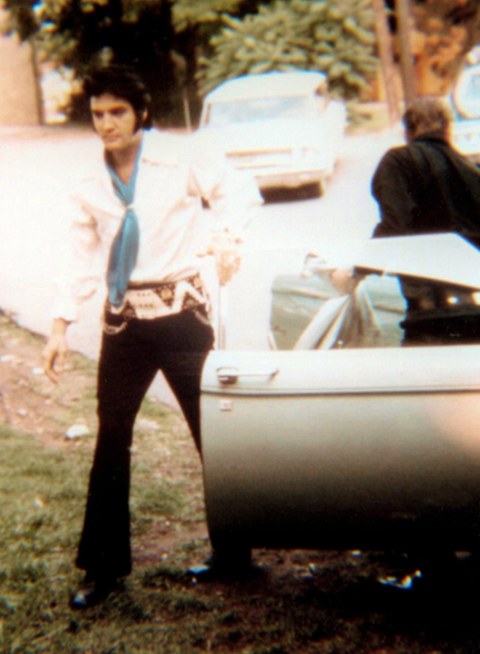 Elvis in the Studio B parking lot on June 5, 1970.
A real mixed bag here, from the sublime "Bridge Over Troubled Water" (although better live versions would be recorded) and "It's Your Baby, You Rock It," to the rather forgettable "I'll Never Know." The "That's the Way It Is" cuts are all strong songs and very well executed.
"Got My Mojo Working / Keep Your Hands Off It" was from a jam session and breathed some life into the "Love Letters from Elvis" album.
Bridge Over Troubled Water
It's Your Baby, You Rock It
Thanks to Paul's Candid Central Elvis Page for the two shots of Elvis arriving at Studio B.
June 6, 1970 RCA Studio B – Nashville, Tennessee
I Didn't Make It On Playing Guitar – jam
It Ain't No Big Thing (LLFE)
You Don't Have To Say You Love Me (TTWII + Single)
Just Pretend (TTWII)
This Is Our Dance (LLFE)
Life (LLFE + Single)
Heart Of Rome (LLFE).
This was the weakest day yet of the session as regards song quality, but two of the songs were worthy of Elvis' time, namely "Just Pretend" and "You Don't Have to Say You Love Me." As with the previous day's weaker cuts, the remainder (apart from the opening jam) appeared on "Love Letters from Elvis," which does make this seem like an album for leftovers. "You Don't Have to Say You Love Me" hit number 11 on the US charts when released as a single, backed with "Patch It Up."
Just Pretend
June 7, 1970 RCA Studio B – Nashville, Tennessee
When I'm Over You (LLFE)
I Really Don't Want To Know (EC + Single)
Faded Love (EC)
Tomorrow Never Comes (EC)
The Next Step Is Love (TTWII + Single)
Make The World Go Away (EC)
Funny How Time Slips Away (Remake)
I Washed My HandS In Muddy Water (EC)
Love Letters (LLFE).
After a slightly disappointing previous day, there were some top notch performances on June 7. Again the weakest tracks are those which found their way on "Love Letters from Elvis." Among these are a remake of "Love Letters," which doesn't come close to matching Elvis' original recording from 1966.
The standout track from this day was "Tomorrow Never Comes," which builds to a dramatic Roy Orbison-style crescendo – Elvis can even be heard on an outtake jokingly singing Orbison's "Running Scared."
"Tomorrow Never Comes"
Elvis also really delivers on Willie Nelson's "Funny How Time Slips Away" and Don Robertson's "I Really Don't Want to Know." The latter provided Robertson with his first major success when it was recorded by Eddy Arnold in 1954. It was one of many Robertson compositions recorded by Elvis, including "Anything That's Part of You," "There's Always me," "I Met Her Today" and "I'm Counting on You."
"I Really Don't Want to Know"
The arrangement on "It's Funny How Time Slips Away" borrows from Ricky Nelson's 1966 version, which appeared on Ricky's great country rock album "Country Fever." Both versions feature James Burton's great work on dobro.
"Funny How Time Slips Away"
June 8, 1970 RCA Studio B – Nashville, Tennessee
There Goes My Everything (EC + Single)
If I Were You (LLFE)
Only Believe (LLFE)
Sylvia
Patch It Up (Single).
The final day of recording didn't reach the heights of the previous day. There are no bad performances, but the material could have been stronger. "There Goes My Everything" is perhaps the vocal highlight. Elvis also sings "Only Believe" very well, but the song is a little ponderous. "Patch It Up" is a solid performance, but worked better in a live setting at the next Vegas season in August.
"There Goes My Everything"
Conclusion
It's evident that there was a little less discipline at these sessions than at the previous year's Memphis sessions and maybe a greater tendency to accept lesser material. I think it's fair to say that Elvis simply wasn't as hungry for a hit in June 1970 as he had been in January 1969 and he didn't have a producer who was inclined to challenge him, as Chips Moman had in Memphis. There was also a move away from the "blue eyed soul" of the American Studio cuts, which had a lot to do with the change of musical personnel. After producing several big hits and one of the best albums of Elvis' career in "From Elvis in Memphis," it's a real shame that Elvis didn't work with Chips and the Memphis musicians again. As was too often the case with Elvis' career, there were political factors that took precedence over the business of creating good music.
This is all sounding a little negative though and I don't mean to suggest the five days at Studio B were not fruitful. Some fantastic masters were produced and two of Elvis' best albums of the 1970s. There is much to enjoy, but not tracks that would fall into the "all time classic" category in the way that "Suspicious Minds" and "In the Ghetto" do.
What the Nashville Marathon does provide is a real insight into what made Elvis tick musically. He drew on country, R&B, gospel and rock 'n' roll, but all with his personal stamp. Elvis singing country wasn't quite like anyone else singing country.
Bassist, Norbert Putnam summed it up well when he said of Elvis:
"I came to understand, he expressed so many things with his voice…He was the greatest communicator of emotion that I ever knew, from beginning to end."
The Nashville Marathon recordings can be found on:
Tags:
Elvis Country
,
Elvis Presley
,
Love Letters from Elvis
,
Nashville Marathon
,
That's the Way It Is
Posted in
Elvis
|
Tweet
6 Comments »
6 Comments to "Elvis Presley's "Nashville Marathon" – 40 years on"
Leave a Comment