Written by admin on January 9, 2015 – 5:38 am -
Tweet
The acetate of Elvis Presley's first recording, "My Happiness," has sold for $240,000 at an auction held at Graceland in Memphis.
The acetate was the star lot in the auction, which was held to celebrate what would have been Elvis' 80th birthday.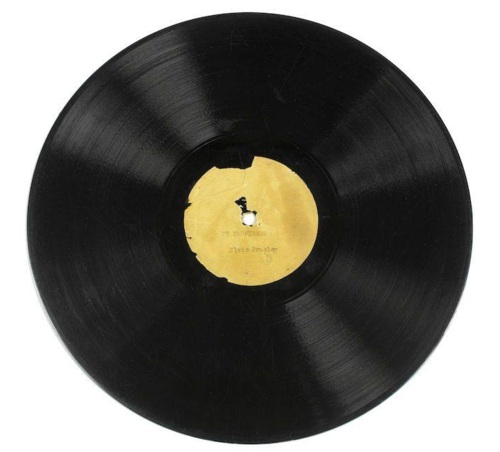 Elvis stepped into the Memphis Recording Service in Memphis in July, 1953 to make a two-sided private recording. Although impossible to be sure of Elvis' motives, it's a reasonable assumption that he was hoping to attract the attention of Sam Phillips, who ran the Memphis Recording Service and owned Sun Records. If that was the intention, it worked, indirectly at least, as Phillips' assistant, Marion Keisker, was sufficiently impressed with Elvis that she alerted Phillips to the young man and would continue to do so over the following year. Elvis finally got his break the following summer, debuting on Sun with the classic "That's All Right," but it all started with "My Happiness".
The acetate, which features "That's When Your Heartaches Begin" on the B-side, was left by Elvis at the home of his friend, Ed Leek, and was not heard by the public until 1990 when it appeared on the "Elvis – The Great Performances" album and in the documentary of the same name.
Other high value lots in the Graceland auction included:
an Elvis-signed copy of his first single, "That's All Right" ($26,000)
treble-clef gold and diamond ring gifted by Elvis to Sammy Davis Jr ($26,000)
gold ring gifted to Tom Hulett ($15,000)
prescription sunglasses with TCB logo ($12,000)
red velour shirt worn by Elvis in the movie "Girl Happy" ($10,000)
Elvis' first driver's license, issued on March 24, 1952 when Elvis was 17-years-old ($9,500)
16-mm film of Elvis Presley in Chicago in 1957 ($9,500)
Shelby County Deputy Sheriff Badge from the 1960s ($7,000).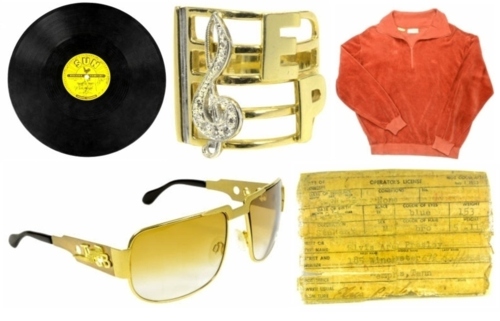 You can watch the complete auction below. Skip to 01:00:50 to view the auction of the "My Happiness" lot.
Tags:
Elvis auction
,
Elvis Graceland auction
,
Elvis My Happiness
,
Elvis My Happiness acetate sold
,
Elvis Presley
,
Elvis Presley 80th Birthday
Posted in
Auctions
,
Elvis
|
Tweet
No Comments »
Leave a Comment