Written by admin on July 13, 2013 – 9:34 am -
Tweet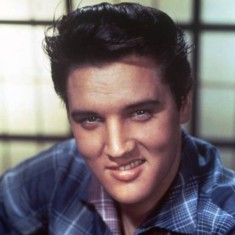 Elvis Presley has again topped Joel Whitburn's list of the Top 500 Artists of All Time. The list is included in the 14th edition of Whitburn's "Top Pop Singles" book, which compiles Billboard chart stats in an easy-to-read format.
Whitburn bases his artist rankings on Billboard chart performances from 1955 to 2012. The Beatles are in second place, followed by Madonna, Elton John, and Mariah Carey.
Here's the Top 20, with changing rankings highlighted (compared to the 2011 edition) where appropriate:
Elvis Presley
The Beatles
Madonna (+1)
Elton John (-1)
Mariah Carey
Stevie Wonder
Michael Jackson
Janet Jackson
James Brown
The Rolling Stones
Aretha Franklin
Whitney Houston (+1)
Pat Boone (-1)
Rod Stewart
Marvin Gaye
Paul McCartney
Taylor Swift (+33)
Prince (-1)
Ray Charles (-1)
Usher (+8).
"Top Pop Singles – 1955-2012 (14th edition)" chronicles the more than 8,600 artists and nearly 42,000 songs over six decades that ever appeared on Billboard magazine's early pop singles charts (Best Seller, Disc Jockey, Juke Box, Top 100), "Hot 100," Bubbling Under the Hot 100, Breakout, Territorial, and Hot 100 Airplay charts, as well as thousands of non-charted classics.
New for the 14th edition:
songwriter(s) and B-sides of every song
a return to true chronological order for artist discographies
a streamlined approach to the listing of "Featured artists"
more classic non-Hot 100 songs
chronological and alphabetical listings of all Rock and Roll Hall of Fame nominees
over 500 new artist photos from picture sleeves, cassette and CD covers
a new clover symbol, indicating whether the artist had at least 24 hits and is therefore in Whitburn's "24 Club."
You can order "Top Pop Singles" from recordresearch.com
Tags:
Elton John
,
Elvis Presley
,
Joel Whitburn
,
Madonna
,
The Beatles
,
Top Pop Singles
,
Top Pop Singles - 1955-2012
Posted in
Elvis
,
The Beatles
|
Tweet
No Comments »
Leave a Comment