Written by admin on June 9, 2012 – 9:55 pm -
Tweet
New York City was an exciting place to be for rock 'n' roll fans in June 1972, with Dion and the Belmonts coming together for a highly-anticipated reunion at Madison Square Garden on June 2, and Elvis Presley performing four sold-out shows at the same venue the following weekend. Forty years on, Harley Payette takes a look at the legendary gigs and the musical context in which they took place.

"Rock and Roll is here to stay/It will never die/It was meant to be that way/'Tho I don't know why/I don't care what people say/Rock and roll is here to stay."
When Danny and the Juniors made that bold, if mildly inarticulate, declaration in 1958, not many people believed it. Outside the music's most diehard fans, no one did. Nearly all those diehards were teenagers or younger. And nobody listened to them. Nearly all the media pundits believed the music would soon disappear almost as quickly as it seemed to appear. Most of the performers believed this as well. And, to be fair, there really was not much of a reason to think otherwise. Popular music was supposed to deliver disposable thrills, thoroughly enjoyable in their moment, but an embarrassing novelty as soon as it ended. There was no reissue boom. Oldies and classic rock radio were far off in the future. Top 40 itself was in its infancy and it underlined the music's disposability, played like hell for a few months and then into the dumpsters. Of all the musical forms, rock 'n' roll, because of its dependence on beat and rhythm over melody, its appeal to fickle youth, its rawness and occasional primitiveness, its black and rural roots, was the most disposable of this disposable art form. The vast majority of LPs, the prestige musical consumption format of the era, were Broadway, soundtrack, or traditional or Tin Pan Alley pop, stuff that had a chance of lasting at least a few years. So, in 1958 Danny and the Juniors probably seemed like fools to a lot of people. By 1972, they seemed prescient.
Rock 'n' roll was still around. Not only had it not disappeared but it was the permanent mainstream of contemporary pop music, not only in the US but also in most of Western Europe. There was no question that people still enjoyed it as a contemporary musical form. The actual durability of the music itself though was open to question. Did the music have a life beyond its moment on the charts? Was it possible to maintain a long-term career in rock and roll music like those in pop, jazz and country? Two very different concerts in the first two weeks of June of 1972, both at New York City's legendary Madison Square Garden, went a long ways towards providing answers to those questions. The first concert by Dion and the Belmonts, on June 2, proved the continuing vitality and popularity of the original rock 'n' roll sound in that era before oldies radio or even "American Graffiti". The second concert, or set of concerts, by Elvis Presley the following weekend underlined the fact that a rock 'n' roll star could evolve and change with the times, that rock 'n' roll could be adapted into a broader musical and cultural context, and that a rock 'n' roll star could maintain viability as a front line popular attraction over the course of decades. In different ways, both concerts let people know that long term careers were possible in rock 'n' roll, both in the mainstream and on the margins.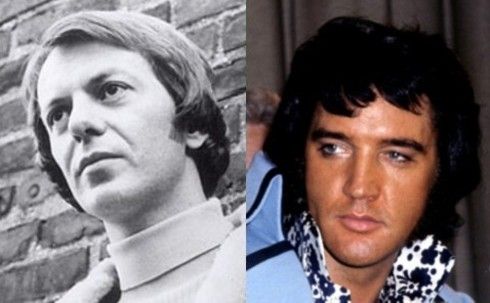 The path to the Garden in June 1972 was a different one for Presley, and Dion and the Belmonts. For the vocal group, the reunion at Madison Square Garden was a homecoming having formed only a short subway ride from Manhattan in 1957. The concert at MSG was unlikely, though, and widely anticipated because a lot of people assumed that Dion and the Belmonts would never perform together again. After breaking up in 1960, the first great white doo wop group and the first great Northern white rock 'n' roll artist, had reunited once in 1967 to almost complete public indifference. Several attempts to reunite the group had fallen flat before because Dion, who had reinvented himself as a contemporary singer/songwriter, didn't want to look back.
On the other hand, New York City concert goers were getting their first look at Elvis Presley. Although nearly all his early television appearances were filmed in the Big Apple, Presley had never given a formal concert there. As much as Dion and the Belmonts were defined by growing up in the US's cultural Mecca, Presley, who once boasted to an audience "Those people in New York ain't gonna change me none," defined himself against it.
The two acts in many ways represented the opposite ends of the spectrum that created rock 'n' roll and defined youth culture of the 1950s. Dion and the Belmonts were the sound of the city. Their roots were groups like the Flamingos, the Five Satins, and the Dells; acts who developed their sounds in urban settings on street corners, mimicking the sound of instruments with their voices, even complex jazz arrangements. With few exceptions, these acts developed a new flamboyant style of singing steeped in black churches, a sound seldom heard in the mainstream. Presley was the heir to blues men like Arthur Crudup and country singers like Bill Monroe, and Bob Wills, names that didn't mean a lot above the Mason-Dixon Line. He loved the black gospel sound as well when he heard it, but he also was a patron of white regional favorites like the Blackwood Brothers and their lead Jake Hess.
That Presley loved the new vocal group sound of the Platters and the Penguins, and the classic sound of the Ink Spots, and that Dion loved Hank Williams, indicated that these diverse groups spoke the same language. In 1955 and 1956, the nation at large was transformed when Elvis, the Platters, Little Richard and others translated that language in a way that everyone could understand. By 1972, thanks to the success of acts like Presley and Dion and the Belmonts, and the legions that followed them, everyone was on the same page. Presley belonged just as much to New Yorkers as home grown heroes like Dion and the Belmonts. Both acts had been away too long.
A few years earlier, a sold-out concert for either act at New York City's most prestigious venue might have seemed a pipe dream. Only a half decade from dominating the charts, both acts were threatening to go the way of the dodo in the fall of 1968. In that year, Presley and Dion would stage career resurrections. Meanwhile forces were just coming into play that would create a demand for the Belmonts as well.
Riddled by drug addiction and thwarted by the changes in the industry that followed the assent of the Beatles in 1964, Dion was close to finished professionally in early 1968. He had not been in the Top 40 since January 1964. The first major rock 'n' roll artist signed to Columbia Records in 1962, his label had moved on by the mid-'60s and left Dion without a place to record. With Dion unattached, his old label Laurie decided to take another chance on him. After all, they had achieved great success the first time around when from 1958 to 1962, on his own or with the Belmonts, he was their superstar, laying down a string of big hits, such as "A Teenager In Love," "I Wonder Why," "Runaround Sue" and "The Wanderer".
1968 was a different world though than the one Dion had dominated on Laurie. Since he'd left the label, the president had been assassinated, as had his idealistic younger brother. Congress had passed the Civil Rights Act, but the man who did more than anyone to make racial equality happen was himself felled by an assassin's bullet in 1968. The nation needed a balm.
| | |
| --- | --- |
| That balm came in the form of a demo sent with songwriter Dick Holler's tribute to John and Bobby Kennedy, Martin Luther King Jr. and another national martyr, Abraham Lincoln. Dion was at first unsure about recording "Abraham, Martin, and John." He feared the song was tacky and exploitative. His father-in-law heard something else in it: "the truth." Dion recorded a rearranged version of the song and a nation accustomed to perpetual mourning found something approaching truth in the sad but hopeful ballad. | |
"Abraham, Martin, and John" made #4 and sold a million copies and suddenly Dion was transformed from relic to contemporary artist. Follow-up records did not do as well, but Dion was able to land a record deal with Warner Brothers that granted him artistic autonomy. (Presley owned one of the LPs Dion released on the label in the early 1970s.) He became a favorite of the college and folk circuit, including invitations to some major music festivals. He was no longer a mass taste artist, but he was once again an artist of relevance.
"Abraham, Martin & John – Dion
Not two weeks before "Abraham, Martin and John" peaked on the charts on December 14, 1968, a television show called "Elvis" aired on the NBC television network. It was the top rated such television show of the year and represented Elvis Presley's own comeback.
While things had not gotten as dire for Presley as they had for Dion, beset by the same industry changes that plagued Dion, as well some questionable career moves, things were as bad as they had ever gotten for the singer in the fall of 1968. His last three singles had failed to make the Top 60. Although a single in the spring, "US Male," made Top 40, the recent lack of success was par for the course for most Presley singles in 1967 and 1968. He had spent a total of 10 weeks in the Top 40 since November 1966 with nothing reaching the Top 25. His latest album in 1968 crapped out in the 80s. His movies were faring little better, even if some of them made a minor profit. His days of being a Top Ten box office attraction were two years in the rearview mirror. Presley was on the verge of becoming a mere name in popular culture, someone famous for being famous. Maybe he had once done something interesting, but those days were gone.
The television show changed that. The soundtrack album made the Top Ten and the single released from it restored Elvis to the Top Ten (on some charts). Interestingly, that single was also a balm for a broken public called "If I Can Dream."
"If I Can Dream" – Elvis Presley
Presley followed up the show with a string of hits, a successful stint of shows in Las Vegas and a return to touring. Breaking box office records, there was too much money to be made for everyone involved for Presley not to play the nation's most populous city, potential critics be damned.
The Belmonts were not as fortunate as Presley and Dion in that they never scored a comeback hit. Yet around the same time that Presley and Dion were making their stands, a movement was brewing that would eventually demand both Dion and the Belmonts.
Since parting with Dion in 1960, the Belmonts- Angelo D'Aleo, Carlo Mastrangelo, the late Fred Milano- had not done as well as their one time leader. They started out well enough with two Top 30 singles, including a fine remake of Norman Foxx and the Rob Roys' "Tell Me Why." A few other records made the charts but after Mastrangelo, who was singing lead, left in 1962 (replaced by Frank Lyndon) the group's fortunes waned. Carlo wasn't doing any better on his own, although he did work with Dion from time to time. With their careers going nowhere, the 1966/1967 reunion of Dion and the original Belmonts was doomed before it started though.
Sadly, after the failure of the reunion, the Belmonts were not able to find a track like "Abraham, Martin, and John" to reignite the public's fancy. They kept at it though (including recording a classic a cappella LP in 1972) and in 1969 two men in New York City changed the playing field in a way that created a new demand for the legendary group. In an environment where rock 'n' roll was drifting back from the excesses of the psychedelic era and country rock openly embraced rock 'n' roll's roots, a DJ named Gus Gossert debuted one of the nation's first oldies programs on the Big Apple's WCBS F.M. Gossert was given the station's evening drive time slot and used it to feature 1950s and early 1960s vocal group songs, most of which had not been played in the mainstream in years and some of which had never been played.



Gus Gossert

Gossert's tag line was "God digs doo wops man," which popularized the phrase "doo wop" as the name of the musical style.

According to doo wop scholars Dr. Anthony Gribin and Dr. Matthew Schiff, Gossert combined the old hits with a charismatic, unpredictable, anti-establishment on-air (and real life) personality. Audiences found the combination hard to resist. Simply put, he made the oldies cool again.
A reflection of what he wrought came in October 1969 when Richard Nader organized the first rock 'n' roll revival concert at the Felt Forum in Madison Square Garden. Nader was a native of Pittsburgh- a city that was always a bit retro in its taste- who just wanted to hear all the old acts again. He allegedly spent four years trying to make the show happen. By 1969, he was able to bring it all together with a show, that like most of his shows, featured classic solo artists as well as groups from the 1950s. The show was such a smash that it moved into the main Garden room the next year and became an annual event. It soon became evident that there was a particular act that audiences were dying to see.
"From our very first rock 'n' roll revival I must have received one hundred, two hundred, three hundred letters at every single show saying 'Can't you get Dion and the Belmonts back together?'" It took him three years but in 1972, he got both Dion and the Belmonts to say "yes."
And so it was that within a span of seven days, Madison Square Garden would be visited by Dion and the Belmonts and Elvis Presley. In radically different ways, the two acts demonstrated the staying power of the music that made them famous. Dion and the Belmonts recreated the sound of the '50s in an intimate show filled with spontaneity and improvisation. Presley's show was a more formalized, contemporary affair that overwhelmed the audience with speed, sight and a booming, blaring, heavily orchestrated sound that underlined the idea that this was not just the music of the past but also of the moment.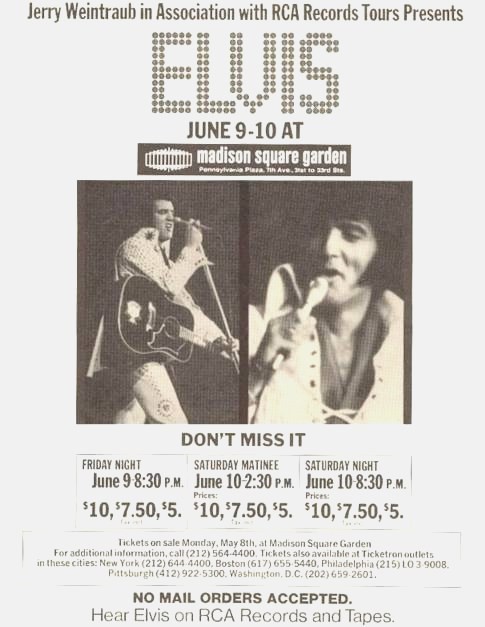 Original ad for Elvis Madison Square Garden concerts
Anticipation was wild. When news came out that Elvis was appearing, all three of his planned shows sold out within a few hours. Demand was so great that an additional show had to be added.
The vocal group may not have matched those dizzying numbers, but the eagerness with which the audience waited for their arrival on stage can be gauged from Richard Nader's ecstatic introduction of the group and the booming audience reaction that greeted it. Singer Billy Vera recalled the moment to writer Stan Becker. "It was like an earthquake; you could literally feel the stage shake."
With only one brief rehearsal behind them, the group rolled into a deeply felt but ragged version of "I Wonder Why." The joy of the moment was palpable. "Oh, we're home," proclaimed one of the Belmonts as the band kicked into "Teenager in Love." The group fell into their signature harmonies as if they were second nature. Buoyed by the sweet harmonies of his old band mates and the crowd singing along on the chorus, Dion's lead vocal bounded with enthusiasm, even as he muffed some of the lyrics. Very few people in the room that night were still teenagers (certainly not the people on stage), but the beauty and timeless sentiment was something that went beyond lyrical specifics.
"I Wonder Why"/"A Teenager in Love" – Dion and the Belmonts
Throughout the evening it became evident that the music could evolve without sacrificing its spirit. The group subtly altered the tempo and melody of "The Wanderer" as Carlo Mastrangelo let loose with some inspired scat singing on the bridge. Meanwhile Dion handled the lead as if it were popping into his head, breaking the lyrics into half sentences, and interpolating some contemporary slang. "I get around jack." On "Drip Drop" (a Dion hit on which the Belmonts did not sing), the Belmonts improvised a new background vocal.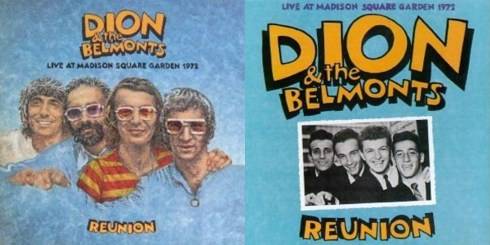 Original (left) and reissue (right) artwork for "Reunion: Live at Madison Square Garden 1972 – Dion and the Belmonts
Other songs had grown, especially the group's renditions of the standards "Where or When," and "That's My Desire." Although deservedly much beloved in their original renditions, these songs benefited from experience, and in 1972 Dion and the Belmonts had much more to give them. The latter song was the highlight of the evening featuring some of the group's most skillful and soulful singing.
"To sip a little glass of wine/I'll gaze into your eyes divine," Dion sang on the bridge as the Belmonts' harmonies urged him on- "ditty di dip, ditty di dip." "To feel the warmth of your lips," Dion pushed his vocal as if reaching for some elusive ray of light and when the other members joined him on "pressing on mine" they found it in their perfect five part harmony. (Frank Lyndon was still singing with the group at this point.) When Angelo D'Aleo added his falsetto floating over the top on the final chorus, it was no longer a recreation of the past. This was not what you were; it was what you could be tomorrow, which in many ways was the essence of the 1950s rock aesthetic.
Having found the sweet spot, the group refused to let it go as they tore into a wild seven minute version of Dion's solo classic "Runaround Sue." Unlike many of the extended rock opuses of the era which were often leaden and pretentious, this was seven minutes of rollicking unpredictable and unplanned joy. The rock sound may have gotten more conceptual in the years since Dion originally laid down that classic but, as this performance proved, no one had yet come up with anything more exciting.
"Runaround Sue" – Dion and the Belmonts
At least a few of the thousands in the Dion and the Belmonts' crowd might have made it out to see Presley the next week. Elvis delivered a completely different set of thrills, a spectacle of pure power. The strains of Richard Strauss' "Thus Spake Zarathrusta," more commonly known as the theme from "2001: A Space Odyssey," preceded Presley's entrance and set the tone for the evening. This was going to be a presentation of Elvis Presley- Legend. That may sound a bit egotistical, and it probably was, but it was an important statement in 1972. When Presley started out, the idea that there would ever be a rock legend was laughable. And now here was one. Not only had Presley survived the '50s, but his impact was now more culturally recognized and it was clear that he was one of the culture's unavoidable men. Bad career decisions, changing tastes, and age, factors that usually collide to kill many pop careers, had left him unfazed. He was now bigger than ever.
Zooming onto the stage via a fast, tough, version of his first record "That's All Right Mama" Presley didn't even give his audience time to think. Dressed in a bejeweled jump suit, sometimes adorned with a cape, he was fully playing the part of "The King." One commentator said he looked like "A Prince from another planet."
"That's All Right" – Elvis Presley (amateur footage)
There wasn't really time to think about the implications of it all when Elvis launched into a big band rendition of Creedence Clearwater Revival's "Proud Mary" almost as soon as the previous song ended. Not a Presley hit or a '50s classic, the then three-year-old tune was a reminder of Presley's influence on contemporary pop music. No mere copy of the Creedence Record, a Vegas horn section, a gospel vocal backing and a rock guitar transformed an archetypal swamp record into the Presley style which often obliterated genre distinctions.
The next song up was even more surprising, Three Dog Night's "Never Been to Spain," a song that had only been out of the Top 40 three months. It was as if Presley was determined to show that he was aware of contemporary trends, that he was not a figure of the past. The song was an especially canny choice for this series of shows, as the lyric was not something that one could have imagined in the 1950s. Wryly ironic and almost existential, it reflected (albeit in a mild poppy way) the influences that the Beatles and Bob Dylan had wrought on the Top 40. And Presley's performance, a highlight in both the recorded concerts, showed he understood the new mode of expression. "I got to feel," he snarled creeping up to the first chorus. The singer lost himself in singing on the final verses, proving that '50s style emotionalism and irony were not mutually exclusive. When Kid Rock was asked to define Elvis for a television special a few years back, he started singing "Never Been to Spain."
"Never Been To Spain" – Elvis Presley
That opening salvo kind of defined the shows. Presley relied heavily on contemporary songs originated by other performers, and more often than not, although he slowed down a bit for "Never Been to Spain," the tempos would be quick as would the performances. For most of the first half of the shows, performances came almost without a break, one on top of another.
After "That's All Right," Presley made his audience wait for the classic hits. It took about a third of the way through the show for Elvis to feature a song that was primarily associated with him. (His fourth number of the evening "You Don't Have to Say You Love Me" had a been a large hit for him in 1970, but it was a remake of an even bigger hit by Dusty Springfield a mere four years prior to that.) The hits came and they came in a hurry. "Love Me," "All Shook Up," "Heartbreak Hotel," "(Let Me Be Your) Teddy Bear," "Don't Be Cruel," "Love Me Tender," the mere titles were enough to send the audience into a tizzy.
A friend of mine who went to one of the shows noted that the hits "didn't quite have the same feeling as the records." The audio evidence pretty much confirms this opinion. There was more power than conviction. Elvis was indeed drifting away from his early hits. However, their purpose in the set was more symbolic than musical. It was one part of the presentation of Elvis Presley legend.
"This is a song I did on the Ed Sullivan Show in 1912," Presley teased the audience in expectation of his biggest hit "Hound Dog." As the crowd cheered, he continued to play, drawing out the intro "you ain't nothing but, but, but." When he at last went into the song, he went into a half-time pop blues version. About halfway through, he broke into the song's original tempo and the crowd exploded. He had played them with the same assurance he had played his music. It may not have been a towering musical moment, but it was an expert piece of showmanship.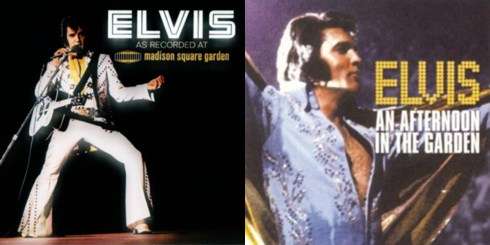 Album art for "Elvis: As Recorded At Madison Square Garden" (left) and the 1997 release of "An Afternoon in the Garden" (right)
The last third of the show was arguably its most compelling. Presley ripped through his then recent hit "Suspicious Minds," a song about marital discord that revealed the music's ability to mature. Then he rolled into a sensitive version of Ray Price's breakup hit "For the Good Times."
More importantly for Presley he did a version of "An American Trilogy," a marriage of "Dixie," "All My Trials," and "The Battle Hymn of the Republic," that had been arranged in a version by Mickey Newbury to reasonable chart success earlier in the year. It was also Presley's last 45 and it flopped as badly as any Presley single to that point in the US (it fared better in some international markets, including a #8 position on the UK singles chart).
The record's failure did not dampen Presley's enthusiasm for the song. He used the high profile of the appearance to re-litigate the song. Given Presley's history, New York City was the perfect venue for it. Some of the harshest criticism of Presley in the beginning came from the media capital of the world, and a lot of it was directed at his Southern roots. In the wake of the Civil Rights movement, this was a song that aimed to mend all fences. The stirring conviction with which Elvis and his band thundered through the "Battle Hymn" finale proclaimed that all could be forgiven, that we're all in this together, black and white, north and south, rural and urban. After that number brought down the house, Presley delivered a light hearted rendition of "Funny How Time Slips Away."
Then Presley the showman and Presley the musician met in a spectacular "I Can't Stop Loving You" (at least in the Saturday evening show). This wasn't an old Presley hit. And it wasn't a rendition of a contemporary hit. It wasn't even a song that he had not previously recorded in a live setting.
"I Can't Stop Loving You" – Elvis Presley
This was unlike any version he'd done before and unlike anyone else had ever done. A song of mourning and loss, Presley at Madison Square Garden exploded into it an anthem of defiance. Shouting at the opening, his voice was more rock 'n' roll than it had been at any point in the evening. He railed into a brilliant up-tempo, improvisational take on the country standard that reinvented it beyond comparison with previous recordings. Aided by James Burton's fantastic hard rock guitar, he broke phrases in half, he repeated words and phrases and climaxed it with a fantastic double ending. Presley's vocal scorched the Earth with pure gospel fury, Burton's guitar was all rock 'n' roll, the horns were Vegas revue, the material was country. The end result was all Elvis. It was one of his finest recorded moments of the 1970s.
Presley then hauled out "Can't Help Falling in Love" and left the building. The reviews were ecstatic. Whatever the Presley organization's fears were of playing the Big Apple, they were unfounded. Reviewers even compared Presley to Yankee legend Joe DiMaggio, as high a compliment as could be imagined in New York.
The shows had different ramifications for both acts. Both concerts were memorialized on LPs. Presley's record was out within a week and sold a million copies before the summer was out (on its way to an eventual three million plus). In fact, it led to a full scale revival of his career. Prior to the concerts, Presley's last few singles had peaked outside the Top 30 and his latest albums also suffered similar fates. (Although the fate of his LP performances demands an asterisk as RCA was releasing 6-8 Presley LPs per year at that point. The Garden collection released in June was already his fourth of the year.) Not only did the Garden recording scrape the Top Ten in Cashbox (it just missed in Billboard), but Presley's next single, a hard rock number called "Burning Love," zoomed to the top of the charts. When the single peaked, it shared space in the Top Ten with records by Chuck Berry and Rick Nelson. Rock 'n' roll was truly here to stay. He opened the following year with a top rated internationally televised concert special and a #1 soundtrack album. Sadly, it proved to be kind of a last hurrah. While he would still sell out arenas, make the occasional great recording, and have some decent sized hit singles, he would never again capture the level of engagement he had in the early 1970s. Eventually, he would succumb to his long-term prescription drug addiction, passing away at the age of 42 in 1972.
Dion and the Belmonts had quite a different fate. Their live album, although a classic that would remain in print into the 21st century, only made the bottom of the charts. They would reunite again in 1973 for one show, but after that their paths never crossed again. Dion would occasionally reunite with Carlo Mastrangelo, but personal and/or legal problems with the rest of the group took a full scale reunion off the books. Fred Milano's death at 72 in January confirmed that it would never happen.
The Belmonts never gave up and eventually found their way back onto the charts in 1981 with "Let's Put the Fun Back in Rock 'n' Roll," a collaboration with Freddy Cannon. It was their last mainstream highlight.
Dion's story was the most successful in the long term. He didn't record in the few years after the collaboration, but in 1975 he united with Phil Spector on a dream project that turned out so poorly it wasn't released in the USA. (Today, though, many fans see the LP the two released "Born to Be With You" as a classic.)
But in 1978, he received critical plaudits for his contemporary rock album "Return of the Wanderer." He switched to gospel for the early 1980s, but returned to mainstream rock and roll in the late 1980s with a project that returned him to the bottom of the charts. In 1989, he was inducted into the Rock and Roll Hall of Fame. He continued to keep abreast of contemporary movements in music, recording Bruce Springsteen songs, and even playing in a small indie style rock band in the mid-1990s. In 2000, he returned to doo wop with "Deja Nu," an album of new compositions done in the classic style. One of the songs from the LP "Shu-Bop" was picked up by oldies stations around the U.S. and played as if it were a hit song from back in the day. Although it did not make the charts, several adult contemporary stations also added the number to its play lists.
Dion did not stick with the new oldies format. In 2005, he started a series of acoustic blues albums that earned him a Grammy nomination. In 2011, he released his first collection of original blues recordings. For 40 years, he's been able to keep the spirit of early rock alive by never allowing it to go stale.
The year after the Presley and Dion concerts at Madison Square Garden, the actual hits of the 1950s and 1960s once again found a place in the Top Ten via the soundtrack of "American Graffiti". It was the beginning of a never ending best selling stream of oldies soundtracks and re-releases that continues to this day (although the pace has slowed slightly in recent years). Over the next two decades even individual recordings from the Golden Age of Rock 'n' roll would hit the charts from time to time, including "Rock Around the Clock," "Do You Love Me," and "Stand By Me." The consecutive weekends at Madison Square Garden provided the foundation for all that. A rock and roll revival was already building momentum, but the concerts showed that the music still had something to say, that it was more than just disposable product. Danny and the Juniors may have hoped that rock and roll was here to stay. Before oldies radio, before American Graffiti, before Happy Days, before CD reissues, Elvis and Dion and the Belmonts helped make it a reality.

The original "Elvis: As Recorded At Madison Square Garden" album featured the June 10, 1972 evening show. In 1997, a second album titled "An Afternoon in the Garden" was released featuring the June 10, 1972 afternoon show. Both are still available, as is the reissue of "Reunion: Live at Madison Square Garden 1972 – Dion and the Belmonts."
Tags:
Dion
,
Dion and the Belmonts
,
Dion and the Belmonts reunion
,
Dion DiMucci
,
Elvis An Afternoon in the Garden
,
Elvis as Recorded at Madison Square Garden
,
Elvis Presley
,
Gus Gossert
,
Harley Payette
,
Reunion: Live at Madison Square Garden 1972 - Dion and the Belmonts
,
Richard Nader
Posted in
60s pop
,
Elvis
,
Gigs
,
Rock 'n' roll
|
Tweet
No Comments »
Leave a Comment