Written by admin on October 21, 2011 – 7:56 am -
Tweet
Harley Payette celebrates the 50th anniversary of Dion DiMucci's classic back-to-back singles "Runaround Sue" and "The Wanderer."

F

ifty years ago this week Rock and Roll Hall of Famer Dion DiMucci, known to most of us simply as Dion, enjoyed the first and only Billboard chart #1 hit of his prolific career with "Runaround Sue." It was a career defining record unlike anything he had released during his first three years in the public spotlight. Amazingly before its release, he was on the verge of pop oblivion, a potential has-been at 22. Even more surprisingly with "Runaround Sue" still riding in the Top Five, Dion released "The Wanderer," a record equal in power to "Runaround Sue." It was a one-two, back-to-back punch of quality seldom matched in rock and soul history that transformed his career, helped bring the near dormant doo wop sound into a second era, and staked out the attitudinal edge of rock 'n' roll music.
Few people could have predicted this turn of events. When "Runaround Sue" was released in September 1961, Dion had not been in the Billboard Pop Top 40 since "Lonely Teenager" left the list in January. This drought of eight months without a major hit was an eternity in the era and by far the longest time Dion had spent out of the money since he and the Belmonts' debuted in June 1958.
Dion had broken with the legendary group in 1960. The story goes that after Dion and the group scored their biggest hit with a revamp of Rodgers and Hart's "Where or When" early in that year, Laurie Records wanted them to continue to focus on pop standards. The Belmonts were OK with this. Dion wasn't; he wanted to focus on rock 'n' roll.
The move seemed to be inspired commercially at first for Dion when he nearly made the Top Ten with his first solo effort "Lonely Teenager," a significantly better chart performance than the last two records released by Dion and the Belmonts. Although it was a good record with a lyric expressing the concerns of Dion's peer group, it wasn't really a rocker. It was a mid-tempo ballad type piece with a female backing group. The lyric and Dion's singing made it work but it was a record further removed from his natural style than even the standards he and the Belmonts had recorded in their last year together.
Perhaps inspired by the single's success, the label decided to package Dion as kind of a New York answer to Frankie Avalon, the Philadelphia based teen idol who dominated the pop charts in 1959 and the early part of 1960 with a string of mild ballads with orchestrated backings and female choruses. For almost a year this was the label's strategy with Dion and three straight 45s missed the Top 40, the last one "Somebody Nobody Wants"/"Could Somebody Take My Place Tonight" missed the chart entirely, the first time this happened to a record with Dion's name on it since "I Wonder Why" introduced Dion and the Belmonts to a national audience three years earlier.
Chastened by their failure, the label let Dion have his way. He brought in a self-penned song co-written with his friend Ernie Maresca, who had also worked his way around the New York vocal group scene and would score a major hit on his own with "Shout Shout, Knock Yourself Out" in 1962. The song the pair knocked out together was a pure evocation of the New York street culture of the period.
In the mid-1980s, Dion recalled to chart historian Fred Bronson the genesis of "Runaround Sue":
"The song was put together in a school yard. We used to just hang out and just bang on cardboard boxes and get these riffs going that you could sing to. That was one of those things that worked and I put some words to it."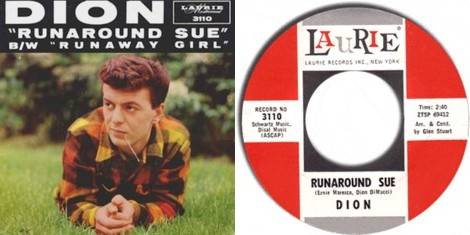 The lyrics about a neighborhood flirt who led guys on then dumped them to move on to other conquests (almost a female flip side to Dion's first person character in "The Wanderer") was based upon a real life person. The woman's name was actually "Roberta" although Dion decided to use the more musical sounding "Sue," which also happened to be the name of the woman who would become his wife.
With a great personal rock 'n' roll song on board, there was still one piece Dion needed to make his return to the Top 40: a good backing group. The anonymous female singers that had backed Dion on all his previous solo singles had robbed his records of considerable muscle. Jim Gribble, manager of several New York vocal acts including the Passions ("Just to Be With You"), heard about Dion's search for new vocal collaborators and brought the Del Satins to the attention of Laurie label owners Bob and Gene Schwartz. The Manhattan-based group, named to honor the great vocal groups the Dells and the Five Satins, had recorded two previous 45s in 1961 without success.
Dion and the Del Satins hit it off and created the great improvisational vocal arrangement they would use for "Runaround Sue." Everything didn't gel right away as it took Dion and the group two separate sessions to get the song right, with the first session devoted to a version that the team felt was just too fast.
After a plaintive guitar chord, Dion sings to open the record "Here's my story it's sad but true." As the Del Satins gently hum behind him, we think at first this is going to be another of Dion's lovelorn odes. When he finishes though with, "she took my love then ran around… with every single guy in town," the record explodes. "Hey, hey dum di di di hey hey" the Del Satins chant in a rhythmic style as the tempo accelerates. Dion floats in over them, "whooooaaa" and then he starts scatting and we realize he's been set free. After an "ah" shared between the lead singer and the group on the transition before the verse, that impression is verified when Dion rips into the verse with the daring of a lion tamer. Although the proper lead instrument is a saxophone, the vocals drive the record, Dion running words together to almost create a separate language, joining in and breaking from the Del Satins with reckless ease.
Dion – "Runaround Sue"
Despite the song's love lost lyric, this is a record of exultation. If you have any doubt listen to that exuberant "yeah" that Dion uses to punctuate the line "she likes to travel around." He's not mourning his break with his old love; he's celebrating it with an edge, laughing that he's seen the light. He's glad to be free. Like many great pop songs, of course, "Runaround Sue" is about more than just the lyrics; instead of an unfaithful lover, Dion could just as easily be celebrating his release from the shackles of the mediocre formula music forced on him by his record label, and the ability to do things right that this emancipation has given him.
He had never been this tough on a record before. This is not the same guy who once pleaded that his girl do anything to him but pity him. Only the relatively tiny number of fans who heard "I Got the Blues" on "Presenting Dion and the Belmonts," the group's non-charting debut LP, even had a hint that this type of aggressiveness was part of the singer's make up.
With the slump that Dion was in and the fact that he was on an independent, it took a while for the record to hit radio on a national level. When it did hit, the public's response was unequivocal; they loved the "new" Dion. The record debuted at #42 on September 25. By October 9, the record's third week on the charts, Dion was back in the Top Ten for the first time since February 1960. Two weeks later he was at #1. After its two week reign at the top, the million selling "Runaround Sue" would spend another month at #2.

During that reign, Laurie put out the follow-up record "The Wanderer." If "Runaround Sue" was the best thing he had ever done (all apologies to "I Wonder Why") it instantly found a rival for the top spot. Written by Maresca this one was even tougher, more dramatic than "Sue." The song was a first person narrative about a guy who drives from town to town loving and leaving women, having fun and avoiding bonds and responsibility. This one also found its inspiration in real life. Part of it came from a marine Maresca had met who had "Flo" tattooed on his right arm, "Mary" on his left and "Rosie" splashed across his chest, but it was also based on suave Dion's personality.
Dion – "The Wanderer"
In the notes to his boxed set, Dion wrote that he saw the song as an entry in the R&B tradition of songs asserting personal masculinity like Muddy Waters' "Mannish Boy" and Bo Diddley's "I'm a Man." It was that, but it was also something more. Despite the song's obvious sexism (which would be offensive were the performance not so exciting), it tapped into a very important rock 'n' roll ideal – the escape from conformity, convention, from your personal pre-written destiny. "The Wanderer" expressed this better than any record to that point and served as a template for records from Donna Summer's distaff answer "The Wanderer" to Kid Rock's "Cowboy." For anyone who's wanted to just break away from the world and live according to their own rules, "The Wanderer" is a perfect vehicle. *
And "vehicle" is the right word because this record's a rock 'n' roll machine. Dion snarls the line "I roam around and around and around." He sounds like a bad ass motor revving up, a trait echoed by the Del Satins who use a rolling "ooh ooh ooh" blow type harmony to propel the song like a perpetual motion machine. Riding on a rhythm copped from a popular Italian dance "The Tarantella" and pushed by stupendous drum beat, Dion and the Del Satins make "The Wanderer" an ultimate statement in rock 'n' roll attitude. Mick Jagger spent his entire career trying to get at what Dion hits here.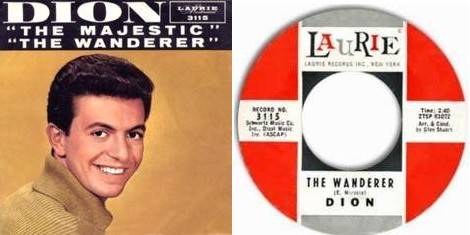 "The Wanderer" was at #8 just six weeks after "Runaround Sue" left the Top Ten and would eventually peak at #2. Although not quite matching the #1 success of "Runaround Sue," the song lived an even greater afterlife as a rock bar band standard covered by dozens of artists. After its success Dion became a Top Ten fixture with a series of hits similar in style and attitude. They were the sound of a guy who seemed to be a step ahead of his audience as to what was cool, how to handle things etc. "After all who could be hipper than Dion?" asked Lou Reed.
The sound gave Dion a complete career transformation. From not having a Top 40 single in eight months and a flop that missed the charts completely, when "Sue" leaped into the Top Ten in October 1961, Dion spent 23 of the next 47 weeks in the Top Ten. He was Joel Whitburn's #6 ranked artist for 1962 and #2 for 1963, a year in which he had at least one song in the Hot 100 every single week of the year.
Dion, Maresca and the Del Satins did more than revive the artist's career. They also made a pair of records that said a lot about the music. Many fans have splintered off doo wop from rock 'n' roll, placing it in a different tradition despite the fact that doo wop was what paved the way in the popular imagination for Elvis, Chuck Berry, Little Richard, and Bill Haley. Doo wop was the first music with the R&B beat in the Pop Top Ten. If anyone doubts that doo wop rocks, they should just listen to "The Wanderer." It and "Runaround Sue" both proved that the music could adapt to the new era. It showed that the music could evolve with time (it eventually morphed into huge chunks of soul music) and new doo wop could still make the charts.
The swaggering sax solo on "The Wanderer" reminds us how artificial the break between rock and soul often is. In the early days of rock 'n' roll, sax was just as likely to be the lead instrument on rock 'n' roll records for artists both black and white.
"The Wanderer" also challenges the idea that rock's hard rebellious edge had disappeared in the early 1960s. There was no doubt a sheen being placed on rock 'n' roll in the era, but here was Dion in 1961 and early 1962 at the top of the charts with records that represented specific urban sounds, rock's core audience, clash with convention, and supreme attitude. And they're two records remembered as well as anything from rock 'n' roll's more celebrated eras.
One of the curses of rock 'n' roll music is the fact that it's often ephemeral. Today's sensation is more often than not tomorrow's has-been. Most artists even on a modest scale would love to have a sustained audience, even if it's small, to consume their work over the course of even a few years, let alone decades. For all the thousands of artists who've tried their hand at the music, most would count themselves lucky to have one hit that becomes an all time classic. Faced with commercial extinction, in the fall of 1961 Dion came up with two of those all time classics in quick succession; not just songs that became favorites but two favorites among the favorites back-to-back. If he had not decided at this crucial moment to tell us who he was, these past 50 years would have been less pleasurable, not just for the loss of these beloved hits and the memories they've augmented over that time, but arguably even the rest of Dion's memorable career. At its 50 year anniversary it's nice to take a moment to savor his rare pop achievement. For a few months in late 1961 Dion DiMucci was as good as it got.
*Dion has argued that the song has a strong dark undertone. He quotes the line about "with my two fists of iron and I'm going nowhere." That last line does sting because it hints at the overall emptiness of a nomadic, responsibility free existence. On the other hand, "going nowhere" can be a good thing when you feel tied down.
Sources:
Fred Bronson – The Billboard Book of Number One Hits
Dion DiMucci – liner notes King of the New York Streets
Jay Warner – The Billboard Book of American Singing Groups: a History 1940-1990
"Runaround Sue" and "The Wanderer" can be found on a number of Dion compilation albums, including "The Essential Dion."
Title

The Essential Dion (CD)

Buy Now
Buy Now
Buy Now
Tags:
Dion
,
Dion and the Belmonts
,
Dion DiMucci
,
Harley Payette
,
Runaround Sue
,
The Wanderer
Posted in
60s pop
,
Rock 'n' roll
|
Tweet
No Comments »
Leave a Comment