Written by admin on March 17, 2013 – 9:52 pm -
Tweet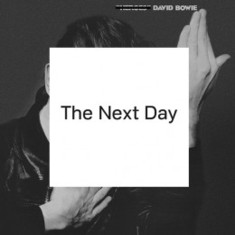 David Bowie has reached Number 1 on the UK album chart with his comeback album "The Next Day".
"The Next Day" is Bowie's ninth number 1 album and first to hit the top spot since 1993's "Black Tie White Noise". The album outsold its nearest rival, Bon Jovi's "What About Now," by more than two to one, and is the fastest selling album of 2013 so far in the UK.
Bowie surprised the music world in January with the announcement of a new album and release of the single "Where Are We Now?" The album has attracted critical acclaim, with a BBC reviewer hailing Bowie as "our finest, bravest musician of the past 40 years". The release has also received superb reviews in the US:
"Mr. Bowie's twilight masterpiece" (New York Times)
"Simultaneously accessible and ambitious" (Billboard)
"One of the best albums of his career" (LA Daily News)
"Bowie's strongest work to date" (CBSNews.com)
"A treat" (Boston Herald)
"Triumphant" (Bloomberg News)
"A rewarding, fascinating listen" (Consequence of Sound).
The comeback has gone better than anyone involved in the project could have hoped for. The big question now is whether or not Bowie will tour. Although there have been no official signs that he will, the triumphant manner in which the Bowie camp managed to keep the new album a secret does suggest that any tour plans will be forthcoming when he is good and ready, and not before.
"The Next Day" is available in a 14-track standard edition and a deluxe edition with three bonus tracks. The tracklist is as follows:
The Next Day
Dirty Boys
The Stars (Are Out Tonight)
Love Is Lost
Where Are We Now?
Valentine's Day
If You Can See Me
I'd Rather Be High
Boss of Me
Dancing Out In Space
How Does the Grass Grow?
(You Will) Set the World On Fire
You Feel So Lonely You Could Die
Heat
So She (Deluxe Edition Bonus Track)
I'll Take You There (Deluxe Edition Bonus Track)
Plan (Deluxe Edition Bonus Track).
"The Next Day" standard and deluxe editions are available now. The deluxe vinyl edition is out on March 25 in the UK and April 2 in North America.
Tags:
David Bowie
,
David Bowie The Next Day
,
The Next Day
Posted in
New releases
|
Tweet
No Comments »
Leave a Comment