Written by admin on December 11, 2012 – 4:27 pm -
Tweet
Harley Payette pays tribute to the legendary Brenda Lee, who celebrated her 68th birthday on December 11.

O

n the surface, Brenda Lee might be considered one of the lucky ones. Every year, from the day after Thanksgiving until Christmas, Lee is one of the handful of '50s and early '60s rock 'n' roll artists still consistently heard in the mainstream. Her "Rockin' Around the Christmas Tree" is one of the true Christmas staples, ranking in popularity with "White Christmas," "The Christmas Song" or any other standard you'd want to name. What's more, unlike many of the Christmas standards, no version of "Rockin' Around the Christmas Tree" has even approached Lee's in popularity.
If all Lee had ever done was that one piece, it would be a nice legacy, but she deserves to be remembered more than as a mere Christmas ornament, no matter how beloved. Outside that holiday moment, Lee, who turns 68 today, is also a supreme torch singer, a discoverer of songwriters, a country music innovator, a pioneering female rocker, and the best selling female artist of the 1960s. Her legacy ranks with the richest in all pop music's storied history and deserves to be revered as much as her legendary Christmas single.
| | |
| --- | --- |
| | Born Brenda Mae Tarpley in Atlanta, Georgia, Lee started singing almost directly out of the cradle and won a talent contest at the age of five singing "Take Me Out to the Ballgame." Her father died in an accident only four years later, and Lee had to start singing to earn money for her family, as well as her own pleasure. A spot on a local television show helped her gain the attention of Decca records who signed her to a contract at the ridiculously young age of 10. It was one of the best moves they ever made. Lee, who had already appeared on national television, was clearly a prodigy. More than a decade before Michael Jackson, she was wowing audiences as a pre-teen. |
At Decca she met Owen Bradley, who initially worked as a musician on her recording sessions before taking the reins as a producer. Bradley would prove crucial in the singer's subsequent success.
Many of Lee's initial attempts at Decca hit nationally in the country market, but attracted relatively little notice with pop audiences. Despite that fact, the significant records she recorded between 1956 and 1959, such as "Bigelow 6-200," "Dynamite" (the record that bestowed her nickname "Little Miss Dynamite"), "One Step at a Time," "Little Jonah (Rock on Your Steel Guitar)" (her first Bradley production), "Let's Jump the Broomstick" and of course "Rockin' Around the Christmas Tree," were not just country records. The production and arrangements clearly acknowledge the influence of rock and rockabilly, often prominently featuring an electric guitar, teen oriented lyrics and occasionally even a sax solo. The most rocking thing, though, is Brenda's vocals. Growling and rhythmic with liberal use of gospel wails, they often match the best rockabilly records in intensity, if not sexuality and menace.
Here's Brenda on ABC's Ozark Jubilee in 1957.
"Dynamite" (live tv performance) – Brenda Lee
Outside of some doo wop groups and Wanda Jackson, no other female singers sounded like this at the time. Between the ages of 12 and 14, Lee was paving a path that would be walked by everyone from Jackie DeShannon to Chrissie Hynde to Courtney Love. That it was a child clearing the way just made Lee's achievement all the more remarkable.
An acolyte of Elvis Presley, whose vocal influence can be heard on some of the introductions Lee uses on many of the above listed songs, she was also paving the way for rockers of all genders and stripes. Younger than any of the Beatles and a success before anyone ever heard of them, Lee and fellow teenager Ricky Nelson were the first rock 'n' roll fans to become rock 'n' roll stars.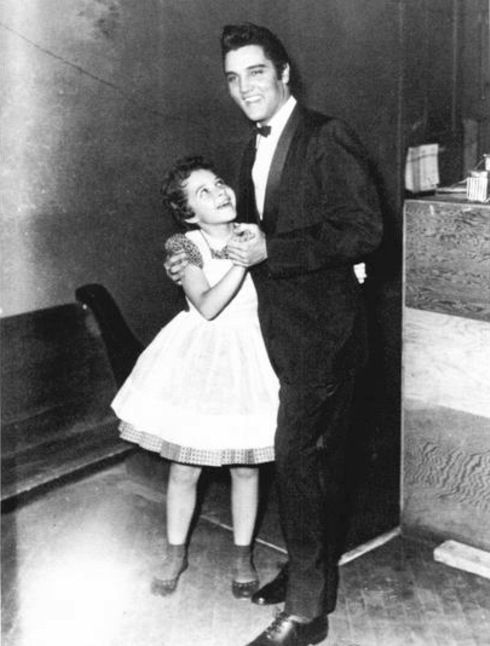 Brenda Lee with Elvis Presley, backstage at the Grand Ole Opry (Dec 21, 1957)
Despite her innovations, her recording success remained rooted in the country market at this time, although she was a nationally known figure. Recorded and released in 1958, "Rockin' Around the Christmas Tree" was not a hit when it came out. It only moved its millions after it was reissued when Lee hit big on the pop charts in 1960. Now, of course, it's an institution.
Even prior to its overwhelming success, it was an important record. The 1957 Christmas season had seen several rock 'n' roll Christmas records- most notably Elvis' first Christmas LP, and Bobby Helms' "Jingle Bell Rock"- but rock 'n' roll Christmas records were still a new field then. What's more, the previous rock 'n' roll Christmas records had either subverted the genre (Presley's "Santa Claus is Back in Town"), merely incorporated Christmas themes into traditional rock 'n' roll concerns (Presley's "Santa Bring My Baby Back") or were tangentially tied to rock 'n' roll (the Helms record). Lee's record was different. It was clearly rock 'n' roll with its emphasis on rhythm and its prominent sax solo. But it also made the point that rock 'n' roll could fit in with traditional Christmas themes and traditional values. It was a fairly bold idea in 1957 and maybe that's why it sold a mere 5,000 copies on its initial release. When it was re-released in 1960, it was clear that rock 'n' roll was here to stay and that the two sides of the culture war would eventually come to sort of a mutual peace. This record may have helped make that cultural change possible.
"Rockin' Around the Christmas Tree" – Brenda Lee
Despite not assaulting the upper reaches of the pop charts, Lee plugged away in the late 1950s gaining greater success every time out. A tour of Europe, where a promoter falsely suggested that Lee was a 32-year-old midget, was a great success. (The pint size Lee would never top 4'11.) Despite the absurd rumor, Lee's performance so impressed critics that she was compared to Judy Garland.
In late 1959, Lee finally delivered on her pop promise with "Sweet Nothin's." Arguably her first pure rock 'n' roll record, it took a while to take off but hit the Billboard Top Five in early 1960. It featured a vocal from Lee that seemed both sexually knowing and humorous. It was hard to believe that this was a person only in her mid-teens.
| | |
| --- | --- |
| Brenda's next prominent recordings would further intensify the contradiction. With five minutes left in an early 1960 recording session, Brenda laid down a song by Ronnie Self (who had written "Sweet Nothin's") called "I'm Sorry." The record was remarkable in many ways. It was one of the first Nashville records to incorporate a string arrangement. In fact it was a pioneering record in the Nashville sound which Bradley helped to create. | |
"The Nashville Sound" which latched pop production methods onto country songs helped save country music from the blows rock 'n' roll had inflicted on it, and wound up opening up a bigger market for the music than had ever existed to that point.
Bradley's pop ballads with Lee- "I'm Sorry," "I Want to Be Wanted," "Emotions," "Losing You" and several others- rank with the best and most tasteful records ever made within the genre. All scoring huge on the pop charts, they may have been the most successful records in planting the Nashville Sound in the public's mind.
Some alleged that the Nashville Sound, also known as Countrypolitan, robbed country of a lot of its character. This was not a case you could make against the records made by Brenda Lee. Like Bradley's other great collaborator, Patsy Cline, Brenda Lee's vocals oozed character.
"I'm Sorry" Lee revealed a booming ballad voice throbbing with passion, loss and sexual frustration. She even convincingly waded through a spoken passage in the middle of the record that increased the song's power considerably. More than anything, Lee's vocals rang with experience. Even today, it's almost impossible to believe a teen could convey the sense of loss and regret at the heart of this record. Comparisons to Judy Garland seemed more apt than ever. And while the lyrics of her songs expressed teen heartbreak, Lee's vocals provided something with which adults could identify. Like the Twist and Ray Charles, two years later, Lee created something that could appeal to both adults and teens.
A record packed with so much power and ambition could hardly fail, and "I'm Sorry" didn't. It was a number one hit in the US and even hit big in several European countries. Worldwide it is estimated to have sold something like ten million copies.
"I'm Sorry" – Brenda Lee
"I'm Sorry" basically wrote Brenda's ticket. For the next four years, she was seldom out of the pop Top Ten or Twenty. Mixing rockers like "That's All You Gotta Do" and "Dum Dum" with marvelous ballad performances like "Break it to Me Gently" and "You Can Depend on Me," Lee was one of the top five or six artists in the business every year from 1960 to 1963 according to chart historian Joel Whitburn. In 1961, only Presley topped her in the rankings. At one point, Lee's fame was so great that she even landed a Hollywood contract. (Things didn't work out but Lee was so powerful a name the industry had to come knocking.)
One of the remarkable features of Lee's great run of hits was how often she'd break-in up and coming songwriters who would later become hit makers in their own right. Jerry Reed ("That's All You Gotta Do"), John D. Loudermilk ("Weep No More Baby"), Mel Tillis ("Emotions"), and Jackie DeShannon ("Dum Dum," "Heart in Hand" and others) were amongst the talent whom Lee was clued into long before the rest of the industry or the public.

Even though after 1963 Lee would never reach those heights of popularity again, she was durable in a way that many of her peers were not. In 1964, the music industry went through its second great upheaval in ten years when the Beatles and the British Invasion hit. It was a generation defining event. And as a result, many of the artists associated with the previous generation of hit makers were kicked to the curb, even if rock 'n' roll was only eight or nine years removed from that initial generation. It suddenly became bad news to be your big brother's artist.
Lee didn't suffer that fate. In 1964, she held on enough to be ranked with the year's Top 20 artists. In fact, Lee, unlike many of the great '50s rockers, embraced the new sounds, recording in London with producer Mickie Most and soon to be legendary guitarist Jimmy Page. The hit record Lee earned with the sessions, "Is it True," was one of her best, anticipating a lot of the garage rock sounds of the mid-'60s but with an assured vocal that few of those tracks could touch.
"Is It True" – Brenda Lee
Perhaps it was the fact that Lee was still a teenager herself that helped her stay in touch with contemporary sounds (although many of the original rockers were still in their 20s when the Brits hit). Whatever the reason, the pop audience didn't lose its taste for Brenda Lee overnight as it did so many of her chart contemporaries.
In late 1966, Brenda came roaring out with one of her best and biggest hits ever "Coming on Strong" which missed the Billboard Top Ten by a whisker. "Coming on Strong" was another groundbreaking record. With Lee's vocal featuring more audible twang than she had used in years and buoyed by an assured pop horn arrangement, the record anticipates the aesthetic of the country rock sound, but with a more rocking edge than most of the records in that style ever possessed. The record made such an impact that the band Golden Earring used it as a reference point in their "Radar Love."
"Coming On Strong" – Brenda Lee
After that Brenda would make the Top 40 only one more time, partly because she decided to spend more time with her family and less in the industry. She remained a consistent performer though on the country charts. And as her recording of "Always on My Mind" showed, even as late as 1972 she could still a spot a standard before it became a standard. That she had a chance at first crack at this song (she and Elvis recorded it almost at the same time) shows the esteem with which she was still held in the industry.
Despite the occasional spine tingling record like "Nobody Wins" or the lilting "Rock on Baby," Lee has never quite ascended the heights commercially or artistically she hit from 1956 to 1966. Still, she has always retained the power to be an amazing live performer, as evidenced by her 1993 gig at the London Palladium that inspired an endless round of ovations. Still touring today, Lee gives you a chance to observe one of the industry's few true remaining legends, one that deserves our affection more than just between Thanksgiving and Christmas.
Sources:
The Billboard Book of Number One Hits – Fred Bronson
"The Brenda Lee Anthology" – Diana Haig liner notes
Billboard Pop Annual 1955-1999 – Joel Whitburn
The Virgin Encyclopedia Of 60s Music – Edited by Colin Larkin

Most of the songs discussed above are available on "Brenda Lee – The Definitive Collection" (2006).
Title

Brenda Lee – The Definitive Collection (CD)

Buy Now
Buy Now
Buy Now
Buy Now
Tags:
Brenda Lee
,
Brenda Lee - Coming On Strong
,
Brenda Lee - Dynamite
,
Brenda Lee - I'm Sorry
,
Brenda Lee - Is It True
,
Brenda Lee - Rockin' Around the Christmas Tree
,
Harley Payette
Posted in
Rock 'n' roll
|
Tweet
1 Comment »
One Comment to "Brenda Lee – In Praise of "Little Miss Dynamite""
Maurice Colgan Says:
December 12th, 2012 at 8:03 am

Thanks for a great birthday tribute to Brenda Lee.
Oh how we jived and smooched to her ballads in 1960!
Leave a Comment