Written by admin on December 8, 2012 – 9:43 am -
Tweet
Bonham's Entertainment Memorabilia auction on December 12 will include over 400 items of music and movie memorabilia, including 71 Beatles-related lots.
Among the stand-out lots are George Harrison's leather jacket (est. £90,000 – 120,000) and leather boots (est. £12,000 – 15,000) worn during his days in Hamburg and at the Cavern Club.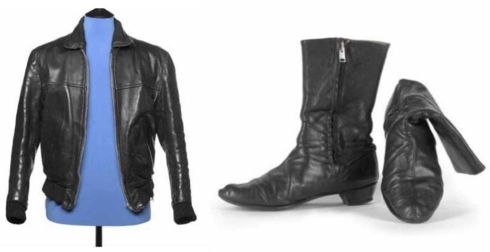 Another high value lot is an Antoria acoustic guitar (est. £20,000 – 25,000) used by The Quarry Men in the 1950s, with a letter from Paul McCartney.
One lot that might be of particular interest to the Beatles music collector is a 1963 demo of "What Goes On" (est. £750 – 1,000) that was recorded two-and-a-half years before the version that appeared on the album "Rubber Soul". The band decided to record "One After 909" at the 1963 session instead of "What Goes On," although the former wasn't released either until the 1990s. Also included is a German pressing of the single by The Beatles and Tony Sheridan of "My Bonnie"/"The Saints".
A demo of "Granny Smith" (est. £750 – 1,000) could also be a real rarity, as it has never received an official release and doesn't appear to have been bootlegged. "Granny Smith" would become "Love You To," which appeared on the album "Revolver".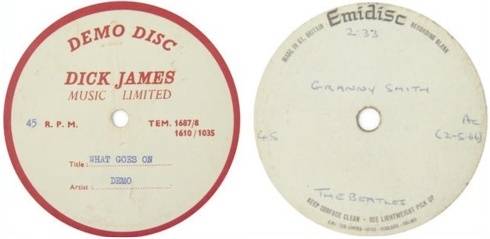 The Entertainment Memorabilia auction also includes 22 Rolling Stones-related lots, consisting mainly of vintage posters and autographs, including a fan club photo card (est. £700 – 900) autographed by all members of the band.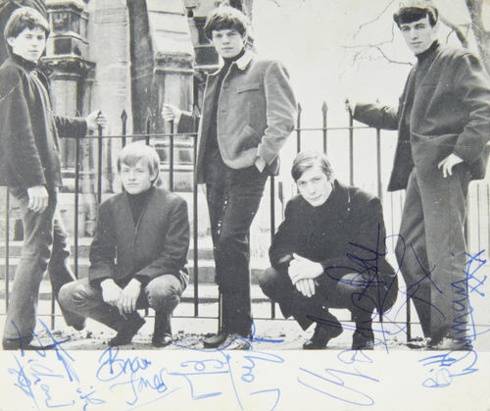 Other interesting music-related lots include:
You can view all lots in the Entertainment Memorabilia auction at Bonhams.com
Tags:
beatles auction
,
Bonham's Entertainment Memorabilia auction
,
Buddy Holly
,
Jimi Hendrix
,
Michael Jackson
,
The Beatles
,
The Rolling Stones
,
The Who
Posted in
Auctions
,
The Beatles
|
Tweet
No Comments »
Leave a Comment