Written by admin on June 25, 2014 – 4:26 pm -
Tweet
The working draft for the lyrics of Bob Dylan's "Like a Rolling Stone" has sold at auction for more than $2 million, setting a world record for a popular music manuscript.
The lyrics are written in pencil on four sheets of hotel stationery, and Dylan also decorated the sheets with various notes and doodles. The sale price was $2,045,000.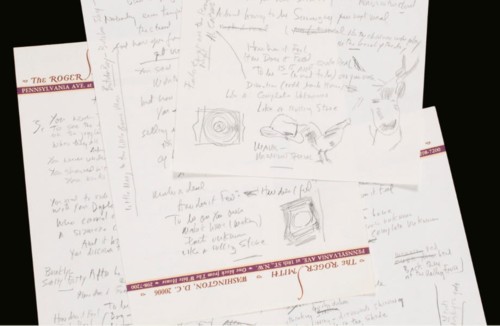 "Like a Rolling Stone" is one of Dylan's most critically acclaimed songs. It was released on single in July 1965 and the following month appeared as the opening track on Dylan's sixth album "Highway 61 Revisited". "Like a Rolling Stone" was voted number one on Rolling Stone magazine's list of the "500 Greatest Songs of All Time".
The lyrics were the highest value item in Sotheby's "A Rock & Roll History: Presley to Punk" auction, which took place on Tuesday (Jan 24) in New York. The second most prized lot was Dylan's original manuscript of "A Hard Rain's A-Gonna Fall," which sold for $485,000.
The "A Rock & Roll History: Presley to Punk" auction featured 147 lots, including signed albums, posters, photographs, musical instruments, clothing and other memorabilia from iconic artists and bands such as Elvis Presley, the Rolling Stones, Bob Dylan, the Beatles, Bruce Springsteen, the Beach Boys, the Doors, and many more.
As suggested by the title of the auction, Elvis Presley was well represented. The biggest seller was his Peacock Jumpsuit, worn on stage in the mid-1970s, which went for $245,000. Other impressive Elvis lots included a cream Lansky Brothers jacket worn by Elvis in the 1950s ($8,750), a 1967 Bible annotated by Elvis ($25,000), and a red shirt worn by Elvis on the cover of the "Kissin' Cousins" album ($12,500).
Other high value items in the auction included:
a Zemaitis acoustic guitar played with for decades by Ronnie Wood and also signed by the guitarist ($75,000)
manuscripts of "Sad Michael" and "The Moldy Moldy Man" from John Lennon's "In His Own Write" ($62,500)
Joni Mitchell's original manuscripts of the lyrics for "Woodstock" ($37,500) and "Big Yellow Taxi" ($9,375), as well as original Mitchell artwork, including a self portrait ($10,000)
a group of gelatin silver photographs of the Rolling Stones' Voodoo Lounge Tour, comprising 49 photographs and 71 contact sheets ($34,375)
a Jimi Hendrix guitar strap worn at the "Newport '69" festival ($15,000)
the Doors original 1967 signed management contract ($13,750)
a Grammy Award for U2's "Streets Have No Name" video ($12,500)
a selection of Beach Boys letters primarily written by Brian Wilson ($10,625)
a red military jacket worn by Michael Jackson ($10,000)
James Brown's Rock and Roll Hall of Fame Induction award from 1986 ($8,750).
Tags:
Bob Dylan
,
Bob Dylan Like a Rolling Stone auction
,
Elvis Presley Peacock jumpsuit auction
,
Like a Rolling Stone
Posted in
Auctions
|
Tweet
No Comments »
Leave a Comment