Written by admin on May 2, 2014 – 11:53 am -
Tweet
"The Beatles: The Night That Changed America: A GRAMMY Salute" makes its UK television debut tonight (May 2). The highly recommended special airs on ITV1 from 10:35pm to 12:40am.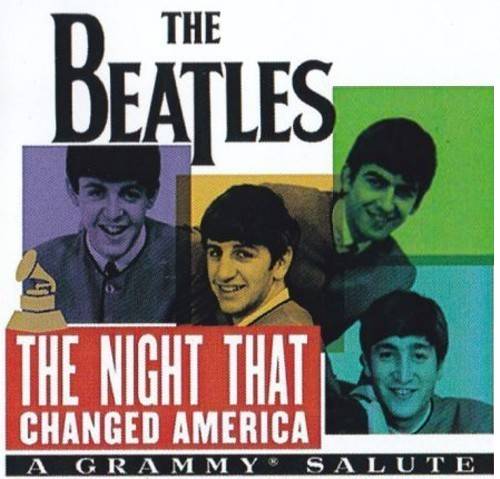 The show was originally broadcast in the US on February 9th to coincide with the 50th anniversary of the Beatles' first appearance on "The Ed Sullivan Show." It features some of the biggest musical acts of today performing classic Beatles songs, as well as performances from Ringo Starr and Paul McCartney.
The following performances were included in the US broadcast:
"All My Loving", "Ticket to Ride" – Maroon 5
"We Can Work It Out" – Stevie Wonder
"Something" – Dhani Harrison, Jeff Lynne and Joe Walsh
"In My Life" – Ed Sheeran
"Don't Let Me Down" – John Mayer and Keith Urban
"Yesterday" – Katy Perry
"Revolution" – Imagine Dragons
"Hey Bulldog" – Dave Grohl and Jeff Lynne
"The Fool on the Hill" – Eurythmics
"Let It Be" – John Legend and Alicia Keys
"Here Comes the Sun" – Brad Paisley and Pharrell Williams
"While My Guitar Gently Weeps" – Gary Clark, Jr., Dave Grohl and Joe Walsh
"Matchbox", "Boys", "Yellow Submarine" – Ringo Starr
"Birthday", "Get Back", "I Saw Her Standing There", "Sgt. Pepper's Lonely Hearts Club Band" – Paul McCartney
"With A Little Help From My Friends", "Hey Jude" – Paul McCartney and Ringo Starr.
Tom Hanks, Johnny Depp, Sean Penn and Jeff Bridges were among the presenters.
The show was filmed on January 27, 2014 at the Los Angeles Convention Center's West Hall, in Los Angeles, California. There is also a segment with David Letterman interviewing Ringo and Paul at the Ed Sullivan Theatre.
Tags:
Paul McCartney
,
Ringo Starr
,
The Beatles
,
The Night That Changed America - A GRAMMY® Salute To The Beatles
Posted in
The Beatles
|
Tweet
No Comments »
Leave a Comment